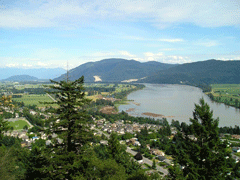 [Editor's note: Chris Wood, a National Magazine Award-winning writer on climate change and water resources, has been looking into what British Columbians can expect from global warming for this series funded by a Tyee Investigative Reporting Fellowship. Today we publish the first two of his reports, with three more to appear on consecutive Thursdays. To learn more about Wood, his series and Tyee fellowships, go here.]
Hundreds of thousands of Lower Mainland residents living behind dikes along the Fraser River face a far more deadly flood threat than they know. New research uncovered by a Tyee investigation reveals that should the river rise to the level of previous floods, dikes from New Westminster upstream as far as Harrison River would fail in "multiple" locations.
A return of floods seen in the past would overtop existing dikes by as much as three feet at Mission, a new modelling study predicts. The report, funded by local, provincial and federal agencies and overseen by the Fraser River Council, is due to be distributed later this month to local governments and First Nations in the affected areas. The year-long study used highly detailed updated surveys of the Fraser River and records of historic floods in 1894 and 1948, in conjunction with powerful hydrological models, to forecast what would happen if the same water flows returned today. The last time such a study was done was 1969, using less detailed information and weaker modelling tools.
"What seems to be the case is that water levels that would be generated today are higher than in 1969," says Steve Litke, the Fraser Basin Council manager overseeing the study. The difference is dramatic in places -- reaching a maximum of 1.6 metres in the area of Mission Bridge. Dikes along the river are designed to remain six tenths of a metre above the 1969 design profile.
Rainfalls getting heavier
Differences between the new and old flood forecasts are less dramatic above and below Mission. But kilometres of existing dikes in either direction from that point are well below the flood crest foreseen in the new forecast. Additional kilometres of dikes, as far upriver as Harrison River and downstream to New Westminster, could be severely compromised by a flood crest that encroached on the .6-metre margin of safety. If the newly forecast flood levels proved correct, Litke says, "There would be multiple dike failures."
More worrying still, the historical record used as a basis for the updated forecast may no longer be an adequate measure of flooding in the future, Litke warns. Precipitation across the Fraser River basin has been increasing at two to four per cent a decade in the nearly 60 years since the last serious flood on the Fraser, leading Litke to ask: "How valid is that historical peak flow? Climate change is an obvious big question. Something bigger could occur."
One science-grounded scenario of a catastrophe triggered by drought and then flood is also published today in The Tyee. Described in the article is a deluge that wipes out rail lines, highways and sewage treatment plants, causing tens of thousands of residents to flee their homes and cutting the Lower Mainland off from the rest of Canada.
Warning system cut
How much warning residents would receive that flows upriver could threaten to overwhelm the dikes is also in doubt -- thanks to cuts in provincial funding for the network of hydrometric monitoring stations that track rivers in the province. The network, which stood at 600 stations a decade ago, and which experts say needs as many as 1,000 stations to adequately monitor British Columbia's many rivers, has been reduced to about 400. That number may fall to as few as 230 when the current funding commitment expires in the spring of 2009.
"It's denial," charges John Azar, spokesman for Water Highway B.C., a group formed by representatives of several water-related industries to fight for adequate funding for the hydrometric network. "At a time of growing climate uncertainty, guessing is not an intelligent strategy for a resource upon which everything else in the economy depends."
The total amount the province could save by decommissioning the early-warning network is $5 million, its budget for 2005-2006. A review of risks from a return of historic flood levels, conducted before the latest study calling into question the reliability of dikes along much of the lower Fraser, estimated potential economic losses at more than $1.8 billion, with as many as 300,000 people directly affected.
Population grows along banks
No federal or provincial program currently exists to assist municipalities in rebuilding, raising or reinforcing dikes along the Fraser. Meanwhile, development continues behind the dikes -- adding hundreds of potential new flood victims annually.
Flood management and protection in British Columbia is a responsibility of the Water Stewardship Division of the Ministry of Environment. The Tyee sought comment from the office of Environment Minister Barry Penner on several points related to this and additional reports to follow in our special investigative series about water and climate change in British Columbia. Those inquiries, over a period of two weeks, received no reply.
Some additional reading:
The GVRD's analysis of changing precipitation patterns.
The Fraser Basin Council's collection of flood-related documents.
Veteran journalist Chris Wood is recipient of a Tyee Fellowship for Investigative Reporting, which provided the funds necessary to do the in-depth reporting in this series. Tyee Fellowships for Investigative and Solutions-oriented Reporting are supported by donations from Tyee readers and intended to support independent journalism to educate the public about critical issues facing British Columbia. If you are interested in making a tax deductible donation, please go here. If you are interested in applying for a fellowship, please go here.
Wood is working on a book, Dry Spring: When the Water Runs Out, forthcoming from Raincoast Books.