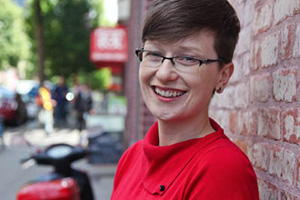 As a journalist covering the education and youth well-being beat for The Tyee I deal with pretty heavy topics, some life and death. That was the case when I committed eight weeks to reporting from the ground up in Kamloops the struggles faced by youth — many of them just aging out of provincial foster care — and whether they have ready access to help.
The project was conceived in late November, a multi-part investigative and solutions-focused series entirely funded by Tyee readers. On Dec. 6, I submitted my first request to interview Children and Family Development Minister Stephanie Cadieux for the series.
In case you are wondering, I am no fan of "gotcha-style" interviewing. I want to hear from every side, and seek all the information I can get. The series wasn't intended to give the B.C. government a black eye. The aim was to make life better, if possible, for kids in trouble.
I let Cadieux's office know I wanted to discuss the adequacy of provincial care programs for youth and young adults.
Despite additional subsequent requests, no interview was granted. The four-part series began running on Jan. 17; you can find all of it towards the bottom of this larger list of stories.
For eight weeks, then, and still today, I have remained open to interviewing the minister on this matter.
Instead, the ministry sent an email on Jan. 19 complaining that The Tyee's series was missing some key information. Youth who leave the care of their ministry, they argued, are adequately-served by "available" programs for young adults supplied by other ministries and agencies. I took seriously their critique and did another round of reporting to see what I might have missed. The result is an article also running today; to read it, click here.
What you are reading here — call it a reporter's notebook entry — is about a different, but related issue. It's about the barriers faced by reporters — gaining interviews with B.C.'s top official in charge of keeping vulnerable youth safe.
Requests ignored, again and again
Some background: The Tyee is one of few media outlets in B.C. that assigns a reporter specifically to cover youth and education. Over the past three years I have made repeated requests for interviews with Minister Stephanie Cadieux. Apart from two conference calls with other media in October 2015, none have been granted.
As I was preparing my reports on distressed youth in Kamloops, I renewed my request for an interview with the minister. In response to my Dec. 6, 2016 request, Cadieux's ministry referred me to the Ministry of Health, where I had also requested an interview with Minister Terry Lake on mental health and addictions supports for youth.
No access was provided to either minister. Instead, on Dec. 19, Ministry of Health media staff sent an emailed statement, not for attribution to either minister, describing programs of support the government provides to youth seeking help with mental health, addiction and homelessness. Very many of the youth seeking those services have experience in the child welfare system.
After my reports were published (see two here and here), the Ministry of Children and Family Development sent emails asking why I had not included additional details about education funds offered to youth aging out of care. Those funds are not available to all youth with care experience, do not provide mental health or addictions help, and are not substantial enough to cover household and school expenses on their own.
I again requested an interview with Minister Cadieux, and more information about the programs. I got the information, but again no interview. When I pressed the ministry yet again for an interview, it sent this letter to The Tyee's editor, Robyn Smith, on Jan. 26.
Over Minister Cadieux's signature it concluded: "By ignoring or misrepresenting the significant help that is available after foster care, the Tyee risks doing a disservice to those young people who could benefit from these valuable programs."
Neither Minister Cadieux nor Minister Lake has yet made themselves directly available to take The Tyee's questions about the extent and availability of provincial programs for youth.
I'd really like to speak with either of them. More to the point, I think, B.C.'s citizens deserve to hear from them, outside of canned media events, on matters as important as the well-being of the province's most vulnerable youth.