Michie "aged out" of foster care on her 19th birthday. That meant that all the supports she and her foster parents had been receiving from British Columbia's Ministry of Children and Family Development disappeared. She said her birthday present that year was a suitcase.
"They basically said, 'get out' without actually saying it," said Michie, an Indigenous youth I met at the Metis Lii Michif Otipemisiwak Family and Community Services building in Kamloops last month. "It was such a slap in the face." (We have only included first names, or changed some names, of youth interviewed for this story for privacy reasons. See sidebar for why.)
Michie's experience is not uncommon for foster kids exiting government care in B.C. The Merritt native was supposed to get a meeting with her social worker before she turned 19 to prepare her for independence, but she said it never happened.
Luckily, Michie, now 21, had graduated from high school the year before and mapped out her own post-foster care plan to attend school in Kamloops. But not every foster kid is so prepared. Out of an estimated 250 youth who will find themselves homeless in Kamloops at some point this year, 40 per cent will have spent time in government care.
Last month I travelled to Kamloops, site of Canada's first ever youth homeless count this past October, to talk to young people aged 13 to 24-ish about their access to services addressing homelessness, drug use, and mental health. At least eight of the 19 youth I spoke to had spent time in foster care. At least half with experience in care had also experienced homelessness. They all told similar stories of not being prepared for independence at age 19.
But it's not only former foster kids sleeping on the streets and borrowed living room couches of Kamloops. Among the youth and service providers I spoke to, poor relationships with parents were cited frequently as cause of homelessness. That was particularly true if youth were lesbian, gay, bisexual, trans, queer, questioning, or two spirited (LGBTQ2S+).
"I have lots of friends who don't feel safe at home because they can't be themselves," 18-year-old Dustyn said. The day we spoke, a friend had posted on social media about telling her mom that she had a girlfriend. "Her mom is pissed. So she no longer feels safe at home."
One in five homeless is a youth
Youth homelessness is different from adult homelessness, both in causes and the support needed to escape it.
Young people need trustworthy, reliable adults in their lives to help them move towards independence. The absence of that kind of mentorship is a major contributor to homelessness for youth. But the core of the solution, as it is to any kind of homelessness, is really pretty simple: safe and affordable housing.
But first you need to identify the problem. And up until this October, Kamloops had counted only its adult homeless population.
That changed in the week of Oct. 13 to 21, when Kamloops conducted the country's first-ever count specifically of homeless youth. In addition to a "point-in-time" count of youth sleeping on the streets and in shelters over a 24-hour period, researchers distributed anonymous surveys at two lunches for homeless and at-risk youth, as well as via schools, service providers, and even through bylaw officers tearing down homeless camps.
The final count won't be released until later this month at the earliest. But the City of Kamloops is already operating under the assumption that, as previous national studies have shown, youth make up about 20 per cent of all homeless people.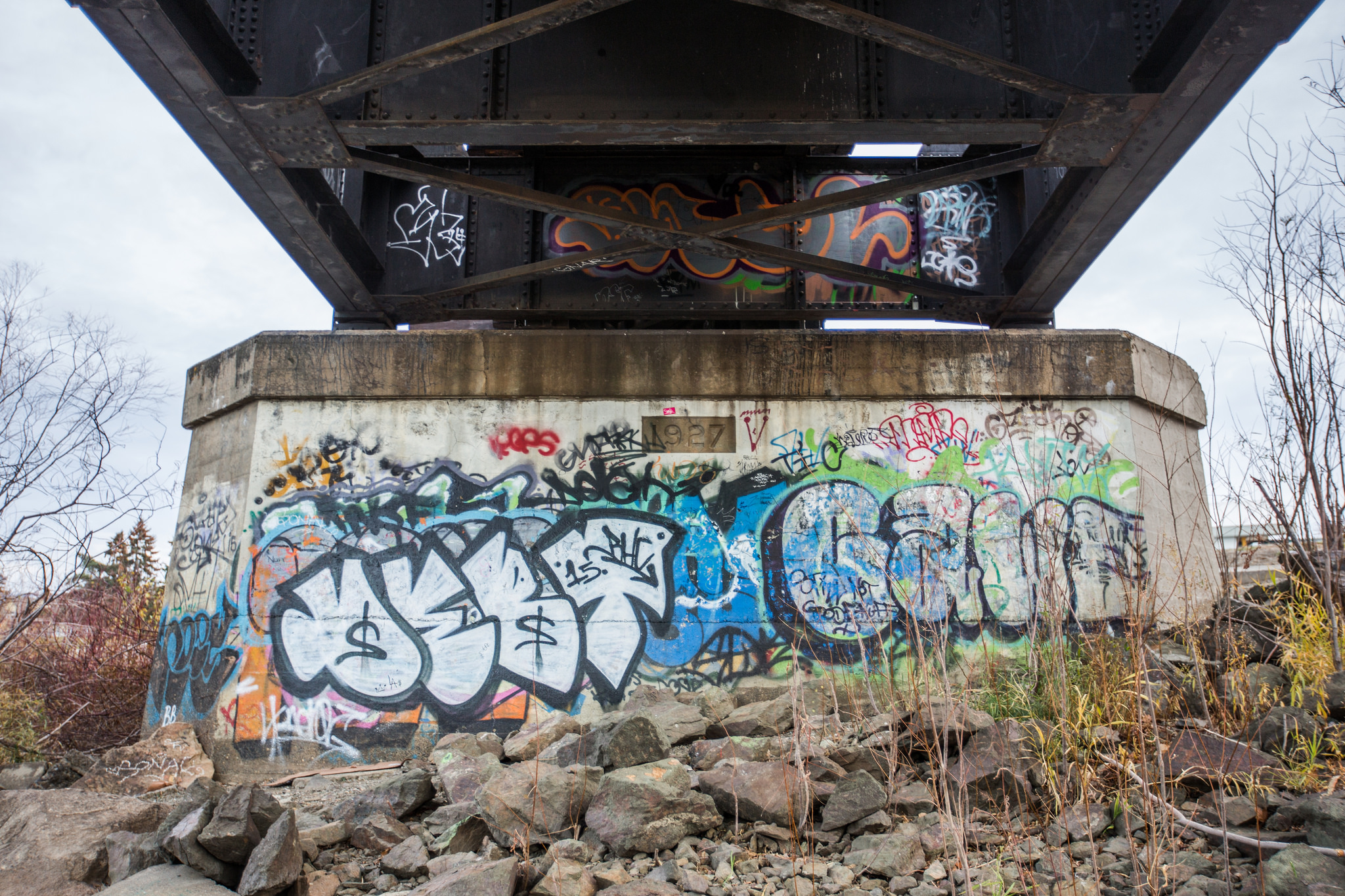 If that's the case, based on the city's 2014 homeless adult point-in-time count, and a 2010 survey of "hidden" homelessness (people not necessarily on the street but without a secure address of their own), some 250 youth find themselves homeless at some point each year in Kamloops. Of those, about 20 could end up on the streets or in shelters. Another 230 are sleeping on borrowed couches.
That number is less than one per cent of Kamloops' roughly 30,000 residents under the age of 25. But those who do find themselves homeless are among the city's most vulnerable. A 2012 survey found that 72 per cent of youth with homelessness experience contacted by the City of Kamloops had been involved with the Ministry of Children and Family Development. Thirty per cent were Indigenous. And 42 per cent had been diagnosed with a mental illness.
Unprepared for aging-out
"I've been homeless since I was 12, 13, on and off, but mostly on," said John, 21, another former foster child I met at Lii Michif Otipemisiwak. He also aged out of foster care without getting his preparation-for-independence meeting, he said.
Eighteen-year-old Chuck, who will age out on her next birthday, has a theory as to why so many youth leave care unprepared: "A lot of the time a social worker, they work five to 10 years, they'll never have a kid age out. They're switching kids so often they'll never have a kid even get that old," she said.
But it isn't just the absence of one meeting that leaves former kids in care unprepared for adulthood.
Too often no one is ensuring that kids in government care know how to "adult" before they reach 19. As a result they miss learning life skills like how to open a bank account, pay bills, get a job, or be a good tenant. Yet they are expected to be independent adults by that date.
By contrast, one-third of British Columbians continue to live at home and enjoy family support to the age of 29. Most parents "don't just move them out the door and say, 'Good luck!'" the day they turn 19, said Jay Roque, a youth mentor for boys and young men at Lii Michif Otipemisiwak.
Between February when he started at Lii Michif Otipemisiwak and mid-November when we spoke, Roque says three clients had aged out of care. Another two were approaching their 19th birthday. Lii Michif Otipemisiwak, in partnership with the Kamloops Aboriginal Friendship Society and the Metis Nation British Columbia, offers housing for four Indigenous young men leaving care. But it's not enough to meet the need.
Preparation's not enough
Even with transition planning, some youth won't thrive independently without extra support. That was almost the case for one 19-year-old woman I spoke with.
"I had that meeting," said the young woman, who is First Nations. But instead of working together, she said the social worker put the onus on her to establish her own post-care plan. At the time she was 18 and only recently sober from a drug addiction.
"They'll put so much pressure on the kid aging out," she said, "that the kid will give up. I was getting ready to give up."
But the young woman didn't give up. Instead she went to Lii Michif Otipemisiwak, where staff helped her make a plan and find housing. "If I didn't have that," she said, "I would probably be homeless and not almost a year clean."
Even people doing the "right" things, like going to post-secondary school or working full time, can find themselves on couches or shelter mats.
Abigail, 19, told me about a fellow student in her program at Thompson Rivers University whose parents make too much money for their daughter to qualify for a loan, but won't help her pay for school. As a result, she's having a hard time making ends meet.
"She has two jobs, she's full-time at school, and she sleeps on a couch in someone's living room," Abigail said of her peer.
Daniel is a gay man whose coming-out experience was positive. Yet he still found himself couch surfing at 18 years old after breaking up with his live-in boyfriend. He stayed at his mom's, and with several friends, before a case worker at Safe Spaces, a once-a-week drop in for LGBTQ2S+ youth in Kamloops, told him about youth housing he could apply for.
Programs, but little awareness
Even though "Kamloops is a very small community," said Daniel, now 21, "there's very little communication between programs. So word doesn't get out that there are homeless youth, because people just don't want to know. Programs are out there for youth, [but] they don't know because nobody talks about it."
Daniel spent a year living at Acadia, an Interior Community Services housing development for adults with developmental disabilities and youth at risk of homelessness. Today he lives with his husband and works part-time as a youth advisor for Interior Community Services and A Way Home (AWH), the steering committee for the City's youth homelessness action plan, which he co-chairs.
Daniel also co-chairs a new subcommittee of the second group called Youth Against Youth Homelessness. Members include youth who have received community services available for their age group — experience that Daniel believes can help improve awareness of available help.
"It's kind of like a giant spider web," he said. "In the middle is Youth Against Youth Homelessness, and the [strands] that are coming out of the middle are all the youth that are going out and talking. Raise awareness by using youth themselves."
Homeless and vulnerable
Youth mentor Roque is worried about the future of the boys and young men he works with if shelter and support choices don't improve. One is homeless currently. Others are vulnerable by virtue of their experiences in the child welfare system, as well as factors like drug use and gang involvement.
When government care disappears without a plan for independent living, or relationships with trusted adults are absent from their lives, some youth find the "support" they're looking for in exploitive criminal organizations.
Gangs often know when youth are aging out of care and target them at their most vulnerable, said Katherine McParland, co-founder and coordinator of AWH. A former youth in care herself, she says it happened to her. "They're very smart, older people who see youth on the street as currency."
Roque gave the example of a youth who could be a target of gang members. "He's quite young, doesn't work, and seems to have more money and things: a watch, nicer shoes. It's not quite making sense. So there's a bit of worry that he's being gifted these things to do small things."
Those "small" things could include drug deliveries, delivering messages, even house-sitting. Sexual exploitation, or "survival rape" — selling sex or staying in an abusive exploitative relationship in exchange for housing, drugs, or food — is also a risk for homeless youth of every gender.
There were zero cases of child sexual exploitation, a term that encompasses "survival rape" and child pornography, in 2015 for the city of Kamloops and no datum for the surrounding rural regions. Provincial data show a total 24 reported incidents B.C.-wide in 2015. But service providers at Interior Community Services and ASK Wellness, which provides harm reduction supports and services in Kamloops, say they believe it's happening more often than that.
ASK Wellness offers harm reduction for sex workers through its Social and Health Options for Persons in the Sex Trade, or SHOP, program. It was designed for adults, but coordinator Kira Haug says she's seeing 15 to 17 year olds on a daily basis.
And the numbers of homeless youth are rising, Haug says. "It feels like there's more youth on the street now than there was before."
When we spoke on the phone in early December, Haug was in the midst of making breakfast for nine young adults, the youngest just 17, who had been waiting outside ASK Wellness when she arrived for work that morning.
"I have a room full of people right now that stayed outside last night," she said, "and it was really cold last night and this morning." The temperature had dipped down to –11.
Kamloops' four-bed youth shelter is usually full. Haug believes some of the young and homeless arrive from surrounding smaller communities looking for work, school, or services. Others travel from further afield, hitchhiking over the summer only to find themselves stuck in the city when the winter hits.
Not everyone agrees that the problem is increasing.
"I think it's been an ever-present issue because kids get into trouble and either their parents don't have the resources or they choose to leave," said RCMP constable Sofie Winkels, adding that with no one counting homeless youth in the city before October, there is no data to support claims the number is rising.
But Winkels, a school resource officer who works with youth under 19 only, agreed that homelessness in the age group is typically hidden: "Because they have friends, they have people who will take them in."
Of course, a friend's couch or a shelter bed aren't the same thing as your own safe, secure address. Results from Kamloops' first youth homelessness count will shed light on whether estimates of their number are accurate, but no one disputes there are youth in the city tonight without a home.
That's the bad news. Tomorrow in this series, the good news. I'll examine how different levels of government, social services, and local businesses have come together in Kamloops, determined to make youth homelessness a thing of the past.