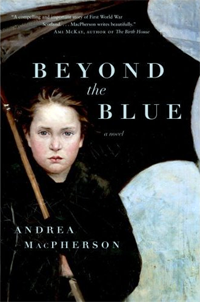 Beyond the Blue
Andrea MacPherson
Random House Canada (2007)
Cloverdale poet and author Andrea MacPherson -- whose first novel, When She was Electric (2003), ranked in the top six of CBC's Canada Reads: People's Choice -- has recently released a historical novel set in First World War-era Dundee, Scotland. Part meditation, part people's history, Beyond the Blue (Random House, 2007) re-creates an almost entirely female world, in which men are scarce, exotic or broken by war, and in which women work to control their own lives in the face of massive change, unyielding industrialism, and seemingly very limited options.
MacPherson spoke to The Tyee about women's experiences of class, war and work during the Second World War. What follows are excerpts from our conversation.
On women's class and gossip
"I don't think I went into the novel consciously making a decision about how to treat the concept of class; rather, this was a story about working women, women who had themselves to rely on, and who had no real means of escape from their lives. And as such, class was bound to play a role in the shaping of their lives and experiences. As an industrial city, the class divides would have been quite apparent: the wealthy mill owners, and those who worked in the mills, barely scraping by, toiling under dreary and often deadly conditions. It was simply a fact of life, something that could not be ignored, but also not something that would have been pitied.
"Having said that, there is much evidence that the mills and tenements provided the women of the town with great friendships and much happiness: they relied on one another and created fast alliances. I suppose, in a way, it was a means of escaping the tightness of their work, to be found gossiping from windows or sitting side by side in a snug."
On exotic masculinity
"Any time you are dealing with a story detailing the lives of women, you are entering into the [feminist] discussion. I was aware of the unusual balance in Dundee during World War I -- a town labelled a 'she-town,' primarily run by women -- and this undoubtedly affected the narrative. The men who would have been left in Dundee were only those who were aged, or too young or already wounded. The town was, for all intents and purposes, bereft of men, and the women became accustomed to this.
"I imagined that this must have had an effect on the women, and their perceptions of themselves and the world around them. The town did not crumble; industry did not fall to pieces. This must have informed the women in a new way about their capabilities. Mostly, about their ability to survive."
On dreams and drudgery
"It's rare for anyone to actually recognize their place in history. Most of the time, people are simply living their lives, doing what they think is right, and it is not until later that they might be able to realize any long-term consequences. In terms of the characters in Beyond the Blue specifically, they are consumed with their own disappointments, dreams and drudgery. I didn't want world events to become the focus of the piece; rather, these events would influence their lives and the paths they choose to take. A shimmering backdrop of sorts for their own human struggles."
On the land of Alexander Keith commercials
"The dominance of Scottish heritage in Canada does seem to turn it into something accepted and expected. Physically digging into the past -- both that of my relatives, as well as the city as a whole -- forced me to pause and consider the intricacies within the culture. There was, of course, political, religious and class strife, but there was something else lurking below the surface, a kind of determination and fierce resolution. It definitely gave me a new perspective on my characters, and the kind of fortitude the world would have required of them."
On small teas and long lore
"My initial inspiration was pieces of my grandmother's past that she had shared with me -- hazy memories of her mother and her aunts, small flats full of tea and long hours at tedious, difficult jobs. I was interested in that aspect of the history, purely the humanity there, and so I started with a character, as I always do. In this case, it was Morag. I heard her voice, and the story built from there.
"I had been to Dundee numerous times before and had heard much family lore, but I needed more; it was a time that I was not familiar with, and I needed to better understand the complexities within. I did a lot of research from here -- reading and accessing archival sites and the like -- and then went to Dundee again in 2003 specifically for research. The time I was there was incredibly valuable. Not only could I look at the city in a new way -- from the vantage point of these characters and what they would have known -- but to also do some hands-on research in places like the Verdant Works and the McManus Galleries, as well as many sites that are not readily available, thanks to the luck of being there during Doors Open Day (a time when you can access some of the oldest sites in the city). In a way, I immersed myself in the city, which was an incredible gift to the narrative."
On when East Coast meets Wet Coast
"From the first time I visited Dundee, I was aware of the parallel to the West Coast -- that dreamy, grey, misty surrounding. And the power of the water had always been apparent in the history of Dundee -- they were indebted to ships, ships that brought jute, ships that took away jam, ships that needed to be built. Every city has its own specific industry, and Dundee was a port city so it was obvious the role that the water played.
"I think, perhaps, that I am biased here, though -- I have always lived on the coast, and water serves as both a solace and inspiration for me."
On beauty's double helix
"I think that beauty is often categorized as either 'good' or 'bad,' and I wanted to showcase that it is just as complex as any other aesthetic -- it can be a blessing of some sort or something more shifting and dangerous. It's part of what makes them whole, part of their characters, but it is not the only aspect that defines them. I wanted them to be recognizably human, whole characters, full and flawed."