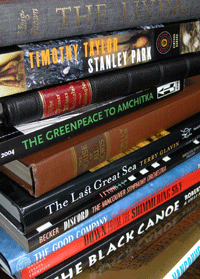 [Editor's note: Tyee Books promises an infinite variety of book lists, to dispute, to discuss and to build upon. Here's one. We hope you'll participate in this parlour game, and in those that follow.]
Wander into a bookstore or your local library, and you'll likely find a shelf of books about British Columbia. But while we have a strong publishing history, it still won't be long enough. The books will tend to be regional histories or potted biographies of yesterday's politicians. Having written some of those books, I know why they're scarce. With only four million people in B.C, most of them non-readers, the market for B.C. books can be pretty thin.
Still, in an ideal world with adequate subsidies for local publishers, British Columbia would have a host of excellent books on our history, environment, economics and media -- not to mention more novels rooted in this province.
Let's start with the histories. While we have some adequate histories of B.C. since the days of Sir James Douglas, we have no comprehensive book on our prehistory from the ice age to the arrival of the Europeans.
Nor do we have many good books on the colonial era. My own book Go Do Some Great Thing touched on just one small community of gold-rush-era B.C. -- the black pioneers. The Pig War of 1858-59 nearly led to armed conflict between the U.S. and Britain, and required the mediation of the Kaiser. No one's written a book-length popular treatment of the dispute.
We do have a forthcoming book from Chuck Davis, The History of Metropolitan Vancouver, with content also available online -- but within that framework are countless potential books on narrower topics, from Hogan's Alley to the collapse of the Second Narrows Bridge in 1957.
The tiles in our cultural mosaic
Short and superficial books have discussed ethnic groups like the Swedes, but no definitive histories exist on B.C.'s Sikhs, Ismailis, Japanese, Iranians, or Vietnamese. Almost no Koreans lived in Vancouver 30 years ago. Now they number at least 30,000 and support nine or ten newspapers. No book chronicles them.
For that matter, what about that invisible minority, the Americans? They've certainly been a factor since the gold rush, but the thousands who arrived during the Vietnam War made a decisive impact on B.C. culture. To take just one example, an émigré New York ad man named Ernie Fladell ran the Habitat Conference in 1976 and then used the surplus funds to launch the Vancouver Folk Festival and Children's Festival. Yet no one's written a book about ex-Yanks, a group that includes myself.
Politics in B.C. has inspired countless books, including a couple of my own, but we still have no adequate history of the CCF/NDP, or of Social Credit. No one has written an objective biography of Bill Bennett, or Dave Barrett, or Gordon Campbell. But these men have exerted an enormous impact on our lives.
Our wild and woolly media
Marc Edge's Pacific Press offered a fascinating history of our daily newspaper monopoly, from its founding in 1957 to the early 1990s, but we need more books on our media. There's the rise of the Georgia Straight, the heyday of the Vancouver Sun in the 1960s, the early days of radio and television. CBC Vancouver in the 1960s was doing wonderful work like Paul St. Pierre's Cariboo Country TV series; we need a book about that era.
Some of our local publishers occasionally bring out a book on a big B.C. corporation, but it's too often a form of vanity publishing: the company pays for the book's production. Yet our corporate growth deserves serious attention. I'd love to read a nuts-and-bolts analysis of fish farming, and a study of our forest industry's future after the mountain pine beetle.
Other industries have sprung up while our attention was elsewhere: we make countless films and TV programs, and games creators like Electronic Arts have worldwide impact. While the Harper government goes on and on about a "made in Canada" solution to global warming, Ballard Industries keeps trying to convert federal subsidies into fuel cells. Again, we have no books about these existing and potential economic powerhouses.
Strange truths make for great fiction
British Columbia has plenty of fiction writers, and many of their stories are here, but stories with substantial historical scope are rare. No one's written the definitive novel about the American draft dodgers and deserters.
Immigrants flooded in from Hong Kong in the 1990s, and from the Chinese mainland since then, but we have no major novel about their experience. When Yugoslavia disintegrated, Bosnians and Serbs and Croats found themselves sharing ESL classrooms in Vancouver; none of these very literary communities have portrayed their lives here in novels.
Before Whistler becomes the venue for the Olympics, surely it deserves a novel and not just a soap opera. Indo-Canadian drug dealers shoot each other in Surrey parking lots; they could make money writing crime thrillers instead. When Da Vinci's City Hall was cancelled last season, we were promised a movie -- but not a novel. For that matter, some disgruntled CBC producer needs to write us a Swiftian satire about what really goes on at Hamilton and Georgia.
Pitch a Canadian publisher on any of these ideas, and you'll likely get a predictable litany of woe about limited audiences, booksellers who return the copies they order, and the failure of the Department of Canadian Heritage to sufficiently back the industry. These excuses are not sufficient. All we need are a few good writers willing to show us ourselves, and the readers will be there.
Crawford Kilian is working on a novel set in North Vancouver in the summer of 2030.
Peter A. Robson's Salmon Farming: The Whole Story, has just been published by Heritage House. Does it fulfil the need for a comprehensive history? Ranj Dhaliwal's Indo-Canadian underworld novel Daaku will be released this fall by New Star. Will it effectively marry social commentary and genre fiction? Are there forthcoming books that will fill other gaps? Are there books that we've overlooked? Are there other gaps that need to be filled? Tyee Books welcomes your comments below.