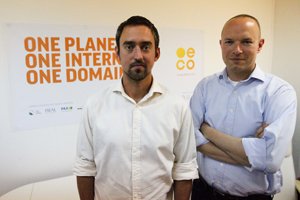 "I think it would be awesome if history looked on this as the creation of the first Internet park," Jacob Malthouse proclaims across the blank white table in the spartan Vancouver office of Big Room. A small leafy plant breaks up the monochrome.
"All this land is being put up for grabs," he continues. "This one chunk has intrinsic value -- just like Yosemite has intrinsic value."
While most people might never consider the creation of new website suffixes like .com, .net and .org -- known as "top-level domains" (TLD) -- akin to preserving wilderness, a global battle is raging over who should have control over them.
Nowhere is that fact more evident than in one particularly contentious domain under consideration: .eco.
This particular fault line runs through the heart of downtown Vancouver, pitting a massive coalition of environmental groups worldwide -- backing Big Room -- against some of the web's largest domain registry corporations who want .eco to simply go to the highest (multi-million dollar) bidder. Who decides? The Internet Corporation for Assigned Names and Numbers, or ICANN, a U.S.-based non-profit corporation responsible for maintaining web domains. It's currently considering applications for new web extensions, and the public comment period, in which Big Room's coalition must prove its level of support, expires today.
If they win, Big Room's plan is to manage the domain as directed by a .eco council of environmental partners -- and ensure would-be .eco applicants meet ecological criteria such as sustainable practices or environmental activism.
"If you're running a park, you'd want the governance of the park to have biologists, tourism officials and users of the park -- people who understand the various aspects involved in running (it)," Malthouse says, building on his Internet preservation metaphor. "Otherwise, you might have it completely given over to RVs, or not used by anyone -- or have part of it dug up for gold."
Bidding to define 'eco'
In 2007, after both working at the offices of the United Nations Environment Program (UNEP) in Geneva, Malthouse and co-owner Trevor Bowden got together in a North Vancouver pub to hash out a big idea -- dreamed up, like many innovations, over a pint of ale. With .eco up for grabs, Malthouse recalls, "Somebody's going to get it -- and it's not going to be environmentalists unless we get it."
"You often have conversations over beers, and wake up just saying, 'That was fun,' he chuckles. "But knowing this thing was coming -- that there was going to be .eco no matter what -- it hung over our heads. We were obligated to try to make something useful of this thing. (Otherwise), you'd spend the rest of your life thinking, 'Jesus, why didn't we do something about it?' "
Their vision, which coalesced into Big Room, was to make a private bid for .eco (application cost: $185,000), and invite a diverse group of environmental organizations to form a governing council which would, if successful, have ultimate authority over who gets a website on the domain. Not only would the TLD be then leveraged as a trustworthy system, but the application requirements would screen registrants based on their ecological footprint, carbon emissions and green cred.
What's at stake if Big Room fails in its bid? According to its backers, the risk is that ".eco" will be hijacked by green-washing polluters and made meaningless.
"Dot eco actually has meaning for people," Bowden tells The Tyee. "It has a set of expectations around it.... It certainly has meaning to a particular community, who have spent decades putting meaning into the word 'eco'. "
For their application, Big Room took advantage of one of ICANN's little-used policies. There, a broad community may apply for control of a TLD. In theory, as long as they meet the technical and financial qualifications to ensure stable management, their application can trump purely profit-making enterprises. But they must first prove they legitimately represent a community, says a consultant working with Big Room who has been involved in ICANN for years.
"It's an innovative model," explains Michael Young, chief technology officer and chief product officer at Architelos, and chair of one of ICANN's many working groups. "There's probably nothing quite like it in existence -- it's a very international model.
"It's about making a fundamental and compelling argument that, at least in the community scoring aspect, that your application really thoroughly represents a sizable, recognizable and easily definable community.... This is a great opportunity for communities to become more involved. The structure of ICANN allows for it and encourages it."
With dozens of the world's largest environmental groups on every continent behind Big Room's bid, the question of representation might seem obvious. After all, who else represents the environment if not the World Wide Fund for Nature (WWF), the International Union for the Conservation of Nature (IUCN) and UNEP?
Creating a global team
Until last year, however, there were two rival environmental pushes for the .eco domain.
When bloggers discovered that former U.S. vice-president Al Gore -- the maker of An Inconvenient Truth -- was backing a rival American company applying for the TLD (Dot Eco LLP), and former Soviet president Mikhael Gorbachev-founded Green Cross International was in Big Room's corner, hyperbolic headlines soon prophesied a new Cold War over the web.
"That was just too juicy to pass up!" laughs Bowden. He insists there were no Cold War hostilities. Gore had simply been approached by Dot Eco before Big Room went public with their bid. With the emergence of a more sizable contingent behind the Vancouver-based firm, Gore withdrew his endorsement, though the company he'd initially backed continued its application, promising to donate half its revenues to environmental causes.
"We'd been going about our business, starting to build a coalition of organizations, and another applicant... reached out to Gore; he agreed to support (them)," Bowden said. "Five years ago, it was conceivable that no one else would put forward an application. We've never perceived it as an intentional slight to the community; the alternative just didn't exist. When it did, we've seen how the community reacted: to coalesce around our open multi-stakeholder bid."
The process of cobbling together 60 environmental organizations and ensuring regional representation around the world took Bowden and Malthouse to almost every continent. In fact, the consultation process changed their thinking about what an environmental movement-controlled TLD would look like.
In Africa, they explained, they learned that for most of the world, ecological concerns are inseparable from social crises, that the two are closely entwined. In South Asia, they learned the importance of flexible environmental standards -- not lowering the bar, but ensuring equal access so that environmentalism would not remain an exclusive North American and European club.
It was in Brazil where their world consultation tour witnessed its most ardent engagement, however. One of the activists they met, Helio Mattar, President of the Akatu Institute for Conscious Consumption in São Paulo, soon became the .eco governing council's co-chair, beside WWF.
"He's a larger-than-life Brazilian," says Bowden. "A charming guy."
"He's one of those mavens," Malthouse chimes in. "A true environmental community maven: constantly connecting and engaging. People like Helio are the true heroes of this (project)."
Reached in his São Paulo office, Mattar explains Akatu's mission to inform and empower consumers to make green choices, and mobilize their power.
"If the proposal is successful, this is going to be the first community domain on the Internet in the sense that the community supervises and defines the rules under which the .eco domain is going to work," he explains. "The council is a quote-unquote 'representative' of the environmental community.
"We think .eco, because of its significance to a very, very large community in the world -- and because of the significance of the problems with which we deal, the environment itself -- has to be dealt with in a community way and not on a commercial basis.... It's not that we want to compete for competition's sake, but because we think it is important to protect the .eco name, and, unlike what happened to .org for instance, where just about anyone can ask for a .org without being a social organization, we don't want that to happen to .eco."
Breaking the web monopoly
With several of the world's largest domain registry corporations competing with Big Room, is .eco really a symbol of people-power versus digital corporate Leviathans? How representative is the environmental-backed bid?
For Lindsey Pinto, communications manager at OpenMedia.ca, the application raises many questions about who controls TLDs on the Internet. As it stands, website suffixes are normally controlled by a few private companies such as Donuts or Top Level Domain Holdings, which bid on hundreds of extensions at a time.
But she warns that simply having non-profit environmental organizations in the driver's seat might not necessarily challenge the increasing concentration of digital power.
"Making sure domain registration isn't monopolized by one registry, or not controlled from any single government or corporate jurisdiction, is really important," she explains. "It does become a neutrality issue: what are the standards to regulate a top-level domain?
"Yes, (.eco) could be horribly exploited and greenwashed. (But) we need to make sure that when you're governing a TLD, you have a public input process and govern it in the public interest. What measures are they putting in place to make sure as many people as possible are present in deciding how the domain is controlled? Will public input make a difference in terms of how .eco is controlled? It is a problem no matter who runs a TLD... Governments, big corporations, or even a large non-profit could become the same issue. You have to ensure the registration of domains is open and participatory, and the public is involved in what is essentially the public interest."
While Malthouse and Bowden boast of partnerships with various certification agencies, such as for organic growers, how uncertified, poorly-resourced groups apply while still "not having a lot of paperwork or (spending) a lot of time proving they're not evil," is certainly a question that's raised, says Pinto.
Another concern is how representative enviro-giants like WWF, Greenpeace or IUCN are of tens of thousands of grassroots environmental organizations and initiatives worldwide. Known for slick advertising, massive budgets and mainstream public appeal, might more radical, outspoken or unorthodox groups be rejected?
For Big Room, such thorny questions can be gradually worked out through the .eco council, which -- though Mattar admits is not democratic, since it was chosen by Big Room itself -- is for now the only hope of ensuring .eco is community controlled.
The stakes are certainly high, says the executive director of UNEP. In his letter backing Big Room's application to ICANN, he warns that the "eco" term risks being taken hostage.
"People around the world associate 'eco' with respect for the environment," writes Achim Steiner. "Recognizing the potential for its misuse, I appreciate the work of the community to develop rules to ensure responsible and transparent use of the 'eco' label."
For Mattar and Big Room, the question is how to leverage their control over the TLD to not only promote ecological action -- the driving criteria behind how they'll decide which websites' applications are accepted -- but also to ensure transparency, for instance comparing emissions from companies that might want to risk scrutiny in order to get a coveted .eco extension.
With experience, Malthouse adds, green groups can together figure out better ways to harness the power of a TLD.
"How is this going to power 350.org campaigns?" he asks. "How could it promote environmental actions? Drive B-Corporation certification? Help drive green purchasing? Those are the problems we're trying to solve."
"In our case, it's been a great opportunity to demonstrate the community's ability to coalesce on issues of interest to them," Bowden adds. "It's surely one of the largest coalitions that's come together in recent memory. Our proposal actually puts the environmental community in charge -- we'll operate at their pleasure."