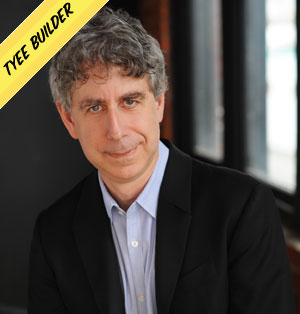 "I support the Tyee because it has great writers writing about important things. What else hooks me? The chord changes to Charles Mingus' 'Jump Monk.'" -- Joel Bakan
We're glad that Bakan sees our journalism as important, and we hope you do too. He and The Tyee's writers know the power of the written word: a thoughtfully grouped bunch of sentences can accomplish great things when they're put together in the right way. Bakan saw this with his book, The Corporation, which sparked an international shift in the way consumers view the corporations that pander to them every day. Similarly, Tyee articles have caused shifts in policy and have been instrumental in informing Canadian citizens about the issues that they need to know about to be engaged members of their community.
If you, like Joel Bakan and the rest of our famous Builders, think The Tyee is worth supporting, please click on the yellow button below. More than 300 readers have signed up, too. You can see the list of signed copy of his latest book, Childhood Under Siege, which centres on the corporate practice of targeting children. You can see The Tyee's review of it here. Read it already? You can have a signed copy of a book by one of our other famous Builders. Sign up quick, though! Quantities are limited.

Signing up to support The Tyee means every penny you give goes directly to our writers and editors. There's nothing "big business" about us, and no overhead or administrative fees to cover. If you want to know more about how your donation will help us build a sustainable, grassroots funding model to enable us to produce more great journalism, click on the yellow button above. You can also check out these Frequently Asked Questions.
About this Tyee Builder: Besides being a bestselling author, Joel Bakan is a filmmaker and a law professor at the University of British Columbia. He has three books to his name and has also been published in legal and social science journals. His work often considers the impact of law on society, and -- as you've seen from the descriptions above -- maintains a focus on the practices of corporations and malleability of corporate law. Bakan's teaching, in addition to his writing and filmmaking, has won him much praise: he has received numerous awards for his ability in the classroom. You can find out more about Joel Bakan and his work on his website.
About the Tyee Builder Program: Want to give independent Canadian journalism a boost? You've come to the right place. The Tyee is trying to become fully sustainable. In order to do so, we've launched the Tyee Builders program to allow readers who love The Tyee's work to help fund more of it. Every penny you support us with will go directly to pay Tyee writers and editors. And besides the warm, fuzzy feelings you'll get knowing you're helping dial up the volume on an independent voice in Canadian media, we've come up with a few other ways to thank you. Click on "Hammertime" above to learn more and start Building!