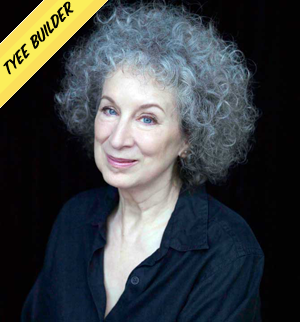 "I support The Tyee because in these times, we need all the friends of open, accountable democracy that we can get. What else hooks me? Gardening in the spring." -- Margaret Atwood
At The Tyee, we're also hard at work this spring: we're cultivating a more sustainable way of producing our award-winning, independent journalism. The Tyee Builders are a grassroots community of supporters -- including Margaret Atwood -- that will help The Tyee increase its reporting capacity. Builders have pledged to make a small monthly contribution to our editorial budget. In return, they get several perks including -- if they're giving $15 a month or more -- a signed copy of one of Margaret's (or another one of our famous Builders') books.

If you, like Margaret, believe that The Tyee is a voice in Canadian media worth supporting, please join her as a Tyee Builder. You'll be helping to make our independent reporting more sustainable. In return for your contribution, we promise that every penny you give will go directly to pay for the writing and editing of top-notch Tyee journalism. If you want to learn more about the program or sign up (so that you have the best chance of getting the book you want!), click on the yellow button above.
About this Tyee Builder: Margaret Atwood was born in Ottawa, Ontario. Her more than 40 books include poetry, novels, literary criticism, short stories, and children's books. She's set her writing in dystopian futures, the Canadian backwoods, and everywhere in between, with characters that match the diversity of her settings. Among many other awards, Margaret has won The Booker Prize, twice won the Governor General's Award for Fiction, the Giller Prize, the Trillium Award, and has been awarded well over a dozen honourary degrees by prestigious universities around the world.
About the Tyee Builder Program: Want to give independent Canadian journalism a boost? You've come to the right place. The Tyee is trying to become fully sustainable. In order to do so, we've launched the Tyee Builders program to allow readers who love The Tyee's work to help fund more of it. Every penny you support us with will go directly to pay Tyee writers and editors. And besides the warm, fuzzy feelings you'll get knowing you're helping dial up the volume on an independent voice in Canadian media, we've come up with a few other ways to thank you. Click on "Hammertime" above to learn more and start Building!