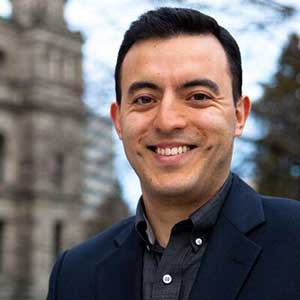 Several friends told me this week the Northern Gateway pipeline "finally feels real." Even people who were cavalier about the inevitability of federal approval described feeling unexpectedly emotional. A few I didn't even realize had the issue on their radar are suddenly speaking eloquently and passionately -- not so much about the details of the proposal, but about the way Ottawa's decision was carried out.
Enbridge CEO Al Monaco says it will be at least "12 to 15 months" before they'll be ready to build. With that window in mind, the common question for those who want to stop it is: "How?"
Some are well-positioned to challenge this decision in the courts -- First Nations governments best of all. The Crown committed a costly legal error when it left Enbridge to its own devices for so many years, attempting "consultation" deep in unceded territories. Those court cases could last for years and many of us who are not First Nations or trained lawyers will certainly donate to see them succeed.
Some pipeline opponents also promise to physically interfere with construction, should it ever proceed. More blockades like the Unist'ot'en camp may well spring up in the north. Environmental groups are already fundraising to hold workshops on civil disobedience.
Other critics are thinking big-picture about the demand for oil and how to undermine the business case for raw bitumen exports. Whether clean-tech entrepreneurs or climate policy advocates, these groups aim to shift the market conditions that make projects like Northern Gateway profitable in the first place.
Put it this way: there are many ways to stop the pipeline. Some combination of the above would probably stifle Northern Gateway eventually. But British Columbians can't afford to spend another five years fighting a single project that never should have been proposed in the first place. There's so much else we need to work on.
I believe the swiftest, most decisive way to stop Enbridge is political -- and the most powerful tool most of us have is our vote. That's why I chose to join Dogwood Initiative. We're political organizers without partisan baggage. We believe decisions should be made by the people who have to live with them. And we know if First Nations and B.C. voters had a democratic say over this project, Enbridge would be packed up and gone tomorrow.
Three political paths
Tyee columnist Bill Tieleman is right when he writes that a Conservative election loss in 2015 would likely end Enbridge's pipe dream for good. Opposition leaders Tom Mulcair, Justin Trudeau and Elizabeth May have each promised to cancel the project should their party form government. Supporting their candidates federally is certainly one political path to stopping Northern Gateway. What do we do until then?
Bear in mind our provincial government also has jurisdiction and retains the right to say no. That was made clear in the federal announcement on Tuesday: "The proponent will need to seek various regulatory approvals from the federal government and the governments of British Columbia and Alberta ... The Province of British Columbia would be responsible for issuing approximately 60 permits and authorizations."
Recognize that number? "British Columbia has the power to grant or withhold 60 permits," Premier Christy Clark told a university audience in Calgary back in 2012. Later that day she told reporters: "If British Columbia doesn't give its consent to this, there is no way the federal government or anyone else in the country is going to be able to force it through. It just won't happen."
Clark is still saying no, for now. Meanwhile, Enbridge's Al Monaco says "we're not looking at these conditions as something we're opposing. These conditions will help us make a better project. It's up to B.C. to decide whether the conditions are met and it's up to us to try and close the gap." Pushing the Clark government toward a final rejection of those permits is the second political path to stopping Enbridge.
That brings us to the third and perhaps least understood course of action. Under a law unique to British Columbia, the people themselves have the right to draft a bill on a matter of provincial jurisdiction. With support from 10 per cent of fellow voters around the province, that bill can be handed over to MLAs to pass into law. For example, a law denying provincial permits to a pipeline that would carry diluted bitumen over hundreds of streams and rivers.
The first major challenge lies in the difficulty of the petition process. Not only must you gather signatures on paper, you have to round up support from 10 per cent of registered voters in every riding in the province. At the bare minimum that's 320,000 people across all 85 electoral districts -- within a three-month deadline.
Assuming canvassing teams pass this Herculean challenge, further pitfalls await. Mr. Tieleman was the strategist behind the Fight HST campaign and probably knows the legislation better than anyone in the province. As he points out, "The government can indeed chose to hold an initiative referendum, but the results are not binding. Or it can simply introduce the bill proposed by the petition into the B.C. legislature, but not even debate it, let alone pass it."
Tieleman calls the law toothless, fundamentally flawed and designed to fail. Yet he marshalled thousands of volunteers to try it anyway. It begs the question: why bother?
Process versus political reality
The truth is that the initiative to end the harmonized sales tax wasn't just about the merits of HST versus PST.
As campaign spokesman Bill Vander Zalm wrote in March 2010, "The campaign to defeat the HST has ballooned into something much bigger and even more significant than protesting an unjust, illegal and unethical tax. As profound as those arguments are, there is something deeper and even more powerful afoot. People are rising up to take back their democracy."
Gordon Campbell didn't just impose an unpopular tax; he misled the people of British Columbia. He broke a major election promise. Worse, it was later discovered his party planned it that way all along. At that point it doesn't matter how many loopholes are built into the Recall and Initiative Act, none are big enough to jump through when hundreds of thousands of voters want your hide.
Mr. Tieleman says "Our victory depended on Campbell's multiple miscalculations, including his decision to hold a binding referendum in 2011." Tieleman is being modest. Fight HST was designed from the start to put Campbell in checkmate. It ended the premier's elected career.
The underlying purpose of launching a citizens' initiative, whether on sales tax or oil tankers, is not only to change legislation. The mechanism itself forces you to build massive, organized political power -- the kind no elected official can afford to ignore.
It's a high mountain to climb. The question is what lies at the top. What motivates people to commit to the journey?
Put it this way: what is the legacy of the HST victory? We switched back to paying PST last year. His Excellency Gordon Campbell is now Canada's high commissioner in London. And four years after the election that started the whole scandal, Campbell's successor Christy Clark stormed back to win a stronger majority government.
Where are the boxes and boxes of petition signatures? Presumably safe in a vault at Elections BC. Those people can never be emailed or called, invited to a workshop or asked to donate to a new campaign. Even if they could speak to each other, the threat of the HST has passed. Their affiliation was momentous, but short-lived.
Building beforehand
Here's where Dogwood's strategy differs. As of today we have not approached Elections BC to launch a citizens' initiative. Instead we're building ahead. We call it a democratic insurance policy in case Premier Clark pulls her own version of the HST flip-flop and gives a green light to Enbridge. The longer that day is delayed, the closer to ready our organizers will be.
So far Clark is standing up to Ottawa, which puts her in line with First Nations and a democratic majority of B.C. voters. That's good, but we imagine she's going to come under a lot of pressure to keep the door open for Enbridge. As the company pulls out its chequebook and starts knocking off the NEB's conditions, we'll be watching closely to see if Clark's position shifts. As her own government told the joint review panel at the Enbridge hearings, "'trust us' isn't good enough".
Here's where we're at. In the 48 hours following the federal announcement on Northern Gateway, 48,000 new supporters signed our pledge at LetBCvote.ca. Total signatures now surpass 200,000 -- collected in person, online and through cell phones.
We have the benefit of technology that campaigners could only dream of back when the Recall and Initiative Act was introduced in 1995. The other night we signed up our first community hall full of supporters via text message (try it out if you like: text "vote" to 604-265-4967). We're investing in mapping software to make our teams on the ground more efficient. And social media has extended our reach like never before.
But those bells-and-whistles should not obscure the off-line, social core of the project.
The simple fact is every door we knock on prompts a face-to-face conversation between two neighbours. That in itself is positive. From there, every new signature represents another voter who shares our values -- or someone we can help get registered to vote. Every canvassing shift teaches you more about your community. And every few blocks you meet someone who loves the idea so much they want a clipboard too.
The most exciting number to me so far is 7,000. That's the number of British Columbians who've taken the brave step of offering to leave their house so they can talk about democracy with strangers. New volunteers get a phone call from their closest team leader and an invitation to the next local training workshop. (Apologies if it takes us a few days to get to you right now -- we're thrilled by the response but our systems are a little stretched.)
Before the federal announcement, we had teams in 33 ridings. Now powerful allies are stepping forward to say they want to work together to defeat Northern Gateway democratically. We're in discussions with Unifor, Coastal First Nations and a raft of smaller groups -- many of which are already established in their home communities.
Whether they take a formal hand in the initiative preparations or work on parallel projects in complementary ridings, our goal is to form a network of allied organizers across all 85 B.C. ridings.
The citizens' initiative should be thought of as a last-ditch scenario. A final democratic line of defence if our provincial politicians let us down. But if they hold fast to their rejection of the Enbridge proposal, our training and preparation will not be in vain. As Bill Tieleman points out, there's a federal election next year. Only one party supports Northern Gateway.