Past success means the British Columbia government is in a position to return some money to taxpayers, according to the speech from the throne delivered Tuesday.
The speech, delivered by Lieutenant Governor Judith Guichon, is an annual account of the provincial government's plans and priorities. Today's speech, which mainly looked backwards, was the last before the May election for the government Premier Christy Clark leads.
"After years of sacrifice by all of us in British Columbia through challenging times, working together with a plan, your government is now in a position to pay you back, to relieve some financial burdens, and to invest in your household and in your families," the speech said.
Provincial budgets have been in surplus, it said. "That money belongs to you. And in the coming budget, your government will provide financial relief to taxpayers, while continuing to make investments in the services people rely on."
Also of note in the speech, the government will name an envoy to Washington tasked with reaching a new agreement on softwood lumber. CKNW is reporting that former Canfor Corporation CEO David Emerson will be that envoy. B.C provides half of Canada's softwood exports to the U.S., and the industry has been threatened with new tariffs since an existing agreement expired last year.
Otherwise, the speech repeated past promises and summarized what the government has done on a laundry list of files, including job creation, balanced budgets, health care, the opioid crisis, education, infrastructure, child poverty, policing, housing, rural economic development, technology, tourism, trade, forestry, liquefied natural gas, mining, agrifoods, manufacturing, First Nations and the environment.
On LNG, which was a focus ahead of the 2013 election, the speech said, "Unforeseen headwinds have created challenging conditions." It repeated a dubious claim that $20 billion has already been invested in the industry, a figure Clark has used for more than a year.
And on mining, it acknowledged that just two new mines are under construction despite promises of eight new mines under construction or in operation by 2022. "The work is not done."
Addressing to MLAs, the speech said, "With the risk of a weak global recovery and protectionism surrounding us, now more than ever, we must be vigilant." It encouraged them to "Serve British Columbians while making sure they keep as much as possible of their hard-earned money."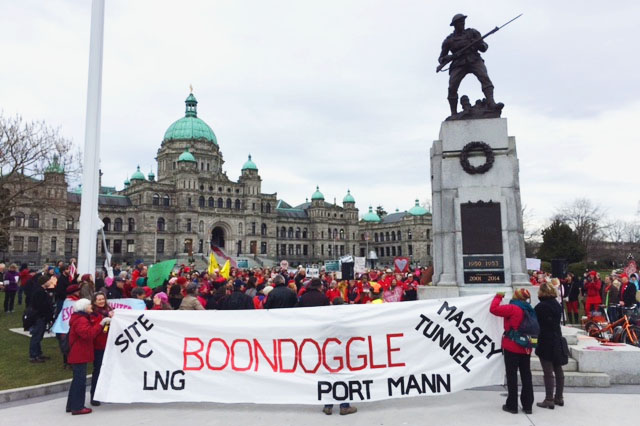 Outside the legislature, protesters organized by several groups held a "stand up for what you love" rally. Speakers and signs expressed opposition to the Kinder Morgan pipeline proposal, Site C dam, LNG, fracking, the Massey Tunnel replacement, the Port Mann bridge, old growth logging and more.
Government desperate to buy back voters: Horgan
Speaking to reporters, Clark said B.C. has the strongest provincial economy in Canada and she wants to keep it there. "What you're going to see in the coming weeks is a contrast in the legislature between those who'd like to take the surplus and grow government... and those of us who believe when we have a surplus it means we are taking too much money from people in their taxes."
Clark said there will be more details in the budget to be presented on Feb. 21. "However government decides to give money back to citizens, it goes into their pockets and they spend it, and that's what creates growth and jobs," she said.
NDP leader John Horgan said that for 15 years the government has taken more money from British Columbians through Medical Service Plan premiums, BC Hydro fees and ICBC rates. "Now just before an election they're going to try and give it back to the public as if that's going to make up for years and years and years of taking money out of people's pockets," he said.
The government is desperate to buy back the support of voters, said Horgan. "Once again the BC Liberals don't seem to be working for British Columbians. They're working for themselves."
Horgan highlighted several items that were absent from the throne speech. "No mention of the Ministry of Children and Family Development after the scathing report, yet another scathing report, that we received last week on the death of Alex Gervais," he said.
Nor was there any reference to how the government took away bus passes from people with disabilities last year or to expectations that the province might cut MSP premiums.
"No absolute understanding of the challenges families are facing," he said. "What we need is a government that's working for people. I intend to do that."
Despite claiming the government has a plan, the speech was devoted to congratulating themselves on their past actions, Green Party leader Andrew Weaver said in a prepared statement. "Clearly, there was no plan and they have no plan. The BC Liberals are out of ideas and out of touch with the issues facing ordinary British Columbians."
Josha MacNab, the B.C. director at the Pembina Institute, was quoted in a press release saying that the throne speech was "the latest missed opportunity for the provincial government to stand up for B.C. families and communities amid the global shift to a low carbon economy."
B.C. Federation of Labour president Irene Lanzinger said, "It was the same platitudes, and same old excuses from a tired government that's run out of gas."
The BCFED has been campaigning for a $15 an hour minimum wage. There was nothing in the speech for the 500,000 people who work for poverty-level wages or others who are poor in the province, Lanzinger said.
"The abject failure of the Clark government to tackle poverty and inequality are symbolic of what's wrong with our province."