Climate change is hitting home across Canada's Prairies, whether you ski, skate, ranch, mill timber, or insure people whacked by weird weather. Scientists say a shift in weather patterns is accelerating due to greenhouse gas emissions from humans burning carbon. It's already affecting lives in the region. Here are six ways.
1. Closing snow window
Skiers in Saskatchewan already don't have a lot of hills to choose from. Don Williams says his is increasingly "difficult to run" because "the weather seems more variable than it was."
Williams has for 15 years co-owned and managed Mission Ridge Winter Park, a 45-minute drive from Regina. While sustained cold November temperatures used to mean the ski hill had about a month to build up enough snow -- naturally and artificially -- these days Mission Ridge only has about a week of cold weather to create the necessary snow base.
That's hurting Williams in the pocketbook. "Now we just have to spend the money to do the snowmaking in a shorter period of time," he said. And there's no guarantee he makes that money back if, as happened a few years ago, an early spring forces him to shut down two weeks early.
2. Explosion-triggering insects
Its population zooming thanks to warming climates on the Prairies, the mountain pine beetle not only is devastating forests, it's raising the risk of explosions in sawmills. While Alberta hasn't seen as much tree death from the tiny insects as British Columbia, Brock Mulligan, the director of communications for the Alberta Forest Products Association, says the spread of pine beetles threatens "the industry's sustainability."
And, when milled, beetle bored trees can be "volatile and explosive," as tragic disasters in B.C. have shown, Mulligan notes. "Companies are now extremely vigilant about preventing the build-up of sawdust in mills to protect the safety of their employees," he says. That protection drives up costs for mill owners, who are finding that safely turning "beetle damaged fibre" into useable lumber requires refitted equipment and new technologies.
3. New wrinkle for rinks
Climate change in Calgary means winters aren't what they used to be, and for Paul Webber that makes running outdoor skating rinks a lot more slippery. Webber directs two volunteer community rinks for the Southwood Community Association. When he started a decade ago, snowfalls were spread out more evenly. But now, "when we do get large snowfalls, we get a lot of snow. The biggest challenge is keeping the snow off the rinks. If you don't get the snow off right away it kind of sticks to your ice and ruins it," he says.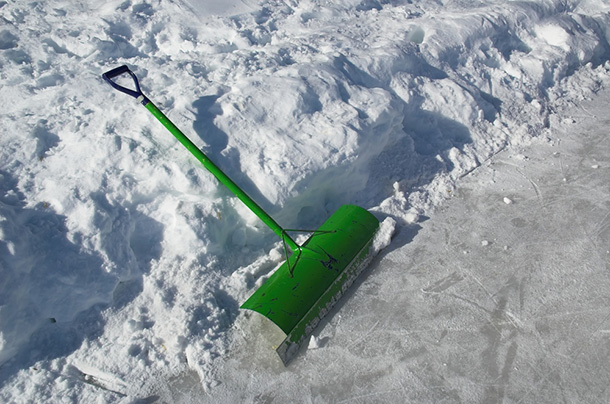 Running a volunteer operation is never easy, since people aren't always there to help run the snow blower and sweeper when it begins to dump. "When it snows it's kind of a mad panic to get over there and get it off," says Webber, who must spend more of his tight budget on subcontracting a bobcat to clear the ice. It's getting harder to predict the length of skating season, he adds. Last year, Calgary plunged into a cold snap and rinks opened at the beginning of November. Just a few years before, the weather didn't allow ice until after Christmas.
4. Scientists sent back to school
At 68, Robert Rockwell has been studying the same northern ecosystem for 47 years. Now he feels like he has to start over again. "All the stuff I thought that I'd learned is changing," says the biologist who works with the non-profit Hudson Bay Project around the Mast River near Churchill, Manitoba. Rockwell says for decades he felt he was mapping a permanent, "holistic" picture of how plants and animals interacted. But global warming keeps altering the map.
Snow geese in the area, for example, now eat fresh water plants instead of saltwater ones. And they face a new predator: polar bears, which didn't used to come on shore during the birds' breeding season so frequently. Melting sea ice now sometimes brings the bears onto land sooner, and Rockwell has witnessed them taking a huge chunk out of geese colonies by gobbling up eggs and chicks. He's also seen once unusual confrontations between polar bears and grizzlies. "All of those nice little interactions that have evolved over time are going to start falling apart," he says. "There's a whole new complex dynamic that has to develop."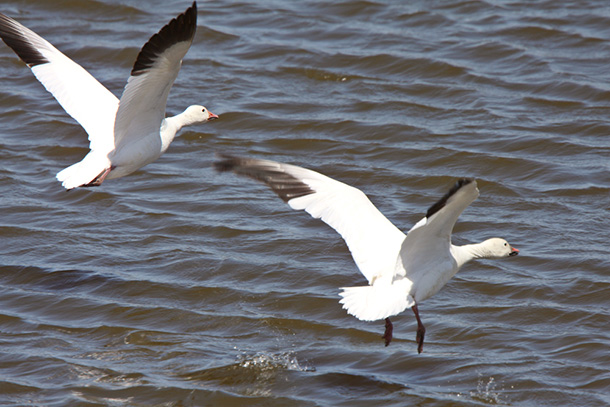 5. Insurance adjustments
Lena Tityk knows the cost of climate change on the Prairies. She's issued the cheques. Tityk is vice-president of Rogers Insurance Ltd. in Calgary, and she says weather-related claims have been increasing in size and frequency. Recent flooding along the Bow River served as a wake-up call for insurers and customers alike.
"The flooding that occurred in our province brought about a heightened awareness for companies to review their current insurance product offerings," Tityk says. "Consumers are asking more questions." As a result, flood insurance will become much more widely available next year. Meanwhile, not just flooding but damage by wind and hail has driven up insurance prices, confirms Tityk.
6. Plagued by grasshoppers
When drought hit the Peace River area of Alberta this past summer, rancher Peter Eggers felt lucky to have dodged the worst effects, coaxing pasture from his land for his cattle despite the lack of rain. But then the swarms of grasshoppers came. Their numbers swelled in part due to climate change, according to scientists, and by the time they were done chomping Eggers' hay fields, parts were black and "not worth harvesting."
Eggers commiserates with a friend who grows alfalfa 120 kilometres north of Edmonton. Swarms of grasshoppers devoured the blossoms from his crop, leaving no seeds to be gathered for replanting. The prospect of further droughts has led Eggers to plant native perennials on some of his acreage and rotate his livestock between different areas of pasture. Still, Eggers knows there's no guarantee he's seen his last grasshopper plague. "We are worried about next year, if they lay their eggs and come back."