It was 2 a.m. when the phone rang. I was in a sleepy daze, but figured someone was calling to report a polar bear in town. I was staying, after all, at the bear house in Churchill, headquarters for the Polar Bear Alert Program run by Manitoba conservation officers.
What had a bear done tonight? Broken into a house? Threatened people on their way home from the local bar? Mauled someone, as a man nearly had been the night before when a bear tore through the front door of his house?
I'd slept in my clothes, so was ready to jump into the pickup truck before officer Rob Kraychuk took off into a blizzard. After an hour, we circled back to find fresh tracks in the driveway suggesting our bear had been by the back door of the bear house just minutes earlier. Kraychuk revved the engine and we set out again.
Mid-October to late November is when things really start hopping in Churchill, which sits on the west shore of Hudson Bay 110 kilometres south of Nunavut. Tourists are in town and bears are hungry after being forced to fast on land for four months or more. Keeping bears and people apart here has been a problem for decades, which is why the province created the Polar Bear Alert Program and a jail to hold the big white intruders when captured.
No one, however, had seen it as hectic as it was when I visited in 2012. The first sign of trouble came on the fourth of July when a bear had to be shot after turning on conservation officers twice, damaging the pickup truck the second time.
The bears just kept coming in after that. The polar bear jail was so full by the time I got there in mid-November that some of the inmates had to be helicoptered out of town to make room for other bears that were inevitably going to come in and cause trouble.
I'd come to Churchill to find out how climate change is changing the relationship between polar bears and humans on the western coast of Hudson Bay. I'll get into that a bit later.
But at that moment, I was wondering if Kraychuk, rather than any polar bear, would be the end of me. He was fishtailing wildly, swerving the truck back and forth on the icy street, doing his best to avoid crashing into telephone poles and parked cars. Even with the windshield wipers running full speed, it was hard to see where we were going, let alone where the bear might be.
Then we got a radio call from Churchill's chief of conservation officers, Brian Barton. He was out, too, and had spotted the bear running past Gypsy's Restaurant. Before I could register what that meant, a big bear bolted across the street directly in front of us. Like a ghost, it disappeared into the snowy night. Kraychuk spun the truck around and gave chase. But the fresh tracks we picked up along the roadside veered off into an inaccessible marshy area along the coast. Like most bears drawn into town by hunger, this one probably didn't come back.
Driven by climate and hunger
The Polar Bear Alert Program is arguably one of the most successful conservation programs in North American history. Driven by wildlife managers and scientists employed by universities and the Manitoba and Canadian governments, and by local citizens who were tired of seeing as many as 29 polar bears being killed each year in the 1970s, the project was first intended to protect people and property. Since then, the welfare of the bears has become a priority as well.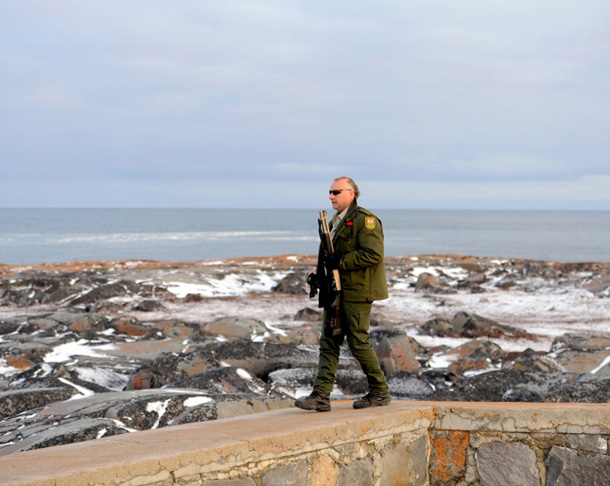 In some ways, it seems like a miracle that no one in Churchill has been killed by a polar bear since 1983, and that far fewer bears are killed now than they were back then.
The future, however, is not a promising one for the polar bears of Churchill as the climate continues to heat up in the region. According to an expert panel appointed by the U.S. Geological Survey, there will not be enough sea ice left in western Hudson Bay by mid-century to sustain this population of approximately 1,000.
Signs of serious trouble began a decade ago when scientist Ian Stirling documented a 22 per cent decline in the polar bear population in western Hudson Bay from 1987 to 2004. Although numbers appear to have stabilized since, Stirling warns against being optimistic.
Stirling has been conducting research on polar bears here and in other parts of the Arctic for more than 40 years. The animals he and his colleagues see in western Hudson Bay tend to be younger, shorter and thinner than the typical bear seen 20 or 30 years ago. The triplets that used to be a fairly common site are now almost never seen.
The reason why is simple. "Bears pile on the fat they need to make it through the year by catching seals on the ice. With the ice breaking up an average three weeks earlier in spring, as is now the case in western and southern Hudson Bay, the animals are spending more time on land and getting less opportunity to put on the reserves they need to successfully reproduce, and for their cubs to make it through the year.
"It's a double-edged sword," Stirling says. "Less time feeding also means more time burning up stored fat. Once that fat burns up, some bears go into town looking for something to eat. The fact that freeze-up is delayed by a week or two only enhances the chances of polar bears getting into trouble."
One might have expected a population decline such as this one to result in a similar reduction in the number of polar bears coming into Churchill. But according to Manitoba Conservation documents, bear occurrences have been rising dramatically.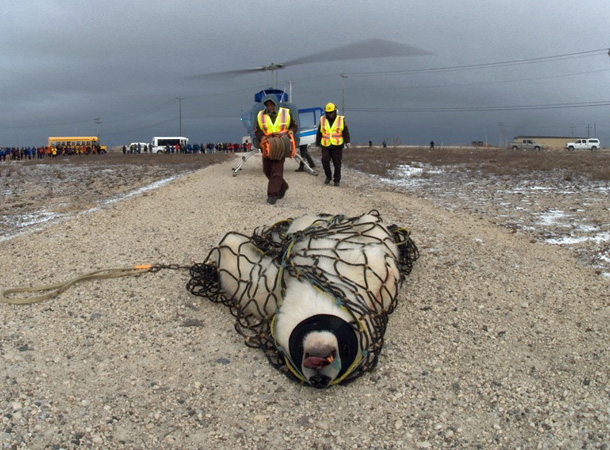 Between 1992 and 2002, officers responded to 1,495 calls. In 2005, the town of Churchill finally closed the dump that was attracting animals. Nevertheless, from 2002 to 2012, bear alerts climbed to 2,807.
Not only are close encounters with bears rising, so is the risk of injury. Two people near Churchill were mauled last year, another two the year before. Wildlife managers and government scientists confide they are worried someone might be killed, because the hungrier the bears get, the more prone they are to confront humans. Some polar bear scientists say it's time to take radical measures, like feeding the bears well outside of town to keep them away.
Strained and at risk
Churchill's pregnant female bears may be more vulnerable than other female bears in the Arctic because unlike other female polar bears, they travel up to 80 kilometres to den in the boreal forest. By the time they settle in, most of these bears haven't eaten for four months, and it will be another four months before they and their cubs eat their first seal.
University of Alberta scientist Andrew Derocher says that any further strain on the energy reserves of these animals will likely result in reproductive failure, as happened in the early 1990s when 28 per cent of pregnant females did not produce cubs.
Working with Derocher, scientist Peter Moln&aacuter did a study that suggests that the percentage of polar bear females failing to reproduce in the future could rise 40 to 73 per cent in western Hudson Bay, if the spring ice break-up occurs one month earlier than it did during the 1990s, and 55 to 100 per cent should break-up occur two months earlier.
For Churchill, a largely aboriginal town of just 800 people that was nearly shut down after both the military and several federal government officers pulled out in the 1960s, polar bears have been a lifeline to the future. With tourists pouring millions of dollars into the local economy, the loss of these animals would be a crushing blow to them.
Derocher believes that the five nations that are homes to polar bears have got to at least consider other management strategies to deal with polar bear populations such as those in western Hudson Bay that are increasingly at risk as the climate warms. He and most of his colleagues hope the newly elected government will reverse recent federal policies by restoring cuts to funding for polar bear research, freeing Environment Canada's polar bear scientists to speak, and taking strong measures to combat climate change.
"We have covered the science side of the issue very well, but the policy and management aspects are locked in the past," says Derocher. "We still manage polar bears in Canada like nothing has changed. Other countries are moving on some aspects of future polar bear management, but it is glacial compared to the actual changes we're seeing in sea ice and the bears themselves."