It takes precisely one minute to take the SkyTrain from Gateway to Surrey Central stations. A single stop.
But due to a mistake in Jazmine Rosales' visa renewal to Canada, the short trip a year ago altered the course of her life -- and saw her removed from the train by Transit Police, detained for hours, thrown in a Canada Border Services Agency (CBSA) jail cell in Vancouver International Airport, deported to Peru, and her husband himself investigated.
"She was destroyed, she was crying very hard," recalls her Chilean spouse Juan Inostroza who still lives in the Lower Mainland, albeit alone now. "She didn't realize exactly what was happening... It wasn't until she arrived at the airport jail, in that moment, she suddenly understood she had very serious problems."
Rosales, 40, is just one of 328 people reported to CBSA by Transit Police last year, one-in-five of whom faced a subsequent immigration investigation. Another was Lucia Vega Jiménez, an undocumented hotel worker who committed suicide in the same airport holding cells only four months later, also arrested without a ticket. In less than three months, the B.C. Coroners Service will hold a public inquest into her death, but it cannot assign blame.
While a spokeswoman for Transit Police -- which has been authorized to operate as a multi-jurisdiction Designation Policing Unit since 2004 -- said the force only call in CBSA when other attempts to identify a suspect fail, lawyers say the agency is creating an unnecessary "climate of fear" for those here without legal status.
"A huge percentage of the fresh arrests in the Vancouver area come from Transit Police referrals," explains Laura Best, a lawyer with Embarkation Law Group who offers detainees duty council at the Immigration and Refugee Board. "Definitely a couple every week... since as long as I've been practicing, that's 2010.
"Some weeks as high as 50 per cent of the fresh arrests are coming from Transit Police referrals. When I go in and meet a new client, and I say, 'What caused you to be in detention today?' they start with, 'I was on the Sky--.' I know exactly how it's going to end."
'She's under arrest now'
Inostroza, a 40-year-old metallurgical engineer, remembers the fateful phone call from Gateway station one Wednesday evening in late July 2013; he was at the gym. When he arrived, his wife was surrounded by transit officers who said she'd refused to produce her fare or her passport.
"Is this your wife here?" he remembers one officer asking.
"Yes, it's my wife."
"She's under arrest now," the officer said, forbidding Inostroza to talk to her. "We're waiting for immigration agents."
The next thing he knew, Transit Police were demanding to see his own identification and said ominously: "We are going to investigate her situation in the country -- and you as well."
Immigration officials arrived and took Rosales away in handcuffs, "like when police take bad people."
"Why are you doing this? She's not a danger," he told them. "They said, 'It's not your problem, you stay right here.'"
'A good working relationship': Transit Police
"We have a good working relationship with them," explains Anne Drennan over the phone when asked about CBSA. "But there's no actual policy in place or anything like that. It's ad hoc."
The Transit Police spokeswoman says the number of people turned over to the agency is actually "relatively small," considering that last year officers had roughly 25,000 "fare evasion contacts" out of the more than a million users who use the sprawling system each day.
The "majority," she said, are caught by officers conducting fare checks to verify if riders have paid their way. For most people, losing one's bus ticket, or riding even one stop outside your fare zone, results in a $173 fine.
But for people here without proper documents, officers' attempts to figure out who they are inevitably lead to the CBSA, the federal agency that "monitors, investigates, detains and removes those people or goods in violation of the relevant laws," according to its website.
Accusations of 'profiling'
So what is it about these transit riders that brings them under suspicion of breaking immigration laws?
The B.C. Civil Liberties Association's executive director suspects that some kind of profiling is taking place, whether based on a person's accent, English skills, or whether they're wearing construction work clothing, for instance.
"You know, if I'd forgotten to pay my fare and I were stopped by Transit Police, I somehow doubt that someone who looks like me -- if I didn't have my wallet on me -- would be asked questions about my status here in Canada," Josh Paterson says. "We do know that many law enforcement agencies engage, frankly, in profiling.
"They may not admit to it, they may not like that characterization, but many of them do."
Drennan insists that's simply not the case. Rather, red flags go off for officers if someone won't produce a driver's licence or other ID, gives a fake name, or doesn't show up anywhere in officers' databases.
"Our responsibility is to identify the person we are dealing with in order to issue the ticket for the fare evasion," she says. "If we run them through our system and come up with absolutely nothing, for somebody who lives here on a regular basis and operates under the same sort of rules and regulations the majority of us do, it's unusual."
At that point, officers try "another avenue," which is to go to CBSA and see if "it's somebody they're aware of," she explained.
The authority's mandate, according to its website, is the "protection of people, property and revenue" on the transit system, and in particular "to preserve and maintain the public peace, prevent crime and offences against the law, aid in the administration of justice and enforce the laws" both federally and provincially.
"Just to be really clear, we are police the same way every other policing agency in Canada is," Drennan says emphatically. "It's often a misconception that because we're labeled 'transit police' we don't have the same authority."
However, considering deportees like Rosales -- whose husband paid to renew her visa twice and insists he simply misunderstood the application process -- or the tragic case of Vega Jiménez, do Transit Police not consider the price paid disproportionate to their $173 offence?
"That isn't a part of the continuum we're responsible for," Drennan says. "Our responsibility is to identify the person we are dealing with in order to issue the ticket for the fare evasion… If the person is somebody CBSA is interested in, they carry on from that point. That part is completely out of our hands."
Unwarranted reports
In her spartan, unadorned sixth-floor office, Laura Best looks out her window towards the Burrard Inlet and the bright orange loading cranes of one of Canada's busiest ports. Billing itself as a "dynamic gateway for domestic and international trade and tourism," it's a reminder that the region is also one of Canada's major gateways for immigrants and international students.
There are many reasons people might be undocumented, Best insists. And like Rosales' detention at another gateway -- the aptly named SkyTrain station -- some may not even know their status has lapsed, or they may have overstayed a student visa or missed an application deadline.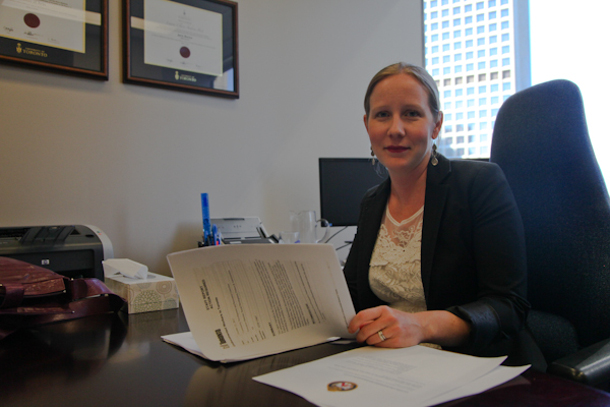 Best bristles at the popular term "illegal immigrant." It simply doesn't reflect why many of her clients lack their papers.
"Calling people illegal... really bothers me," she says. "When people don't have valid immigration status, there's been a tendency to call them 'illegal,' which is a misnomer.
"If you violate parking laws, we don't say you're an 'illegal parker' or you're an 'illegal person.'"
The more "accurate" term, she says, is "someone without valid immigration status." It's a mouthful. One less easy to spit out than a single, charged word.
While Best admits Transit Police have the right to report suspects to CBSA, in most cases she's dealt with they weren't even being sought by the agency in the first place. She questioned whether going out of their way to do immigration "query checks" is really necessary to fulfilling their mandate of "protection of people, property and revenue."
"This includes situations where there are valid warrants for arrest, but also many situations where individuals are simply overstaying their status and there's no active warrant searching for them," she says. "There's a difference between arresting people who have valid warrants out for their arrest and passing on information that could potentially lead to an arrest under immigration law.
"They could limit the circumstances where they pass information on to the cases where there's a valid warrant out for arrest."
Transit Police's Drennan insists that officers doesn't need a warrant to alert CBSA to potential immigration suspects. For instance, if somebody voluntary admits they don't have appropriate documents, it will still result in a call, simply because officers need to identify "who they're dealing with."
But for one Vancouver municipal leader, the life-altering penalty of an unpaid fare or misplaced ticket in such cases far outweighs the crime.
"I don't understand why it's necessary at all if their fare is unpaid," says Coun. Geoff Meggs. "They should pay fares, everybody pays fares, but does that mean they should be deported?"
A 'main source of friction': Meggs
A quarter-hour SkyTrain ride to the south, Meggs drew his City Hall office blinds and sat down for an extensive interview with The Tyee, declaring his support for a proposal to declare Vancouver a "sanctuary city" where residents can access services without fear of being deported.
He revealed that the Mayor's Working Group on Immigration is quietly preparing a report which will include recommendations to council on the issue. It's likely to be submitted before the end of the summer but before November's elections. (With campaigning in full-swing, he admits, the matter won't be decided until after the polls close).
A sanctuary declaration would follow in the footsteps of Hamilton this past February, and Toronto a year earlier, as well as dozens of U.S. cities starting with Los Angeles in 1979.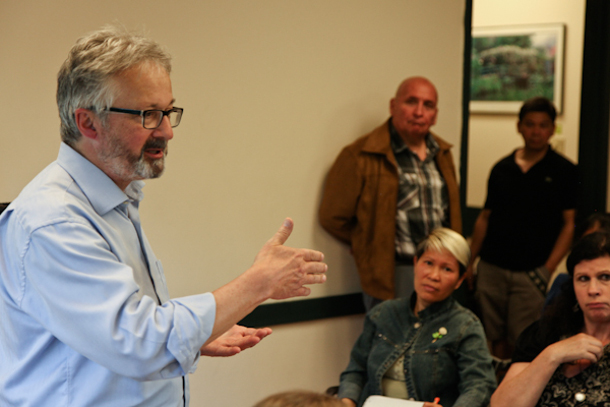 Even though councillors had been approached by activists with Sanctuary Health Coalition last year, it was the suicide of Vega Jiménez last December after being detained by Transit Police that sparked a greater sense of urgency for Meggs.
In early May, the Vision Vancouver councillor called together a private meeting of advocates with representatives from the Vancouver Police Department, Vancouver Coastal Health, and school board. But partly because TransLink and the transit police board of directors aren't under the auspices of any one municipality, they weren't invited the first discussions.
"Once we heard about it," Drennan says, "we made it known that we would very much like to be a part of further discussions, and I believe that is going to occur.
"We believe we should be at the table given the level of our involvement, because we encounter so many people."
Meggs agrees with the need to include Transit Police in the sanctuary equation, despite jurisdictional challenges -- but for different reasons.
"Transit Police are one of the main sources of friction," he argues. "Their ability to stop people and then seek ID is one of the main ways that people who are undocumented are being trapped and sent to detention."
But when he approached the immigration working group, they immediately put up "flags" to swiftly passing a sanctuary policy. One concern was that a declaration on paper might be symbolic only, potentially misleading newcomers who might mistakenly assume they are immune from deportation. After all, Transit Police for example operate across 22 different jurisdictions in the Lower Mainland, not just Vancouver.
"We can't just do it at the stroke of a pen," he cautions. "We could make a declaration, but that conversation would only be valid within city boundaries.
"It would be very easy for someone to misunderstand where they were, given that they're relatively new to the country, and wind up in a very difficult situation."
Such a Vancouver-only policy wouldn't have helped Rosales on her one-stop Surrey SkyTrain trip. According to her husband, the mother of three insisted she had validated a ticket from one of the bulk booklets he regularly bought for her.
"Why didn't you just show them the ticket?" Inostroza remembers asking her, after she was given two weeks to pack her things and leave the country with a one-year ban from re-entering.
"I couldn't find it in the moment," she replied. But her husband had another burning question about her arrest.
"But why didn't you show your ID?"
"She said, 'Because I was afraid,'" he says. "Maybe she didn't understand, I have no idea. But all her problems started in that moment."
Next month, Inostroza may try again to reunite with his wife, once her ban expires. But after a year of only talking by Skype, and each partner blaming the other for the series of "mistakes after mistakes" that led to Rosales' removal, he is not sure their eight-year relationship will survive if she is rejected.
"She hasn't overcome this situation very well," he says, his words heavy with disappointment. "She's keeps talking about what happened here, the mistakes she made.
"I know she made mistakes. Everybody makes mistakes... If finally everything improves and I'm able to bring her back again, we are going to have a party to celebrate."
Running Monday, the next feature in this Tyee series on sanctuary city will look at how Vancouver police are taking a different tack in dealing with undocumented immigrants and border services, and why they believe it could bolster their public safety efforts by reducing fears around reporting crime.