[Editor's note: To see an interactive timeline of how the Sanctuary City movement evolved across North America, click here.]
Immigrants and advocates in Los Angeles celebrated a historic win last Monday when the city's mayor took another step down the path that saw it become North America's first "sanctuary city" for undocumented immigrants 35 years ago.
Granted, things aren't exactly paradise for those who lack papers there -- with frequent raids by federal authorities, 57,000 detained children at the border, and simmering tensions over the estimated one-in-10 Angelenos some call "illegals."
But as Vancouver begins its own journey towards enacting sanctuary policies akin to Toronto's year-old reforms, senior brass here say they can learn a few things from the U.S.'s second-largest city, too.
To boisterous cheers, Mayor Eric Garcetti vowed that the L.A. Police Department "will no longer comply" with federal requests to detain people under immigration laws, unless they have a judge's warrant.
"The federal government is in charge of enforcing federal immigration laws, not us at the local level," he said. "And that responsibility can't be forced onto local law enforcement officials who already have stretched budgets.... When they make our police department -- who is tasked with fighting crime here in L.A. -- enforce visa expirations, that diverts resources."
The announcement went a step further than the city's historic 1979 "don't ask, don't tell" policy, which restricts when police are allowed to inquire about or report residents' status and has inspired similar shifts in New York City and dozens of other cities.
It's a set-back for Washington D.C.'s immigration reforms, which Garcetti characterized as "stalling."
Activists in B.C., meanwhile, are hoping that the province's own police forces will consider reforms along the same lines.
'We need a legislated approach': Insp. Giardini
Enter Insp. Mario Giardini, who sat down for an exclusive interview with The Tyee. Over his 25 years of service, the Vancouver Police Department officer has worked in many aspects of policing, from drug squad to undercover surveillance to heading the force's internal complaints division (earning himself a few enemies along the way, he admits).
Today, he heads the department's Diversity & Aboriginal Policing Section. So when the city invited the VPD to attend an initial meeting to kickstart sanctuary discussions here, Chief Const. Jim Chu tapped Giardini to be his representative.
"Our goal in policing in Vancouver specifically is safety and security of all the citizens -- everybody that's in Vancouver, regardless of their immigration status," he says. "There's an urban myth, an urban legend, that we're out there looking for people simply to arrest and deport them. That's not true."
Giardini says that even now, VPD officers are "not specifically out there looking" for undocumented people -- unless there is a warrant issued for their arrest.
The veteran officer revealed that five months ago, in February, he traveled to Los Angeles to investigate the city police force's "renowned" youth cadet program. Many of the cadets were Hispanic, Giardini told The Tyee, but when he asked his LAPD counterpart what information they collected in the application process, he was surprised by the answer.
"We're not concerned with the immigration information," he recalls the officer telling him. "We simply want kids in the program."
The more Giardini learned, it seemed the city's long-standing sanctuary city policies had truly permeated the force.
"Status is -- I'm not even going to say it's a secondary issue -- it appears that it's not even an issue whatsoever," he says. "Their concern with enforcing immigration statutes, they're not really too concerned about it."
But he admits that saying that isn't enough, and migrant advocates agree: without a clearly stated policy, people here without papers will remain scared to call 911 if they are victims or witnesses of a crime.
That's why Giardini supports the idea of a set of "guidelines" that would "regulate" the police force's approach. It would be modelled, he said, on the VPD's lauded Sex Work Guidelines, developed in consultation with the community last year, and which dictate how police are to interact with sex workers and focus enforcement onto their safety, not nuisance or prostitution law complaints.
"The question was, why can you not exercise discretion as a police officer with sex trade workers when you don't have a warrant, and focus on their safety and security?" he says. "We need a legislated approach. We need an approach where it's legislated on how we can act."
Giardini's caveat is the same as the mayor of L.A.'s -- that police are forced to enforce warrants and court orders, so if immigration officials are deporting someone, there's no discretion that can be exercised.
"If we're in a situation where there is a warrant or there is criminality, we have to act," he says. "People understand that, but they shouldn't be afraid to call the police.
'You feel like you're in danger': BCCLA
But although the VPD insist they current don't go after people's immigration status, critics warn that the current practices are too reliant on the whims of individual officers.
"We know some law enforcement agencies say, 'Well, we don't generally like to refer people to CBSA if we don't need to,'" says Josh Paterson, executive director the the B.C. Civil Liberties Association. "That's based on discretion; that's based on the opinion or the feeling of particular officers in part circumstances.
"We think there needs to be a policy and rules set in place, and those need to be communicated to the public so that everybody knows that you don't need to worry if you're going to call 911 because you feel like you're in danger."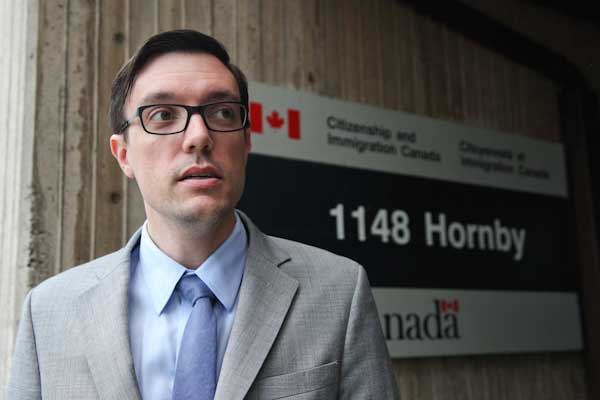 Giardini confesses that the current model doesn't spell out what's expected of officers interacting with potential non-status immigrants.
"Yeah, there's a lot of discretion built in there," he states. "It can't be a haphazard approach where one police officer acts one way and another acts another way."
Canada's first city to declare sanctuary is also an inspiration to local reform efforts, although Giardini admits he hasn't approached that city's police department.
Several years before Toronto adopted its historic policy of "access without fear" early last year, the city's police adopted their own set of guidelines.
The document adopted in 2009, titled "Victims and Witnesses without Legal Status," didn't go as far as activists had hoped. But it states up front that "victims and witnesses of crime shall not be asked their immigration status, unless there are bona fide reasons to do so."
Those exceptional reasons include if someone needs witness protection, if a Crown attorney requests the information for a case, or if it's deemed "essential" for safety during an investigation.
Now based at Vancouver's Embarkation Law Group, immigration lawyer Laura Best was in Toronto at the time and sat on a student lawyer committee who critiqued the Toronto Police Service's Victims and Witnesses Without Legal Status policy, which fell short of the "don't ask, don't tell" approach sought by activists, and one not just for victims and witnesses.
"We were asking the Toronto Police Services Board and the Chief of Police to institute a policy where, if they came across [people] who had precarious legal status, they wouldn't go out of their way to ask that," recalls Best. "And they wouldn't pass that information on to CBSA to assist in enforcement of any violation of immigration laws."
In the end, she said, they were only able to convince TPS to adopt what she calls a "limited don't ask policy," but not one that bars warrantless co-operation with CBSA, referred to as "don't tell."*
The most important part, though, is a formal policy, and one that's effectively communicated to the public, Best said.
"A written policy that is publicly available on their website is really important in combatting the fear that individuals feel when accessing police if they don't have valid immigration status in Canada," she argued. "Doing it on a case-by-case basis, officer discretion or unwritten rule doesn't really give any guarantees to individuals who are hoping to come forward as a victim or witness as to what the police will do with their information."
Shouldn't be 'top of their list': Coun. Elizabeth Ball
So far, none of Vision Vancouver's sanctuary proposals have generated public concern from its political opposition, despite the fact that an election is looming in November. Non-Partisan Association Coun. George Affleck told The Tyee he wasn't prepared to comment yet on the idea, and the party's caucus head Coun. Elizabeth Ball said she supports the police's viewpoint of not actively seeking people's status.
The councillor's words echoed that of L.A.'s mayor.
"Our police are so busy dealing with actual crimes, whatever they are, and violence," she told The Tyee in a phone interview. "We want our police to prioritize what they're dealing with.
"If nobody's being hurt at the moment, I think it's something they shouldn't put at the top of their list."
Giardini says that a shift towards openly changing police guidelines around undocumented immigrants in Vancouver is still in its infancy -- but that Vancouverites should expect to see some serious policy changes down the road.
"We're at just baby steps right now... starting this movement," Giardini muses. "I don't think we're too far down that road yet.
"But will we get to that point, bringing all the stakeholders together and developing a policy? I think it's the only way to go. From what I've seen, I think the discussion has just started."
To see an interactive timeline of how the Sanctuary City movement evolved across North America, click here.
Running Wednesday, the next feature in this Tyee series on Sanctuary City will look at why some aren't so enthusiastic about Vancouver's push towards becoming an undocumented haven, including some of the city's high-profile neighbours.
*Story updated at 11:45 a.m., July 14, 2014.