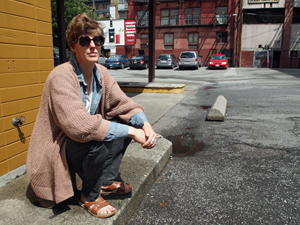 If you want to visit the crossroads of Vancouver creative culture, try the intersection of West Pender and Abbott. On one corner is a giant mall, on another corner sits a Tim Horton's and social housing complex, on another is one of those pubs that calls itself a "public house." And what's on the fourth corner?
An abandoned Budget car rental office and lot that Mairin Cooley is determined to turn into an oasis of artistry.
The weekend before last, Cooley used the space, which she's calling The Nines, to hold two nights of music shows and dance parties as part of the city's annual Music Waste Festival.
If all goes according to plan, The Nines will eventually serve as a "slow food and culture club": a gallery and workshop space, organic cafe serving up locally grown goods, and occasional venue for rock shows.
In the notorious No Fun City, with its stringent zoning and high-price real estate, creating such a space might seem like a lofty goal. Cooley's fortunate that the building was zoned for her intentions. And at $1,000 a month, paid for through her incorporated non-profit, the building is a steal. She's also vowed to be as transparent as possible with the City, police, and neighbours about her intentions for the space.
Transparency is an apt adjective. Three sides of the left-over car rental building have big windows. Once they're uncovered, the building will look like a little aquarium at the centre of the surrounding city, with nowhere to hide.
"I've actually made it my personal mantra to be very obvious about what I'm doing," Cooley tells me on the day she's preparing for the Music Waste concert. "We've really attracted a lot of onlookers, attention from people and support. We're meeting our neighbours that way."
Cooley is one of a number of artists in Vancouver playing the bureaucratic game in order to create her own thriving, affordable multi-purpose art space. It doesn't always go well. Recall Red Gate studios, which was shut down late last year when it failed to meet "base life safety requirements." Legitimizing an art space in the eyes of government officials is something studio leaseholder Colin Cowan calls the "red tape tap dance."
But it appears change is afoot. Plans were approved by city council last week to significantly boost the amount of studio space in Vancouver. In order to create capacity, the City has offered to step in as landlord at two warehouses with over 26,000 square feet of space, among other initiatives. It's hoped that if the arrangement works out, it will set an example for private-sector landlords and encourage them to take on more artist lessees.
Cooley says citizens are hungry for creative spaces in Vancouver, and her quest to provide some feels less quixotic than it might have until recently.
"The anxious part of me thinks I'm a black sheep," she admits, "but the smart part of me knows there's so much goodwill all around in support of what I plan to do. That's what gives me so much confidence."
'It's not like Berlin'
The hardest thing about running an arts space in Vancouver, Colin Cowan says, is trying not to make too much money.
"I don't want it to shut down, because of it becoming too good, before we do the red tape tap dance for the city," he says.
Cowan has run the China Cloud, a rarely promoted underground recording studio that doubles as an occasional comedy and music venue, since 2009. He says it's taken time to get a handle on how to run his business in the city.
"It's not like Berlin. It's difficult to know if you're doing it right, no matter how much effort you put into it."
In Vancouver, the police department doesn't communicate with the fire department, who doesn't communicate with the liquor control board, who doesn't communicate with the cultural planner, he says. But he's committed to figuring it all out, though it hasn't been easy. He credits cultural planner Diana Leung for helping him navigate the system.
"We want to survive in this city," he says. "Be an example for everybody else."
His advice for art space start-ups? Secure the "golden halo" and register your business or non-profit, however long it takes -- but don't sacrifice what makes the space special or unique. Bureaucracy keeps much of Vancouver's scene underground, though plenty of venues have thrived under the radar.
As an example, Cowan points to 1067, a jazz club once located at the end of an alleyway in the centre of Granville Street club zone. On any given evening there, you'd hear "some brand new, fucked up music played by these brilliant people," Cowan says.
You know. The kind of music you'd hear on CBC Radio 2.
"All of our government-funded radio is promoting the sounds and developments coming out of these private underground spaces. Until you know about it, you think, why isn't anything good going up in the city?"
New landlord in town
The city's new plan is somewhat of an experiment to find out what arrangements work best for artists and landlords. Landlords don't want to manage 20 artists in one space, points out city councilor Geoff Meggs; they want one lessee with a good credit rating who will take care of the place for at least a few years.
"We want to be able to show commercial landlords that there's good tenancies to be had from artists," says Meggs. "But I think at the same time we need to show the artists themselves what business models are going to be most effective to make the partnership work."
Rents at the Industrial Avenue and Kaslo Street warehouses will not be subsidized. Meggs says he expects artist non-profits or co-ops, or individuals acting as a broker between the City and a group of artists, will share the rent as a more affordable option.
The City will take care of the base life safety requirements of the space, and any improvements will be the tenants' responsibility, he adds.
(Failure to meet those requirements is what shut down Red Gate studios last year... and according to Meggs, Red Gate already has its eye on the new warehouse space.)
The City hasn't yet determined what kind of artists will be eligible to rent the warehouse space, but Meggs says a clearer picture will emerge soon.
"My sense it'll be more in the graphic arts than performing arts. But who knows? Nothing's been ruled out."
Meggs adds he expects this experiment will lead to changes in how the City handles privately owned art spaces as well. Like Cooley's.
"I think we need to get a better understanding in the arts community about how the business has to be structured to be most useful from a renting standpoint," he says. "I'd like to see an increase overall in the inventory of art space. It wouldn't be permanent in every case, but over the long term it should keep growing."
The warehouse space is the centrepiece of a larger municipal initiative to increase studio space in Vancouver. The Park Board is offering six additional rent-free field house residencies for artists in exchange for their efforts towards community projects and programming, and an additional 13,000 sq. ft. is committed for three recently approved developments, as Meggs' blog suggests.
The Nines
On the Wednesday after The Nines' opening weekend, Cooley sounds relaxed on the phone.
"All that hard work paid off, and I was able to predict situations that might occur," she says. True, the police shut down the party late Friday night, and a few neighbours complained on Saturday, but both issues were quickly smoothed over.
"I realized we really pushed the limits on Friday night by having a full on PA outside under people's windows. Everyone admitted that was fun and they don't want to complain, and they're happy for us as a new business."
Once the police understood Cooley had the proper documentation and she moved the party indoors, Saturday night went much more smoothly, she says. Everyone dug Genesis from Juice's performance ("she's so far out"), and the refreshing Bellini drinks were a hit.
It was a successful weekend, though maybe a little less than hoped financially speaking.
"I wasn't able to earn enough to do anything too significant, but I was able to earn enough to sustain the position that I'm in now," she reflects. "Developing this kitchen will take longer than I thought, but I'm not going to worry too much about that."
Right now she's focused on promoting The Nines as a daytime facility for classroom rentals or tutoring gigs, providing seating and AV equipment. And next weekend, she's planning a car wash.
When asked about what she thinks of the City's plan, Cooley is similarly optimistic.
"I think we're coming from such a dark place in the history of this town and cultural spaces that it's very common for people to be skeptical and want to be secretive and what not. And maybe that mentality has been holding things back in a sense," she says. "I think the mentality of developers and landlords and city policy-makers is that it's better to give artists a space than to hold it back from them."
But won't The Nines just be pushed out to make way for a condo in a few years anyway?
"We can't throw ourselves in the way of the economic locomotive and just hate developers all day long, because that would just be sad," she says. "Instead I think everyone's just got to carve out a niche for themselves. There's lots of pretty places in Vancouver to hang out, find the things you love and do them."