In the labyrinth of jam spaces and studios known as the Secret Location, it seems a noisy cross-genre experiment is born every minute. Buzzing with activity on a recent Saturday afternoon in Vancouver, nearly 100 local bands set aside their hangovers to come down and get photographed for the upcoming Music Waste festival.
"There are so many bands and people in the music scene that start out of here," explains bassist Jamie Quast, just a few minutes before he and bandmate Keith Wecker have their photo snapped. Quast and Wecker make up half of the psych-metal outfit Aquanaut; the other half are on tour in different bands. With cardboard keytars and ironic footballs in hand, the pair mime a silent dirge to a backdrop of stacked amplifiers.
Over the years, the Secret Location has become a hive of creative cross-pollination and a breeding ground for much of Music Waste's fresh talent. On this afternoon, some bands meet for the first time, but many share a deep collaborative history.
"You run into someone here and they say 'That sounds cool, you want to jam?'" says Wecker, who played with Sex Negatives and performs solo as V. Vecker. "That's probably how so many of these projects get started." 
Wecker counts 10 bands and solo projects among Aquanaut's four members. "It does get incredibly incestuous real fast," he adds.
Last month Aquanaut released their sludgy new album Sunken Ark, recorded in the bowels of the Secret Location at Jesse Taylor's Nite Prison studio. Taylor started the low-fi punk and noise dungeon as an alternative to expensive pro studios. Since then, he's recorded albums and demos for dozens of Music Wasters, past and present.
A Nite Prison sentence
Nite Prison is one of the rare creative engines within the Secret Location, hailed by local punks and freaks for helping bands transition from jam ideas to recorded artists. On a chilly evening in March, Taylor explains the origins of his now full-time recording practice.
"I started collecting gear when I was about 15," he says. "I've been renting in this building for about five years, just as practice space for my bands."
Taylor's band Twin Crystals couldn't afford to record at the established studios -- and neither could Taylor's friends. He saw bands saving up piles of money for one day in studio, only to come out with an unfamiliar sounding record.
"When I was moving all my equipment into this space I realized I had enough stuff to make records," he continues. Taylor wasn't out to make money, so he offered the bands he admired most a chance to record over several days. "I asked friends if I could record demos for them and it just went from there."
Taylor lists the Nite Prison's daily recording fee at $85 on his website -- but the cost doesn't always seem hard and fast.
For Aquanaut, Taylor's laid-back approach helped their creative process.
"When it's as cheap as this, there's a little more time to fuck around, and you do more," says Wecker. "It's not like the pressure of going to the Hive where you're paying a thousand dollars."
Quast adds that smoke breaks are both frequent and encouraged.
"We have really long songs, so if you screw up once you have to start over again," he says of Aquanaut's 10-minute methodical soundscapes. "We were able to come back the next day and keep working on it."
Except for guitar solos and organ parts, Aquanaut recorded live off the floor -- a sonic style that Taylor prefers. All Nite Prison recordings favour cacophonous experiments over slick production.
"I'm into recording demos," Taylor says. "Kids in their basement -- that's what I'm into. And bands that record themselves."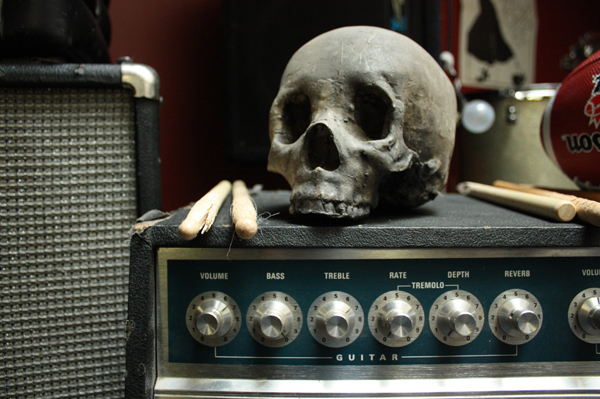 Since 2010, Taylor's penchant for demos has turned into a heaping mass of unreleased tracks. Gritty lo-fi bands Nu Sensae, Shearing Pinx, Defektors, Tight Solid, Juvenile Hall and Phonecalls all appear on a compilation of Nite Prison outtakes and demos released November 2011. 
"In a way, (Taylor) is the glue that ties all those bands together," says Krissy Unger from the punk trio Juvenile Hall. Juvie will play their third Music Waste this year, with a full-length album on the way.
MacBook-free zone
In 2012, it's difficult to imagine DIY recording without the glowing white logo of a MacBook. Even in live settings, laptops are frequently seen as a singular digital instrument.
But Taylor's studio reaches back to an analog era of recording, displaying the Nite Prison discography in cassette and vinyl format on the walls.
"I don't record on computers," he says. "I don't even have a computer. I'd like to get one; I just can't afford one... I'm sure one day I'll transition, but right now this is working fine for me."
In contrast to the isolated experience of recording at home on a laptop, Nite Prison provides a collaborative space for people making similar art.
"I want to make it like a community where the band comes in and I just hit record and set up some microphones," he says.
"It definitely has that dirty live feel," says Wecker. "The type of bands he records love and feed off it."
More than 50 bands have served a sentence at Nite Prison. As we chat on a Secret Location couch, Justin Gradin of Random Cuts sets up his drums to work on his forthcoming LP Adventures in Somnambulism.
As the name might suggest, Taylor does most of his recording at night, saving his mixing for the daytime. "There's a completely different feeling about recording at four in the morning than there is recording at 10 a.m."
It's an arrangement that works for Aquanut's Quast, whose band has recorded past midnight more than a few times.
"You can go as late as you want," he says. "All you have to do is buy him cigarettes and taxi money if he can't catch the bus home."