On a Saturday night late in September, the glowing gallery window of 152 Hastings Street made a stark contrast to the dark and wet facades of the otherwise closed buildings on its block.
Inside, young people wandered the gallery and adjacent rooms, sitting and drawing at a large table, eating apples, buying a drink from a homemade bar or listening to the Nintendo-blip-bloops of a sound artist.
The impromptu, open-door event was organized after denizens of the Downtown Eastside arts space were informed by their landlord that, because of city requirements not met, the locks would be changed, ending the saga of eviction threats they had been dodging since May.
Today, the eviction party is good and over at 152 West Hastings, an address that had worn the name of Red Gate for seven years and served as a cultural centre for three decades. But the shutting of Red Gate still resonates on the eve of voting day, in a city where affordability and neighbourhood preservation have been top election issues.
Many in the arts community connect those issues to another scarcity they see in Vancouver -- room to create. They are asking if, in a city where half a billion dollars can be found to enclose the spectacles of professional football and soccer, rogue spaces like the Red Gate must inevitably get strangled by red tape. And what are the obstacles to creating a more vibrant cultural scene at street level?
Liquor as cultural lubricant
Danny Fazio helps run another cultural hub on Hastings Street, one that is flourishing -- the retro-tiki-themed Waldorf Hotel that serves as a regular venue for edgy bands playing to crowds of alternative 20-somethings. Fazio says city hall's regulations make it hard for similar venues to spring up and keep going.
"Because it's so difficult to get things like liquor licenses, Vancouver is missing out on the opportunity to re-purpose spaces that are not being used," says Fazio, the Waldorf brand and design manager. "You would see that happening right away if things loosened up. You would see people going into new space so quickly."
Fazio's solution? "As soon as the City flips [zoning laws], they could have a whole new city," he says. It's a message some politicians are hearing. In October, city councilor Heather Deal told The Georgia Straight that moving more creative spaces into Vancouver's industrial area is a conversation worth having.
And both Deal's Vision party and its main rival Non-Partisan Association have rolled out platform items they say will make a positive difference (see sidebar).
The Waldorf's glowing, white sign with the black tiki font is nestled in an industrial part of town. The expansive hotel space reflects many interests. On a recent Saturday night, the garage outfit Jacuzzi Boys are playing in the Cabaret, the Waldorf's downstairs venue space. DJ Bryce Dunn, of Vancouver power-pop legends the Tranzmitors, spins punk and garage in the tiki lounge.
"Hotels are great spaces to do creative work and have creative pursuits. One of the reasons for that is that they're all-purpose," says Fazio. "We can bring in artists, host them in the hotel rooms, feed them in the restaurants, and have them go work on a project. We're able to do that because we have this self-sustained compound."
The old Waldorf was slowly sliding into obscurity when Tom Anselmi and Ernesto Gomez swooped in a year ago. They took on a giant renovation, breathing life into the tiki decor, adding a Lebanese restaurant and hair salon, and converting around 20 of the hotel rooms into artist studios.
"Honestly, we were lucky," says Fazio. "We came into it with grandfathered licenses. If we were to try and do something like this without liquor licenses that have been here since the '50s, it just wouldn't be possible."
Loud and 'rough around the edges'
Another stroke of luck for The Waldorf was, in Fazio's words, the fact that it's "in the middle of nowhere," allowing them to have outdoor events with live music at higher volumes.
"We had this punk band from Denmark play in our parking lot in the summer in the middle of the day and I couldn't believe it. I was a block and a half away, and I could hear it. And no problems."
Like the Waldorf, Red Gate was a multi-use arts space which also provided entertainment. Red Gate organizer Jim Carrico says such establishments are key to the "cultural ecosystem" poorer neighbourhoods like the Downtown Eastside need to ward off gentrification.
Under Carrico's guidance for the last seven years, Red Gate offered cheap studio rent to artists and housed the recording studio of JC/DC, the esteemed producers of many Vancouver music vets, notably The New Pornographers and Destroyer. The space also hosted parties and live music, even more frequently in the last year.
"It's rough around the edges, and that's what makes it more fun. It's like someone's living room... except it's huge and there's really loud music," says Bill Young, an organizer who's been with the Red Gate collective for two years.
In late May, Red Gate was served an eviction notice stemming from a safety inspection in January which stated they had not met "base life safety requirements."
The City then granted Red Gate a 60-day extension in June until Aug. 23, to make further safety improvements. The collective stopped paying rent to the owner over this time and used the money along with fundraisers to pay for safety upgrades, hoping to hold on to the space.
However, the City also wanted Red Gate and their landlord, Moshe Mastai, to come up with a development plan -- essentially, an extensive plan to renovate the building and smooth out the rough edges, which would come with a considerable price tag.
"Boom, it's over," says Carrico, who has been organizing spaces like the Red Gate in Vancouver since 1981. "The City said, 'If you don't put in that development plan, then we're going to shut the building down.' At that point, the New Pornographers guys (JC/DC) said, 'Fuck it, we're out of here.' Because they knew Mastai wasn't going to spend a dime on the building. He hasn't spent a dime on it in 15 years, why was he going to start now?"
The Tyee attempted to contact Mastai, but he didn't return the call.
Red Gate felt they were left at the mercy of City guidelines they couldn't meet. Sixty days came and went. "At that point, we realized we were put in a situation that was set up to fail," Young says.
'Case by case' aggravation
"[Destroying] one venue at a time, it's a really important strategy for the City, because it doesn't seem like it's fascist," says David Mattatall. "Essentially what they're doing is removing culture one space at a time."
Mattatall is part of the Zoo Zhop collective, and runs a record store out of their DTES space. He's concerned about the state of venues in the DTES and has been following Red Gate's troubles.
Melissa James, director of the Vancouver music documentary No Fun City echoes this sentiment. "Everything seems to be case-by-case. It's not like you can just apply for a license and just get it, like in other cities."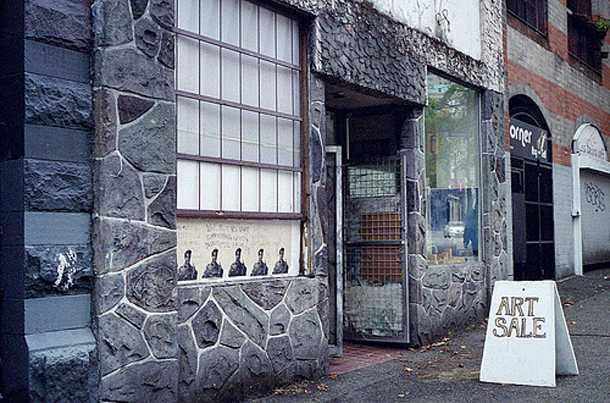 James believes the Waldorf is a big success for Vancouver, a multi-use space that is totally out-in-the-open legal.
"I know that some of that was existing already, but the fact that they let some more creative East Vancouver type people that are into the same scene... open a place like that is a really good sign. It means they're looking to accommodate an alternative entertainment scene, which they definitely didn't seem to be at all when we were making the movie," she says.
But Mattatall is skeptical that city council will ever stand up for arts spaces.
"There's just no systemic benefit for anyone to stick their neck out," he says. "If we had a culture in city hall that saw city council members heralded for representing, preserving and creating art spaces, we wouldn't be seeing this problem."
Still, inside City Hall, many recognize the need for systematic change to help and encourage artists. The City-commissioned Regulatory Review for Live Performance Venues and Artists Studio Regulatory Review are examples of this. Both are attempts to bring City of Vancouver staff together with community members who have knowledge of the workings of music venues and artists studios.
'Fragmented to the point of extinction'
One way to avoid red tape is to operate outside of regulations and under the radar. Staff at Cultural Services say they are aiming to improve future live music and artist studio initiatives by making City policies more user friendly, thereby encouraging organizers and promoters to come out of the underground.
At an Oct. 6 city council meeting, the Artists Studio Regulatory Review passed recommendations to carry forward with their initiatives. At the moment, these include exploring current bylaws and regulations for improvement, and working on community engagement, such as implementing workshops for artists on leasing and how to navigate city hall processes.
Cultural Services, which organized the review, outlined areas they planned to explore in order to propose real measures for City approval regarding zoning, design guidelines and education. After Cultural Services makes their presentation to city council, citizens can participate.
Jim Carrico arrived for the meeting with a small band of artists and supporters of Red Gate. He pulled no punches when he delivered a speech about what he sees as the ineffectiveness of the City's reviews at saving his venue from an eviction he believes the City instigated with unreasonable expectations.
"It's too little, too late... it's like a wild ecosystem, and it has been basically fragmented to the point of extinction," he says. Helping Red Gate find an alternative space, or a way out of their eviction, was discussed at length during the meeting. However, no solution was reached.
Will Johnston, director and chief building official of the City of Vancouver, said during the meeting that the City couldn't get a commitment from Red Gate's owner to address "base life safety issues," and to commit to going through the process of changing the use of the space from a commercial building to artist studios.
Seeing that Mastai wouldn't budge, the City threatened to step in and improve the safety of the building themselves, billing the owner for the cost as long as tenants were still using the space.
During that time the owner put the building up for sale and evicted Carrico and the remaining artists.
Before finally accepting their eviction, Red Gate held more eviction parties. "We're hunkered down," said Carrico as he rolled a cigarette outside of City Hall after the council meeting. There was a look of anxious determination on his face as he mused about his landlord.
"He says he's going to change the locks, but I'm pretty sure he can't lock us in."
Eleven days later, the remaining Red Gate tenants moved everything they could out of 152 Hastings as it had been sold. They have yet to find a new space.