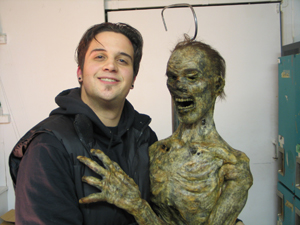 Like any preteen boy with an overactive imagination, Chris Clark loved monsters. He preferred the blood-sucking murderous variety, but truly anything with claws or scales was acceptable.
Twenty-ish years later, Clark builds monsters for a living. As a Vancouver-based special effects artist (okay, his official title is prosthetic FX tech), he's punched fur into monkey suits worn in the recent Planet of the Apes prequel, and splattered brains on set of the Final Destination horror franchise.
Clark is one of roughly 2,000 Vancouverites working in the special effects trade for big Hollywood-funded productions. It's a growing sector that's turned many childhood fantasies into another day at the shop.
But what sets Clark apart from other young makeup artists and prop designers vying for the next break, is that he never bothered with post-secondary. With film programs in B.C. ranging anywhere from $10,000 to $40,000 in tuition, Clark says it's too a steep price for skills that are better learned on the job.
He says this just as Capilano University has opened a $40-million facility for training the next generation of film industry workers, joining a number of other programs in the region that charge tuition with similar promises. Which raises the question: what does a young person really need to do to make a career in the movie biz?
Basement beginnings
Clark first got his taste of the makeup industry at age 12, when a family friend who worked for St. John's Ambulance cracked open a kit used to simulate medical accidents.
"He added a little wax to my thumb to make it look like it was cut off," recalls Clark. "It flipped me right out."
Captivated, young Chris turned gore-making into a personal quest. "I went home and took out all of the library books I could find on makeup, props, dentistry, prosthetics of the medical industry -- I just read everything I could find."
Clark transformed his parents' basement into a laboratory, where he crafted paper maché limbs and other corpse-like oddities. "I always had art supplies kicking around," he says. "I saved up allowance for products -- latex, a bottle of blood, or scar wax -- stuff like that."
Working as a barista in his teens, Clark caught his break from a perfect stranger. "I was working at Starbucks and saw a guy with an XFX hat. XFX was this company in the States that I knew about," he says. Clark struck up a conversation by name-dropping the effects company's founder, Steve Johnson.
"He was like, 'Yeah, how'd you know?' And I explained that I do effects too. I had this little portfolio of the things I had done in my basement." The coffee customer seemed impressed, according to Clark, and tipped him off to higher-ups working on the X-Files series.
"He said, 'Well, why don't you bring your portfolio in?'"
Once he started breathing again, Clark soon found himself working under Tony Lindala, a household name in the sci-fi special effects biz.
"I showed up as the bucket washer guy," Clark recalls.
But his days as a rookie were short-lived for one simple reason: extra hands never go unused on a movie set. It wasn't long before Clark was casting molds, aging faces and ostensibly killing people all on his own.
"Like any job, as long as you're willing to help out and you fix problems instead of causing them, people are pretty willing to take you under their wing," he says, adding that each new coworker would show him a different set of trade skills.
"They'll teach you everything," Clark says of the close-knit mentoring mentality. "They'll just take you aside and say 'Here, I'll show you some stuff.'"
By 21, Clark was a foreman of an independent Vancouver prop shop. "I had always wanted to make effects, but I didn't think it was actually going to happen," he muses. "I think my parents were just stoked that I wasn't a serial killer."
The $40,000 handshake
Clark's career trajectory is a rare one, especially in Vancouver. More often we hear tales of film grads who never quite made it past the pro-bono phase.
But that's not because Vancouver's schools are failing to provide top-notch technology and training. Capilano University's new state-of-the-art facility includes an 8,000 square foot soundstage, foley studio, two visual effects labs, 3-D projection gear, and an audio mastering studio designed by Paul Sharp. Dubbed the jewel in Cap's toque, it's poised to become one of the top film and animation teaching facilities in all of North America.
Combined with Vancouver Film School, UBC and Blanche Macdonald, there's a sizable crop of talent competing for film and television jobs like Clark's every six months. Cartoonish, passion-driven talent is a necessity for anybody expecting successful work in film, but the second part of the equation has always been personal connections.
"I'm sure it's the same as any other gamut," explains Clark. "You've got the wildly talented savant types that are probably brilliant before they even go to school... but school gets them talking to the right people."
"There's winners that come out every semester," he adds. "Usually they've just got the right mentality."
Clark isn't convinced that paying $40,000 for a year at VFS is worth the payoff in networking handshakes. In a field where on-the-job skills can literally be anything from welding to eyelash application, go-getters can cultivate the same niche skills on YouTube or in trade schools.
Filmmaker and Capilano instructor Seanna McPherson is familiar with personalities like Clark. "I teach hundreds of them," she says of his self-starting approach. "It's a DIY culture we live in, so there will always be autodidacts."
But Canadian independent filmmaker Roger Larry says Vancouver film schools serve their purpose. "The schools do an adequate job of getting people an introduction and getting them into the industry," says Larry, who hired grads to work on his upcoming documentary Citizen Marc.
"I've hired people who came out of VFS a number of times, and I find that if somebody who went to one of these schools determined to apply themselves -- those people tend to get a lot out of the experience.
"The only criticism is that I think they should be making the kids make more films," says Larry. "There should simply be more work."
Reaching above the line
Though there's growing talent here in Vancouver, most top-of-the-line Hollywood North jobs still go to Americans.
"The first thing to remember getting into film and TV is that there's two types: there's above the line and below the line," Larry explains. "Writer, producer, actor -- those jobs are the most difficult jobs to get. They're the most competitive, and they're generally what Hollywood brings up here."
Grads from all programs are sent into the workforce with "above the line" skills, but seldom are those skills put to work immediately. With recent cuts to domestic independent film grant programs, fewer fresh-out-of-school filmmakers are finding proper funding.
While British Columbia's overall production volume grew 20 per cent last year, the number of domestic film productions has decreased sharply since 2010, according to the Canadian Media Production Association.
Even though the Hollywood "service industry" is booming, Clark would like to see more locally-made content. "Vancouver seems to wait for someone else to get things moving," he says. "It has the infrastructure, the talent, the quality training, but they usually don't pull together to pump out their own work."
According to Larry, Vancouver wasn't able to distribute films abroad until recently. "Because there were no distributors in Vancouver, there used to be an expression called the $1,500 cup of coffee," he says. "You had to fly to Toronto to meet with distributors."
Both Larry and Clark see Canadian films traveling east to Toronto and Montreal, where indie films are valued over L.A. productions. "We're losing jobs to places like Quebec," says Larry. "Our tax credits here in B.C. are not as competitive as they used to be, and there is just less and less money for independent productions."
"Montreal has its own industry because it's a distinct culture, because it has its own language," Clark says of the year he spent working in la belle province. "It produces its own stuff and always has for decades."
For optimistic self-starters like Clark, it's only a matter of time before Vancouver gets its own boutique film community off the ground. "Now the scales are tipping toward a metropolitan, multicultural city," he says, "I think you're going to see all the industry that's up here working together and going international because of the multicultural atmosphere."
[Tags: Labour and Industry, Film]