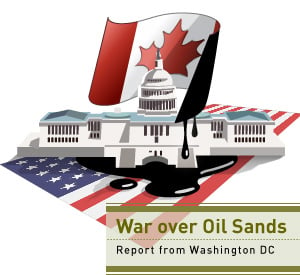 [Editor's note: This week, today through Thursday, The Tyee publishes the final four in our major series reported from Washington D.C., 'The War over the Oil Sands'. You can find the entire series here.]
In 2005, Business Week magazine named then-Manitoba premier Gary Doer one of the top 20 individuals on the planet fighting climate change. Six years later, Doer, now Canada's ambassador to the U.S., is considered one of the top oil sands salespeople in Washington, D.C.
Traveling to America's capital city late last February, I'd wanted to ask him about this apparent incongruity at the apex of a long and successful political career. The oil sands, after all, are Canada's fastest growing source of greenhouse gas emissions.
They produce some of the planet's most carbon-intensive fuel.
How would Doer, once one of Canada's staunchest supporters of the Kyoto Accord, rationalize his new role, convincing American politicians their concerns about the oil sands are unfounded, telling them not to impose limits on rapid industry expansions?
I never got to ask Doer that question, but I came close. In the weeks leading up to my trip, the Canadian embassy and Alberta Washington office turned down nearly a dozen requests to set up an interview.
On the last day of my visit, after interviewing industry lobbyists, environmental advocates and congressional aides, I decided to pay a visit to the Canadian embassy, a hulking Arthur Erickson creation on Pennsylvania Avenue.  
Without security clearance, there really wasn't too much to see. And so confined to the front lobby, I began copying down statements printed on a massive map of Canada hung on the far wall -- lines like "Canada is the largest oil supplier to the U.S."
All of a sudden, I heard voices behind me. Wouldn't that be something if one of those voices belonged to Gary Doer, I thought, turning around. To my astonishment, there he was.
Rise of a New Democrat star
The 62-year old ambassador by no means seemed destined for politics from an early age. He dropped out of his first year of university to counsel at-risk juveniles, and by age 23, was deputy superintendant of the Manitoba Youth Centre.
One day, responding to some aggressive residents, Doer walked around a corner and was nearly smashed in the face by a baseball bat.
"You don't forget something like that," he recalled decades later to Maclean's magazine.
From the youth centre, Doer moved into Manitoba's union movement, where he stayed for seven years.
He described himself during this period as being "a workaholic, sitting in my office, poring over my briefing books and trying to be the brightest guy on the block."
Entering politics in 1986 as a New Democratic Party MLA, he also gained a reputation for being somewhat of a debonair bachelor, driving sports cars and wearing tailored suits. That "pretty-boy" style actually worried some NDP insiders, but not enough to keep Doer from assuming the party leadership in 1988.
Chatelaine magazine named Doer one of Canada's 12 sexiest men not too long after, alongside Kurt Browning, Wayne Gretzky and Michael J. Fox.
"I was shocked, really," he told Maclean's. "I always considered myself average with a good attitude. Not in that league at all."
The self-effacing opposition leader had apparently long dreamed of becoming premier. His dream would eventually came true in 1999, 13 years after entering politics.  
And from his first term as premier onwards, Doer became one of Canada's most ardent supporters of the 1997 Kyoto Accord, an early international effort to deal directly with climate change.
Championing the green and 'sustainable'
Not only would Manitoba meet its Kyoto obligations two years early, Doer promised to actually go four times beyond those targets, pledging big investments for renewable fuels.
"In doing so, we can help to set the stage for a new, exciting and more sustainable economy in Canada," he wrote in Manitoba's 2002 climate action plan.
"I invite all Manitobans to join me in this effort to leave a legacy of clean air and clean energy for our future generations."
Business Week magazine soon took notice, selecting Doer as one of the top 20 individuals in the world taking decisive action to fight climate change.
"Under Doer," its profile read, "sustainable development has become an economic lynchpin in the Canadian province of Manitoba."
The ever-popular NDP premier, whose approval ratings grew each year, was even willing to fight major infrastructure projects posing threats to fragile ecosystems.
In 2007, Doer rejected plans by Manitoba Hydro to build a transmission line on the east side of Lake Winnipeg, pressuring for a reroute.
His reasoning? Even though that option was costlier, it avoided creating an industrial corridor through untouched Boreal forest.
Those wild lands -- extending to northern Alberta, where they're bulldozed to make way for oil sands expansions -- are "the greatest undiscovered area anywhere in North America," Doer said at the time.
But the future ambassador was by no means opposed to free-market development.
Quitting to become ambassador to US
In fact, Doer bristled when, in 2008, presidential hopefuls Barack Obama and Hillary Clinton both suggested changes to the North American Free Trade Agreement.
Doer called the suggestions political posturing, arguing that Canada needed to fight aggressively against any American controls on trans-border markets.
"We should be much more confident and assertive in the importance of trade, particularly in the area of energy," the Manitoba premier said, partly a reference to Alberta's oil sands.
Then, in August 2009, Doer surprised political observers across the country by suddenly resigning as premier after a decade in office.
"What am I going to do next?" Doer said, excited enough for reporters to notice. "Well, I'm not going to be watching soaps."
A day later, Prime Minister Stephen Harper announced the outgoing premier as Canada's new ambassador to the United States.
"It was very interesting to many of us to observe him accepting this position knowing that a big part of his portfolio would have to be promoting tar sands," the Natural Resources Defense Council's international director, Susan Casey-Lefkowitz, told me.
Green observers such as Danielle Droitsch, now the Pembina Institute's Washington representative, were hopeful nonetheless.
She'd watched as Canadian and Alberta government officials made alliances with big oil companies in order to fight U.S. clean energy laws targeting Alberta's oil sands.
"I thought Gary Doer would become the person that basically acknowledged that we have a problem with Alberta's oil sands, but that we were doing everything possible to address that problem," Droitsch told me.
"He could put a lot of pressure on the federal government and Alberta to say 'let's manage this better.'"
Now more than a year and a half into his posting, Droitsch and other Washington environmentalists see no indication that will ever happen -- quite the opposite, in fact.
Unflagging support for oil sands
Only days after arriving in Washington, Doer made his environmental priorities clear.
"One of the concerns that I have is that (the oil sands) represents so little of the emissions in North America. It's getting a disproportionate amount of chatter," he told Canwest media in October 2009.
"The question is: How much does the oil sands represent as a percentage of emissions in North America?" he added. "It's a very small amount."
Since then, Doer has devoted much of his professional energy to promoting the oil sands industry, flying to industry roundtables, meeting with U.S. policymakers, and speaking to national magazines.
Former Canadian diplomat Colin Robertson argued last summer that Doer is so effective he belongs to an emerging energy advocacy dream team, alongside then-Alberta representative Gary Mar (who's now running for premier and will be profiled here on The Tyee tomorrow).
Behind the scenes, Doer appeared to keep a close watch over any and all oil sands opposition.
As previous reporting in this series explained, the ambassador wrote directly to Democrat congressmen concerned about the climate change impacts of a proposed oil sands pipeline, Keystone XL.
Don't worry about emissions from northern Alberta, Doer argued, Canada's got it covered (which according to federal environment commissioner Scott Vaughan, is not the case at all).
And why oppose a pipeline, Doer wrote, that "would not only help strengthen energy security for Americans and Canadians alike, but would also generate a steady revenue stream and create thousands of well-paying jobs."
We meet at last
So what exactly had happened to Doer's formerly tough positions on climate change, I wondered, staring at him from across the lobby of the Canadian embassy. I cleared my throat and walked towards him.
"Excuse me, Gary Doer?" I said. "Sorry to jump on you like this, but I'm with the Canadian press" -- stumbling with my words a little -- "well, not the press association itself, but from Canada. Anyway, I was wondering if I could ask you a few questions?"
I hadn't noticed when I first walked up, but outgoing B.C. Premier Gordon Campbell was standing right beside Doer, watching me try to connect with Canada's point man in Washington.
Doer, as I'd begun talking, had slowly started to back up towards the security checkpoint, one hand raised defensively around hip level, eyes shifting occasionally from side to side. Campbell stood off to the right, bemused.
"Actually, I'm hosting something right now," Doer said. "But if you can give me your number I can call -- or better yet, contact my press secretary."
I didn't have time to answer that his press secretary had already received, and apparently rebuffed, emailed requests for an interview I'd been sending his office for two weeks. Before I could say anything, in fact, Doer was gone.
Tomorrow: Gary Mar was one of Canada's top oil sands promoters in Washington – until he decided to run for premier of Alberta where now he's a frontrunning candidate.