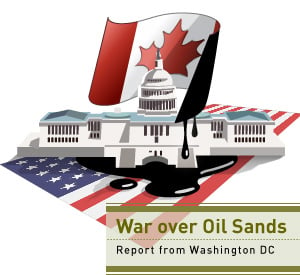 What's it like to be lobbied by Canadian officials in Washington, D.C.? One congressional aide likens them to "aggressive" car salesmen.
I'm seated on a plush brown couch in the office of a prominent member of congress, just down the road from the U.S. Capitol building.
I've met with this aide, who agreed only to speak without his or her name being used (standard protocol for aides), to learn how the Canadian and Alberta governments are pitching the oil sands industry to American policymakers.
Another colleague, who also can't be named, warns us we might have to vacate the office in a half hour or so. A school group may file through as part of its tour of Capitol Hill.
This particular member of congress was one of 28 House representatives who signed a letter addressed to Hillary Clinton last December, raising concerns about a proposed oil sands project.
Secretary of State Clinton will decide by the end of this year whether to approve TransCanada's Keystone XL, a 3,200 kilometre pipeline linking northern Alberta to refineries on the Texas Gulf Coast.
In their letter, the 28 representatives urged the State Department to consider the "major environmental and health hazards" posed by the project.
Over the next several weeks, at least one of those members of congress received politely firm letters from an Albertan minister and Canada's U.S. ambassador. And Alberta's former U.S. representative, Gary Mar, scheduled a meeting to discuss the oil sands further.
"Most of the letters that we sign, we don't get a direct response back from the folks who oppose it," the congressional aide tells me, adding the pressure was "more aggressive than we're used to."
Pumping up the pressure
The Keystone XL pipeline is likely the most hotly-contested environmental issue right now in Washington D.C. Pretty much every major national green group is campaigning against it.
As previous reporting in this series explained, many see the pipeline as a broader referendum on Alberta's oil sands industry and climate change in general.
Oil sands bitumen generally requires more energy to produce than conventional oil, generally resulting in higher greenhouse gas emissions.
Approve the Keystone XL pipeline, many green groups argue, and America grows even more reliant on some of the planet's most carbon-intensive oil. Dozens of congressional legislators, the U.S. Environmental Protection Agency and even the CEO of Google have raised similar concerns.
The Calgary-based pipeline giant TransCanada, meanwhile, promises its project will create upwards of 20,000 jobs and ensure American energy security for decades. And outgoing Alberta premier Ed Stelmach notably defended Keystone XL in a $56,000 Washington Post ad last summer.
A decision on the project was supposed to come last summer. But repeated delays -- almost certainly due to opposition pressure -- have pushed that date until late 2011. Partly as a result, TransCanada has now raised the projected cost of Keystone XL by $1 billion.
It was within this context that 28 Democrat members of congress wrote to Secretary of State Hillary Clinton early last December. They urged her to conduct a "supplemental" environmental review of the project -- a move which was officially mandated last week.
"Not only does tar sands oil have a higher lifecycle for greenhouse gas emissions," they wrote, "but it also has an environmentally destructive extraction process and environmentally precarious transportation system."
Environmental problems left out
Ten days later, Alberta's Minister of International and Intergovernmental Relations Iris Evans wrote to at least one of those congressmen, expressing "great concern" about their comments.
"The letter takes liberty with certain talking points presented by interest groups that have a keen desire to stop oil sands production," she wrote. "[Alberta] has in place some of the world's most stringent policies to monitor the air, land and water around the oil sands."
Her letter didn't mention that just one week previous, Canada's Environment Commissioner Scott Vaughan had released a scathing report about water monitoring on Alberta's Athabasca River.
He'd found that a federal research station downstream from major oil sands operations had not tested for petroleum pollutants once in its more than 20-year history.
And two days after Evans' letter, a comprehensive Royal Society of Canada report concluded that Alberta's oversight of environmental impacts had not "kept pace with the rapid growth of the oil sands industry."
Canadian ambassador's hard sell
The same member of congress received a letter only days later from Canada's U.S. ambassador, Gary Doer.
"I believe it necessary to address several points in your letter which require clarification," Doer wrote. Presumably in response to concerns about the oil sands industry's carbon footprint, the ambassador trumpeted Canada's Copenhagen commitment, a pledge to reduce overall emissions 17 per cent below 2005 levels by 2020.
"[This is] a benchmark we intend to meet," Doer wrote.
He didn't mention that the month before, Canada's unelected Senate had killed a House-approved bill attempting to enact stricter standards. Or that Canada still lacks a cohesive plan to meet its Copenhagen targets, even as the oil sands industry becomes the country's fastest growing source of emissions.
Doer did however note that Keystone XL "would generate a steady revenue stream and create thousands of well-paying jobs for all states along the proposed pipeline path."
Not long after the initial letter to Hillary Clinton, the congressman and aides met with Alberta's U.S. representative, Gary Mar.
Mar just recently announced his bid to become Alberta's next premier.
But until last week, Mar held a different post. He led oil sands advocacy efforts from Alberta's Washington office. Its taxpayer-funded budget last year: $1.38 million.
Mar, whom the aides described as "a very, very smooth talker," apparently downplayed to concerned members of Congress the oil sands industry's impact on Canada's Boreal forest; argued that its greenhouse emissions weren't as bad as many studies claim; and framed Albertan oil as a good way to improve America's energy security.
(Mar's office declined repeated requests for an interview, as did the Canadian embassy.)
Asked if they felt they were getting balanced information, the congressional aides compared Mar to a car salesman.
"He was selling the industry, there were no two ways about it," one aide tells me. "It was like he was saying, 'We know you're outspoken on this issue and this is how you feel but I can tell you why you're wrong.'"
The aides I spoke with were not necessarily surprised that a foreign government would attempt to lobby on behalf of a domestic industry, particularly one so lucrative as the oil sands.
Nations from all over the world do the same. But Canada's approach appears to be have been more aggressive than most.
"That was the most direct encounter I've had with a lobbyist representing a foreign nation," one of the aides says.
Tipping the balance of information
Ultimately, the aides who spoke with me, like the members of congress they work for, want the U.S. to take decisive action on global warming while there's still time to have a meaningful impact.
Part of that means reducing America's dependence on carbon-intensive fuels from places such as Alberta's oil sands, they argue. But as the collapse of the Senate's wide-ranging climate legislation this summer made obvious, Washington's interest group politics are not very conducive to change.
Indeed, a Wonk Room analysis last year concluded that 50 per cent of elected Republicans in Congress are skeptical about the threats posed by climate change.
And the vast majority of Americans -- including many legislators too -- have no idea that Canada is the largest supplier of crude oil to the United States, the aides say, let alone any knowledge of the complex environmental issues associated with it.
It makes the lobbying efforts of the Canadian and Alberta governments that much easier, the Pembina Institute's U.S. liaison, Danielle Droitsch, told me in an earlier interview.
"If a U.S. decision maker who's very busy and has lots of things on their mind is being approached constantly by the Canadian embassy and government of Alberta, then that decision-maker doesn't have balanced information," she says. "That to me is the most troubling thing."
On Monday: Why green groups -- and the public -- are still in the dark about most of the Canadian government's lobbying for the oil sands in Washington D.C .