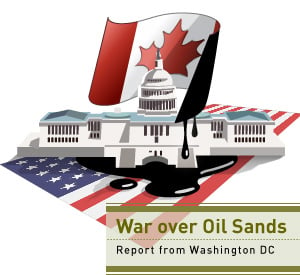 Danielle Droitsch knows that Canadian and Alberta officials are constantly lobbying American policymakers on behalf of the oil sands industry.
But her intelligence, she says, is either anecdotal or fragmented, making it difficult for herself, or the public, to know the full scale of their campaign.
"We're not able to figure out exactly where they've been," the U.S. policy director for the Calgary-based Pembina Institute tells me. Droitsch and I are seated at a coffee shop in DC's cavernous Union Station, a tourist hangout and metro hub only blocks from the Capitol building.
I've arranged this interview to get an outsider's view on Washington's oil sands politics. Droitsch currently represents the only Canadian environmental group with an office in America's capital.
She arrived here last spring out of recognition that the future of Canada's energy policy is to a large extent being decided by American legislators.
Droitsch also came, she says, to provide a reality check for the oil sands talking points being sold as fact by Canadian and Albertan officials.
In less than a year, Droitsch has become an important figure in Washington's environmental circles, allying Pembina with some of the most influential green groups in the United States.
She frames their mission as a "David and Goliath" struggle against the world's wealthiest oil companies and their allies in the Canadian and Alberta governments.
'I think they're way ahead'
Yet apart from a rare glimpse here and there inside Goliath's lobbying machine, Droitsch can only hypothesize what her opponents are up to, whether they're winning Washington's war over oil sands, who they're targeting.  
"Frankly," she tells me, "I think they're way ahead of us on the lobbying side."    
They've had a two-year head start on Droitsch, at the very least.
Previous reporting in this series detailed how Canadian embassy officials began fighting U.S. clean energy laws in early 2008.
One of the earliest, Section 526, made it illegal for American government agencies to buy carbon-intensive fuel from places such as Alberta's oil sands.
Internal emails obtained by the Pembina Institute reveal that Canadian embassy staff contacted Exxon Mobil and other oil majors to warn them about the law.
It appears the strategic partnership between government and industry remained strong throughout 2008. In late September, the Canadian Association of Petroleum Producers -- a lobby group representing the oil sands -- met with officials from Canada's department of Natural Resources.
The purpose of the visit, according to ministerial briefing notes marked "secret", was to "discuss their strategy to engage the public on oil sands."
For government officials, the stakes were high. Those same briefing notes, obtained by Climate Action Network Canada, point out that federal and provincial governments received $27 billion in payments from oil and gas producers in 2005.
Yet officials worried about perceptions of "dirty oil," particularly in America, the oil sands industry's most valuable market.
"By many, the oil sands are seen as a barrier to clean energy," reads a government powerpoint slide from March 2009.
Part of the solution would come from developing stricter regulations, another slide reads. Poor perceptions could also be countered with a "proactive outreach strategy for the U.S.," it notes, coordinated with the Alberta government and the oil sands industry. 
Behind a shroud of secrecy
Those documents and others suggest a secretive alliance between Canadian policymakers and big oil companies, Pembina's Droitsch says. But the documents only reveal so much.
"What we know is that they're working together. To what extent though, we don't know," she says.
And Droitsch can only guess in many cases what her opponents are actually saying to U.S. officials.
But there's good reason to suspect their sales pitch includes thinly veiled trade threats, she says.
During the final run-up to the 2008 presidential election, Barack Obama's top energy advisor, Jason Grumet, made some strong statements about Alberta's oil sands.
"If the only way to produce those resources would be at a significant penalty to climate change," he said that summer, "then we don't believe that those resources are... going to play a growing role in the long term future."
In late August, Canadian cabinet minister Tony Clement and executives from Nexen Energy -- a major oil sands firm -- arranged a closed-door meeting with Grumet during the Democratic National Convention in Denver, Colorado.
Public statements at the time from the Nexen leadership may give some indication of the meeting's tone.
"If you don't like the oil sands oil," the energy firm's Dwain Lingenfelter told the Toronto Star, "what companies will do (in Canada) is build a bigger pipeline to the west coast and export it to China and India."
That prospect is noted explicitly in the regulatory application for Enbridge's Northern Gateway project, a proposed pipeline from northern Alberta to coastal Kitimat.
If American energy policy threatens to impair market access for oil sands crude, the application reads, "the existence of the Northern Gateway option would provide important leverage in achieving changes to such limiting policies."
Whether Canadian officials are using that leverage directly, fears of Alberta's energy going to China make some Capitol Hill policymakers think twice about taking a hard stance against the oil sands, a congressional aide told me. 
Some of those policymakers may just be reading the Globe and Mail.
An op-ed this summer written by former Canadian diplomat Colin Robertson declared, "It's time for Canada to play the energy card and announce the fast-tracking of a new pipeline to the Pacific... The Americans, especially those charged with national security, will get the message."
Up against 'one of the best lobbyists'
However, the most successful lobbying is often not adversarial at all.
What makes the Canadian and Alberta government's oil sands sales pitch so effective, Pembina's Droitsch says, is that many American policymakers mistake it for the full story.
"The message in Washington has been that there are no problems with the oil sands industry at all," she says. "If a U.S. decision maker who's very busy and has lots of things on their mind is being approached constantly by the Canadian embassy and government of Alberta, then that decision-maker doesn't have balanced information."
It helps too, Droitsch adds, that Alberta's (former) U.S. representative, Gary Mar, is "a very nice guy, very easy to talk to and very knowledgeable" -- in other words, an excellent salesman.
In fact, as one congressional aide told me, "Gary is quite frankly one of the best lobbyists I've met with."
Mar is certainly able to make appealing economic arguments. The Canadian and Alberta governments' U.S. messaging around oil sands generally involves job creation, energy security and various other financial spinoffs.
There's always an acknowledgement of environmental impacts, but these are framed as surmountable challenges being addressed with improving technology.
(Mar, who quit his posting in March and announced his bid for Alberta premier, refused multiple requests for an interview, as did the Canadian embassy.)
The Pembina Institute, which has researched the massive ecological impacts of Alberta's oil industry for decades, decided last year to bring its own story to Washington.
'We came to moderate a very one-sided story'
In April 2010, Droitsch began leading the group's first ever foreign bureau. "We came to at least moderate what I'd say has been a very one-sided story down here," she says.   
Since then, Droitsch has come to play an increasingly important role in the environmental coalition opposed to further oil sands development.
That coalition includes Sierra Club, Natural Resources Defense Council, Friends of the Earth and National Wildlife Federation -- some of the biggest and most influential groups in the country.
Without their support, Droitsch says, there's little chance Pembina would have any voice in Washington.
"There are thousands of people that come to DC from all around the world to convince the U.S. government of something," she tells me. "To have one person come here and try to access the White House is a stretch."
Pembina's primary role in the coalition is as a purveyor of research and knowledge. The group regularly releases reports on the oil sands industry's greenhouse gas emissions, water impacts and other issues.
Droitsch's well-connected environmental colleagues, who meet often with policymakers in congress and the Obama administration, rely on research from Pembina and other sources to lobby for changes in U.S. energy policy.
They've had some big successes over the past year. Previous reporting in this series detailed how green influence caused major delays for TransCanada's Keystone XL pipeline, helping add $1 billion to the project's budget.
"Will our coalition stop this pipeline? I don't know," Droitsch says. "Maybe a year ago we would have said this fight is a losing fight. It's still David versus Goliath. But it's not like David hasn't moved ahead."
Tomorrow: Tricks of the oil sands lobbying trade.