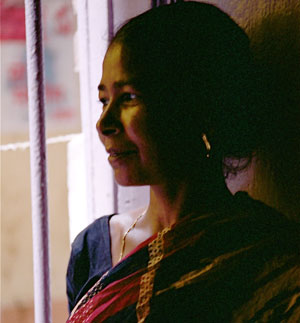 [Editor's note: This article and three to follow are adapted with permission from the chapter "Daughters of Kali" in the book Humanizing the Economy: Co-operatives in the Age of Capital, published in October by New Society Publishers.]
Kali reigns over Calcutta. She is the Dark Goddess. Emblematic of destructive rage and triumphal power, four-armed, red-tongued, swinging a severed head and wearing a garland of human skulls, she dances in ecstatic fury over the body of her consort, Siva. A tribal deity that draws forth fear and frenetic faith in equal measure, Kali is complex, contradictory and mystical, blending chaos and wisdom in a manner that makes the Terrible Mother the perfect symbol for Calcutta, the city named in her honour.
Kalighat temple remains one of Hinduism's holiest shrines and the origin of the city that has grown around it. For centuries pilgrims have flocked to the temple near the banks of the Hooghly River, a branch of the Ganges that empties into the Bay of Bengal. Today, as before, pilgrims, and the vast economy of religiosity that accompanies them, continue to flow here. Where pilgrims came, so too did the discarded women. Some -- the widows, the outcast – sought mere shelter and sustenance; others came to service both pilgrim and priest. In both cases desperation drove many inevitably to prostitution.
And through the ages there stood Kali -- protectress of the outcast, the despised and the powerless -- none more so than the women who trade sex for a living.
From Vancouver to Sonagachi
I had come to Calcutta to learn about Asia's first, and largest, sex workers' co-operative. I had first found out about USHA Multipurpose Co-operative when I was looking for models that could be applied to a bold project that my association in Vancouver was supporting in the city's Downtown Eastside. It was here that nearly 60 women from the sex trade had disappeared in what was to become Canada's most horrific case of serial murder against women. Sex workers in Vancouver were fearful. They had seen their friends vanish without a trace and were determined to establish a safe haven for their trade.
The BC Co-operative Association had helped them incorporate a co-operative as a means of taking control over their work and providing themselves some modicum of safety. It was in Calcutta that women in the sex trade had first developed the social and political organization that was to become a model for empowering sex workers the world over.
Calcutta is a new city, just over 300 hundred years old, and a British creation. It was founded in 1690 by Job Charnock, a British merchantman and an agent for the English East India Company. As it grew, a confusion of Indian and Western influences, a commercial melting pot and a court for empire, there also arose an army of the poor and the destitute that were to become a lasting symbol of the city. In swelling numbers, the city absorbed the fortune seekers and those whom fortune forgot.
Sonagachi, Calcutta's largest and most notorious red-light district, is situated at the north end of Calcutta. The setting is one of decrepit buildings lining close, congested lanes crowded along a noisy and chaotic marketplace. Rats are a plague. Ravens are everywhere. An estimated 4,000 sex workers live and work in the 370 brothels that operate here. During festival periods, this number jumps as women join the trade to pay for the added expenses of the holy days. The buildings that are used for the sex trade house several brothels that range in size from five to 25 rooms.
Living space is cramped and dark, with toilet and washing facilities used in common. It is not unusual for four to six women to share a single room, partitioned by curtains. I visited a room where three generations of a family share space with itinerant sex workers bringing the number of inhabitants to 10.
At first sight, Sonagachi appears the same as most other neighborhoods in Calcutta. It is cluttered with the usual mix of cars, carts, rickshaws and trucks that compete with the pedestrians for possession of the narrow streets. An endless assortment of shops, stalls, and workshops line the roads and alleys, offering every conceivable type of good and service. Most of the shops are tiny, some no larger than a cupboard, with the shopkeeper sitting on a ledge like a yogi and dispensing spice, rice, paan, fruit, cloth, sweets, cigarettes, to the bustle of people that flows through the warren of streets. In the deeper alleys, one sees tanners, bakers, tailors, and metal smiths sweating over forges and beating out iron on the blackened anvils. Sonagachi, like every other neighborhood in Calcutta, resembles a densely packed village. The age-old habits that its residents have carried with them from rural life are being created anew, using the familiar patterns of village life to make living possible in this most unforgiving of cities.
The sex trade in Sonagachi relies on the 20,000 or so men who visit the district regularly. They are mostly migrant workers living away from their families and eking out a living doing physical labor, often in the construction industry.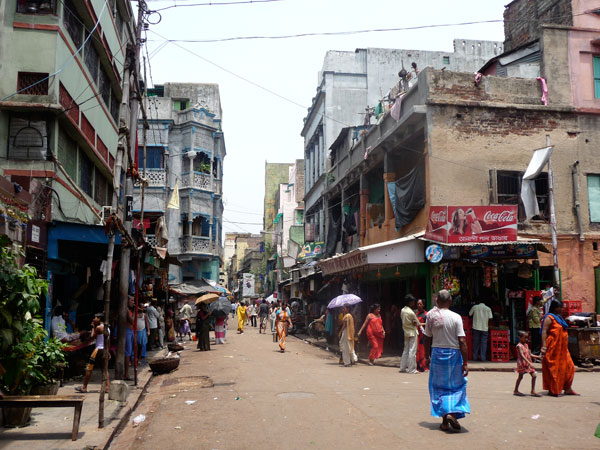 Sex workers operate independently or under the control of madams (malkin) or pimps (mastaan). The pimps can be seen congregating in clusters on the street and are recognizable by their attire; they wear a white sleeveless undershirt over a sarong. Mastaan collect one-quarter of the earnings while madams take an even 50 per cent. Rooms are rented on a daily, weekly or monthly basis. If a sex worker does well, in time she may come to own her own room, subletting it to other sex workers, or even acquire other rooms that she then rents as a madam in her own right.
Patriarchy and hypocrisy
For any observer of the sexual culture of contemporary India, the relative tolerance of sex and sex work in ancient India presents a stark contrast to the suppression of sexuality that coincided with the imposition of Victorian values during English rule and the rise of a Puritan strain of Hinduism. And while Western culture has undergone a revolution in sexuality (one with its own dark side to be sure), sexual culture in India remains deeply problematic and steeped in patriarchy, hypocrisy, superstition and a continuing infantilization of sex. One need only consider the degree to which Bollywood films are soaked with that peculiar mix of rampant desire and chasteness to see how stunted and socially frustrated sexuality has become in India. But aside from the tortured gyrations of Bollywood actors, which are admittedly hilarious, there is little to laugh at. The consequences of this sexual repression, combined with a patriarchal culture, are truly catastrophic for women.
After living in the shadows, however, the more than 16,000 women that work in Calcutta's sex trade are claiming their place in the light of day, and this series will tell a few of their stories as part of a larger narrative: how the sex workers of Sonagachi formed first Durbar (more formally known as the Durbar Mahila Samanwaya Committee) to advocate for their basic rights. And then built the USHA Multipurpose Co-operative, which has gone on to provide everything from condoms to credit to its members, allowing many to lift themselves out of the most abject poverty and even chart a path out of prostitution.
Here then, to close this first of four pieces, is the story of one of those women, a beneficiary of both Durbar and USHA.
SONUKA
Sonuka looks older than her 45 years. Small and frail, she has an aura of gentleness, of silence. Yet when she smiles her face comes to life, lit up by a flash of white teeth and the sparkle of lively brown eyes. A pair of delicate, sparrow-like feet peep out from beneath her burgundy-and cream-coloured sari. She is a figure of fragility steeled by a fierce instinct for survival. We are sitting in her room, at the back of the ground floor in one of Sonagachi's more dilapitaded brothels. I am there with Shanto, a development worker who has worked with Durbar for years and is acting as my interpreter, and three other members of the association.
Sonuka's room is perhaps nine feet by nine and painted a vivid green. The furniture consists of a platform bed that dominates the room, a glass-fronted armoire and a metal cupboard. Shelves set in the walls hold the stainless steel pots and bowls used for washing and eating, ratproof storage containers and the brightly colored clothes, bags, and sarees that are arranged with care on the shelves and wall hooks around the room. The room is spotless. Just outside the door is a tiny anteroom where a television is playing and Durbar staff prepare chai on the kerosene burner that serves as a stove. Beyond, the dark hallway leads to an inner courtyard that rises through the heart of the building and where, in the twilight gloom, the intimate inner life of the brothel unfolds. The women, seated on the steps or leaning over the balustrade on the first floor, speak softly, passing the time by exchanging the day's gossip as they do in every village in India.
Sonuka has lived in this room for 28 years. She arrived in Sonagachi at the age of 14 when she began her life as a prostitute. Like all the young girls that arrive here, she had no idea what awaited her.
Sonuka was born in the small village of Birbhum in West Bengal. At the age of 12, she was married to a man of 20. Still a child, and suffering from a variety of ailments that had gone untreated, she was unable to perform sexually for her husband who, along with her in-laws, became resentful and began to abuse her. Her first beating came because she didn't know how to properly handle the cows in her care. This was followed by endless bouts of beatings and torture and charges that she was impotent, lazy, a curse on the household.
When finally her body swelled up and she became immobile on account of gout her father took her back home by force, fearing for her life.
To Calcutta
It was during her period of convalescence that Sonuka met a young man from a neighboring village who claimed he had contacts in Calcutta. Determined not to return to her husband and in-laws, she asked her friend to look out for any work that she might do in the city. Soon, word came that he had found work for her as a housemaid and she could now escape a life of servitude and abuse. At the age of 14 Sonuka made a brave bid for her freedom -- a young girl traveling far from home to an uncertain fate. When Sonuka arrived at her place of employment, she found she had been sold by her "friend" to a brothel for a price of 5,000 rupees or 50 dollars. She never saw him again.
Isolated, with nowhere to go, Sonuka was trapped. It took her two years of sex work, turning six, eight, 10 tricks a day and serving four or five customers a night to pay off the debt. She was lucky. The brothel owner was generous and released her once the debt was paid. By the age of 16, Sonuka was an experienced sex worker and she sought her own place, the same room she now occupies.
Today, Sonuka leases her room from the brothel owner and is an independent operator. She has three children, two daughters and a son. All of them have received an education, and her younger daughter is graduating from college. They live in Birbhum, in a house Sonuka inherited, and she divides her time between Sonagachi and the village.
Sonuka joined USHA in 2001, after she heard about the association from fellow workers. She took out a loan of 50,000 rupees in 2007 that she will pay off in 2010, and has a daily savings account. Sonuka has also taken out a second loan that she is using to pay for the marriage of her younger daughter. Her older daughter, too, had been married. But the familiar pattern of abuse at the hands of in-laws prompted Durbar and USHA to intervene on her daughter's behalf. They sent representatives to the village. They took up the case, threatened legal action against the in-laws and ultimately helped the daughter obtain a divorce. Without the organization's support this would have been unthinkable in a small village, regardless of how bad the abuse was.
When she retires, Sonuka's dream is to open a shop in the village with the help of a loan from USHA.
Before departing, I ask Sonuka if there is anything in her life as a sex worker that has given her pleasure. She breaks into a soft flow of laughter. Without a shadow of hesitation she says, "Nothing. Absolutely nothing at all."
Tomorrow: How the USHA sex worker co-operative grew to have more than 12,000 members, and how it empowers those who belong.