[Editor's note: This article is third in a series adapted with permission from the chapter "Daughters of Kali" in the book Humanizing the Economy: Co-operatives in the Age of Capital, New Society Publishers.]
The first two articles of this series told how enlightened public health workers working with prostitutes in Sonagachi, Calcutta's oldest brothel district, created Durbar, an organization built to defend the rights of sex workers, promote their physical and financial health, and counter discrimination. USHA Multipurpose Co-op, which lends money and other support to sex workers, is without a doubt one of Durbar's most impressive achievements. But it is only one project among many that the organization has launched in a campaign that has to fight on many fronts and at many levels.
Here are the stories of two of these sex workers, the realities that drove them to prostitution, and the life differences made by their memberships in the sex worker co-operative.
ONIMA
Onima Das is an imposing woman. She sits like a monument in the centre of her bed, surrounded by half a dozen men. Some of them are discussing ledgers and papers that are spread out fanwise before her. After we introduce ourselves, someone suggests that our interview take place with the men present. Some of the men seem reluctant to leave us alone. I insist that the interview take place in private and that the men leave. At a word from Onima, the men gather their papers and quietly depart.
At age 52, Onima Das has the regal bearing of a woman used to being respected and obeyed. She has a massive frame, a face that still bears the signs of the great beauty she possessed as a younger woman, and a cascade of raven-black hair that descends to her waist. Draped in a superb saree of lemon yellow and midnight blue, she is the picture of prosperity and power. Hers is a true Sonagachi success story.
Onima Das was born in Calcutta. Raised in the poorer northern section of the city, she was married at a young age. Relying on her husband's meager earnings, she struggled to raise four sons. When her husband fell ill and was unable to work, Onima was forced to find employment to support her family. She found work at a tobacco packing plant. Bad as the conditions were, they were soon made worse when the men at the factory started a relentless campaign of sexual harassment, their unceasing demands for sexual favors turning her working life into a living nightmare. This went on until one day, on her commute home, an acquaintance suggested that she become a sex worker during the day and not tell her family. This way, she argued, Onima would receive some decent payment for the sexual favors she was expected to give out for free at the factory.
At the age of 37, a respectable married woman with a family, Onima arrived in Sonagachi to become a "flying sex worker" -- one of the legions of women who trade sex in the day while returning home at night. Onima kept up this secret life until one day, having grown suspicious, her husband followed her to the brothel where she worked. Confronted by him, Onima defended her actions stating flatly that she had no choice, that she was constantly attacked by men at the tobacco factory, indeed anywhere she attempted to work, and that without her earnings the family would starve.
Reluctantly, her husband and her family accepted her decision on the condition that she remain a day sex worker and return to her home at night. Till the day he died in 2007, the relationship between Onima and her husband remained strong, sustained by a mutual love and respect and the acceptance of a stark necessity born of desperation.
Business savvy
For the first three years, Onima was in great demand and she had a large roster of clients. Then she established an exclusive relationship with one man that continues to this day. Her permanent partner, known as a babu and a common feature in the trade, is also now a business partner and helps keep Onima's accounts. He was among the group of men we first met on arriving and he joined in our discussion near the end of the interview.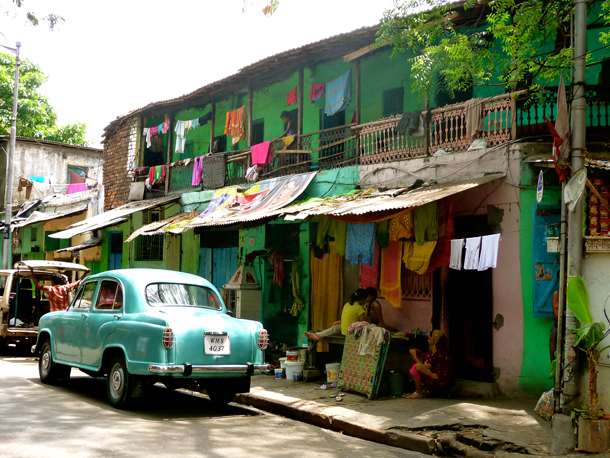 Onima has done well for herself. From her earnings and a sharp business sense she has succeeded in raising and educating her sons, she owns and operates a saree shop in Calcutta and she has been able to purchase four rooms in Sonagachi that she sublets to other sex workers. Onima has a daily savings scheme and has taken out four loans, three of which she has paid back and a fourth she is currently paying off. USHA and Durbar, she claims, are the sole reasons for her success and the reason she has been able to go into business.
Within the hierarchy of the sex trade, Onima Das is a respected madam and entrepreneur. She was also USHA's first member and a powerful advocate, recruited by Durbar staff in the course of its door-to-door campaign to help lead the association's education and organizing work in the neighbourhood. She has been a force to be reckoned with ever since.
RHEKA
Rheka Roy was first sold to a brothel owner in Uttar Pradesh when she was 11 years old. At the time, she was working as a housemaid and living with her mother in the West Bengal village of Shamnagar where she was born, near the Bangladesh border. Like so many of the village girls, she received no education, was illiterate and worked as soon as she was able to help support her family. She was spotted by a woman acting as a recruiting agent for a trafficker and was enticed to go to Uttar Pradesh with the promise of employment. Her selling price to the trafficker was 8,000 rupees, or $171.
When Rheka arrived in Uttar Pradesh, a world away from her small village, she was locked in a room with two other minors. The room had a sink and toilet; all three girls lived as prisoners and never left the room. Rheka was kept here for two years, until she began to menstruate. Then she was forced into prostitution.
Frequently, police would raid the building. They would go through the motions of searching the building for illegal activity, but Rheka and the other girls would be hidden in an underground dungeon beneath the floor, where they could hear the police tromping through the rooms just inches above their heads. All of this was a charade. The police knew about the hideaways and the traffickers were forewarned, but the raids kept up appearances and were part of an elaborate system of bribes and payoffs. It wasn't until she was 15 that Rheka was finally rescued and sent to a government hostel. She escaped, fled to Calcutta and once again ended up as a bonded sex worker in a brothel. One of her clients, however, was a powerful local thug, a goondah, who took a liking to her. He gained her release and brought her first to Sonagachi and then back to her home village.
Back home, Rheka discovered her family in a desperate economic state, just barely surviving. With that combination of cold-blooded realism and truly heroic personal sacrifice that is so often found among these women, Rheka concluded that the best option for her family was for her to return to the sex trade. She was illiterate, had no skills, and her most valuable assets -- a will of iron and physical beauty -- would earn her far more as a sex worker than anything else she could hope for. She returned to Sonagachi.
'So many dreams broken'
Seventeen years later, Rheka remains close to her family. She has become a highly valued, and highly priced, sex worker. At 34, she has a voluptuous beauty and her appraising eyes glitter with bold self-assurance, defiance and the indefinable yet unmistakable current of sexual energy. She knows her worth. At the top of her trade, she commands as much as 1,500 rupees for a night. She has a reliable roster of 400-500 men that visit her over the course of a year and sees four or five clients a day. She keeps 10 per cent of her earnings for herself and her 14-year-old daughter who lives with her and sends the rest home to her mother and siblings -- three sisters and one brother, all of whom are now married and depend on her. She now owns the room she has been occupying for the last 15 years. She has no adhyas to whom she sublets, saying, "I have struggled hard all my life... I have no desire to exploit other women."
Rheka is also now a senior staff person with the Durbar sex worker co-operative, helping to administer the organization's many programs. She takes part in an adult education program run by Durbar for its members, and for the first time in her life is receiving a formal education. She has mastered basic numeracy skills and is now literate in Bengali. It has taken her three years. These are hard-won victories, wrested from a lifetime of heartbreak and hardship. Her body still carries the marks of abuse and violence.
Like many other women I saw in Sonagachi, Rheka wears a bindi, the vermillion dot Hindu women wear on their forehead to show they are married. I asked Rheka, does she have any dreams for herself? Her answer contradicts her open, smiling face. "I have had so many dreams broken that there are none left for myself," she says. "My dreams live through my daughter, seeing her become independent."
Will she ever settle down with one man? Still smiling, still defiant, she answers, "Love has always cheated me. I don't want to fall in love anymore. I want only to be left alone with money as my companion."
Monday: The summary article in this series: Measuring a sex worker co-op's success and limits, as patriarchy, poverty and powerlessness foster prostitution.