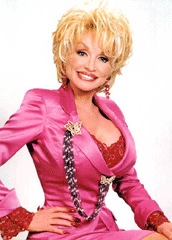 Allow me to get off on the wrong foot with the Tyee commentariat right away and confess that two weeks ago I happened to have Dancing With The Stars on the television (in the background, as I read the lesser works of Proust in the original French). As it's a truly tacky and also strangely heartwarming show, it should come as no surprise that, that night, the show featured as its musical guest one Ms Dolly Parton, a sometimes tacky and always heartwarming performer, who's been in the press lately for her rather bold refusal to be a judge on American Idol (she didn't have the heart to crush young singers' dreams with harsh criticism).
There she was, hair and boobs (as she's been known to call herself), dressed up in a waist-minimizing corset that seemed to function more as a truss that a garment, keeping her top-half from falling over and breaking her in two. A be-wigged cartoon of a woman, with a mega-watt smile and the voice of an angel, Dolly appeared like a vision, singing her eons-ahead-of-its-time feminist anthem "9-5." Sigh. Is there a more charming or true moment in the history of "novelty hits" than when Dolly sang about "pouring herself a cup of ambition"? No way.
Later in the show (now that Dolly was on, I was hooked) Parton sang her latest single, a campy, life-affirming number called "Better Get To Livin'," due to appear on her February 2008 album, Backwoods Barbie. It's a fun song, a sort of tribute to the powers of positivity, with Parton's trademark sunshine delivery setting afloat the virtues of a great attitude. "I'm not the Dalai Lama" she puns. "But I'll try to offer up a few words of advice."
It was a pure Dolly moment: campy, over-the-top, sweet-but-not-saccharine and -- amidst the mounds of sequins and pan-stick and terrible ballroom dancing -- loaded with down-home common sense.
But here's the thing -- it's not anywhere near her best single. Listen to it on your iPod on the treadmill? Sure. But there's much better Parton to pick from.
What gets lost in the fanfare around the Dolly Lama is that, when she puts aside the camp and aw-shucksiness for a bit, she's a truly astounding musician. And so, this week's music pick is not "Better Get To Livin'," but her 1999 record The Grass is Blue, a gorgeous bluegrass record that reminds us all that Parton is a hell of a lot more than a spangly spectacle on Dancing With The Stars.
Filled with heavenly, back-to-basics banjo-pickin' goodness (including the Parton-penned album highlight "Endless Stream of Tears"), The Grass is Blue is a truly great record. Over 13 tracks, Parton gives a master class in interpretive performance, taking the words of such greats as Johnny Cash and the Louvin Brothers and making them her own.
If you're still not convinced, check out 1972's My Favourite Songwriter, Porter Wagoner, and hear Dolly reinterpret the magic of the Adrian-Mack-approved country weirdo. If you're not breathlessly, rabidly in love with the musician Parton by then, there's really no hope for you.
Perhaps the most remarkable thing about Parton on Dancing With The Stars was that, standing amidst the ruins of the American Empire (or as they call it in the papers, "Reality TV"), she served to contradict conventional wisdom about the roots of our current state of pop-culture-obsessed horror.
We've lost the plot, in a way, too busy shouting "She's a witch!" at talentless harpies without their knickers on, insisting that the only antidote to slithering on stage in hot pants is chaste, humourless, strummy-guitar playing dignity. In the music industry, when it comes to women, we still have to choose between the virgin or the whore, and women have to present themselves as "serious" musicians or puppeteered sex-objects. Dolly stands out because she refuses to pick either. She worked 9-5, she made great, stand-the-test-of-time-records; hell, she's even got her own theme park. She got it all, and she did it her way: wearing sequins, four-inch heels and a wig, showing off that enormous rack while she did it. Perhaps more than anything, she represents a third option for women in the music industry -- be talented, be bold, be yourself, and -- yes, get to livin'.
Related Tyee stories: