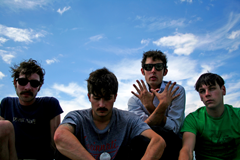 Nothing has me quite as excited right now as the new Black Lips album, Good Bad Not Evil. It was released either on Sept. 10 or 11, depending on your news source. I'll go with Sept. 11, since it hangs nicely with some of the misgivings I have about the band.
Cast your mind back to Sept. 11, 2001. There was some chatter at the time about the "death of irony." The idea was quickly cemented by a procession of weeping, late-night talk show hosts, although it didn't take long for Jon Stewart to triumphantly handle the issue of how to be a post 9-11 smartass. After reminding Daily Show viewers that it's his bread and butter, he asked, "How come irony had to die? Why couldn't it be puns?" Or something to that effect, anyway. I can't find the clip, but rest assured -- it was hilarious.
And with that, much like the salmonella that was sent into space a couple weeks ago for reasons I can't possibly fathom, irony came back from its brief, weird trip stronger than ever.
And here we are six years later with the band of the moment, Black Lips, which takes my beloved Nuggets-driven garage punk and run it through with a native gift for nihilism and deep black humour. The new single is perhaps the most opaque out of the whole batch, lyrically speaking. Christ only knows what they're going on about, but it's a corker anyway: "Cold Hands."
You'll have to check the rest of the album for a clearer idea of the Lips' magnetically amoral charm. "Veni Vidi Vici" offers glib eschatology; a hipster's eye view of incipient "Holy World War 3" that reduces the clash of the civilizations to a flippant joke and a reference to the Mayan calendar.
Genocide, imperialism and quite possibly even rape get the singalong treatment in "Navajo," but the ne plus ultra of Black Lips' radical commitment to not giving a shit comes when the band veers into gonzo honky tonk for "How Do You Tell a Child That Someone Has Died." It reminds me of this fried classic .
And "How Do You Tell a Child That Someone Has Died" is all very hilarious and everything, until you look in the band's press release and discover the song was written about the death of the Lips' founding guitarist Ben Eberbaugh in a car accident, whereupon a certain queasiness creeps into your system.
And so it goes on. "Bad Kids" is a hilariously cheerful rave-up about pill-popping, "no-dad kids" getting drunk on Grandma's schnapps and spray-painting penises on the wall. ""O Katrina"" is a stomping, fuzz-toned barnburner that assiduously avoids taking a critical view of the U.S. government's pathological contempt for anybody too poor or black to get out of the way of a hurricane. Not that Black Lips is required to deliver an op/ed piece, but I'm just sayin'...
Of course, between the band's wilful perversity and its surplus of great hooks, Good Bad Not Evil goes way beyond mere musical retro-fetishism. It wouldn't be on VICE Records, otherwise. This is the musical annex of a magazine that sneers at the fashion ignorance of the homeless, for one thing. And I think it's fair to say, from the label's point of view, that the music is just a soft front for the band's transgressive tendencies. It's quite a match. Black Lips conjures a noise that's all 1965, but the signal -- which is caustic when it's not aloof -- is most definitely NOW.
Related Tyee stories: