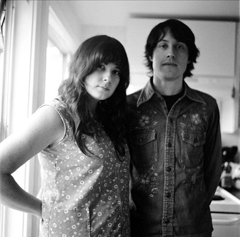 One of the purest joys life affords us all in equal measure is a nice autumnal sulk. When the leaves start turning and the air is crisp, there are few things more exquisite than retreating indoors with green tea and a stack of melancholic records, enjoying a little wistful sigh for the summer while the haunting voice of some singer-songwriting type bums you out just enough to make you feel your heart beat faster. Should you find your record collection lacking for this task, you could do worse than picking up Lightning Dust, the eponymous debut record from Vancouver duo Amber Webber and Josh Wells.
While you may know Webber and Wells better from celebrated band Black Mountain, Lightning Dust has been around for some time, playing shows first under "Amber and Josh" waaaay back in 2005. Demos began to leak into local stereos in 2006, and finally, on a break from being Pitchfork-adored indie rock stars in Black Mountain, they made time to release their debut to the world proper just this June, through Jagjaguar Records.
If Black Mountain is all about a ramshackle communal party (one review in the Village Voice eavesdropped on a concertgoer remarking that he would leave "on principle" if the band grabbed anyone else and told them to play maracas), Lightning Dust is the opposite, all intimate and heavy lidded. The album opens with "Listened On," coming on soft with just a simple acoustic guitar riff, before Webber's preternaturally lovely voice kicks in for a criminally short, organ-driven wail. It's no mean feat for a singer to recall troubled indie chanteuse Cat Power, '60s folk-rock pioneer Sandy Denny, and (if only in mood) the iconic Nina Simone, but somehow, it happens before the track is through. Like those singers, Webber is more about tone than content, and you hardly need to listen to the lyrics to catch her drift.
Like your uncle Steve's "special stash," Lightning Dust is potent stuff, capable of causing serious glued-to-the couch inertia. Indeed, if you're not melted on the floor by the time "Highway," a spacey, cello-laced effort rolls around, you may want to consult a physician for chronic persistent mellow-harshing. For that matter, if you're not moved by the next track, album highlight "Castles and Caves" you may want to have that same physician check for a pulse.
Related Tyee stories: