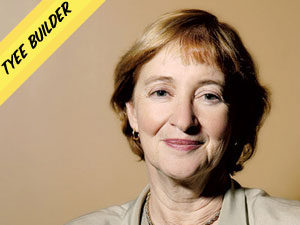 "I support The Tyee because it tells the stories we need to read and that mainstream media has given up on. What else hooks me? My four gorgeous grandkids." -- Maude Barlow
It doesn't come as a surprise that Barlow has youngsters on her mind: she has spent her career campaigning to keep the world in the best shape possible for future generations. She has written bestselling books, earned numerous degrees, been awarded myriad accolades (including the "Alternative Nobel Prize," Sweden's Right Livelihood Award), and is the head of the Council of Canadians, the largest public advocacy organization in the country.
If you'd like to join Maude in supporting one of the causes she's aligned with -- increasing The Tyee's ability to produce independent reporting on the issues that matter to Canadians -- click on the yellow button below. By signing up and voluntarily supporting us with just a few dollars a week, you'll be helping to keep The Tyee's journalism free for everyone to enjoy, and will enable us to write and edit more stories, more often. It's one magazine subscription that everyone benefits from. Please sign up today.

If you give $15 or more to Tyee journalism, we'll even send you a signed copy of Maude's bestselling Blue Covenant. Or, if you've already got that one, you can choose a book written and signed by one of Canada's other literary legends. Supplies are limited, so sign up quick for your best chance of getting the book you want!
About this Tyee Builder: Maude Barlow has simply done too many notable things to mention them all here. She has been called "Canada's best-known voice of dissent" by the CBC. Barlow is the National Chairperson for the Council of Canadians, a group which works "to protect Canadian independence by promoting progressive policies on fair trade, clean water, energy security, public health care, and other issues of social and economic concern to Canadians"; she is also the co-founder of the Blue Planet Project, the chair of Washington-based Food and Water Watch, and a founding member of the San Francisco-based International Forum on Globalization.
Barlow has been awarded 11 honourary degrees and dozens of prestigious awards. Of the 16 books she's written (in all her spare time), The Tyee's favourite is Blue Covenant: The Global Water Crisis and the Coming Battle for the Right to Water an issue that -- as a free-swimming salmon -- is close to our cold-blooded little heart. For more about Maude Barlow's causes and achievements, visit the Council of Canadians website.
About the Tyee Builder Program: Want to give independent Canadian journalism a boost? You've come to the right place. The Tyee is trying to become fully sustainable. In order to do so, we've launched the Tyee Builders program to allows readers who love The Tyee's work to help fund more of it. Every penny you support us with will go directly to pay Tyee writers and editors. And besides the warm, fuzzy feelings you'll get knowing you're helping dial up the volume on an independent voice in Canadian media, we've come up with a few other ways to thank you. Click on "Hammertime" above to learn more and start Building!