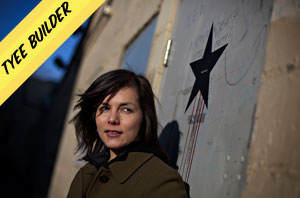 "What hooks me? Forums that provide a voice to people and communities that never get the mic passed their way." -- Lynn Coady
At The Tyee, we agree that everyone should have a chance to voice their opinion. That's one of the principles we've built our publication on: since 2003, The Tyee has "published viewpoints banished from corporate media and shined a light on corners of the province Big Media ignores. We've provided a showcase for young talent and a forum for readers who post their opinions after our stories." We want to continue doing this -- and even increase our capacity -- but we need your help.
We're asking you today to join Lynn and the rest of the Tyee Builders in helping make The Tyee sustainable. For as little as $5 a month, you can help ensure that our news magazine continues its swim against the current of mainstream news. If you give $15 a month or more, you can have a signed copy of Lynn's award-winning novel, The Antagonists.Click on the button below to find out more and to sign up now.

About this Tyee Builder: Originally from Cape Breton Island, NS, Lynn Coady now lives in Edmonton, AB. She is an award-winning author, editor, and journalist.
Lynn's first book, Strange Heaven, was nominated for a Governor General's Award. Her latest book, The Antagonists, was shortlisted for the Scotiabank Giller Prize in 2011. She has also written for various publications, including Saturday Night, Chatelaine, and The Tyee.
About the Tyee Builder Program: Want to give independent Canadian journalism a boost? You've come to the right place. The Tyee is trying to become fully sustainable. In order to do so, we've launched the Tyee Builders program to allow readers who love The Tyee's work to help fund more of it.
Every penny you support us with will go directly to pay Tyee writers and editors. And besides the warm, fuzzy feelings you'll get knowing you're helping dial up the volume on an independent voice in Canadian media, we've come up with a few other ways to thank you. Click on "Hammertime" above to learn more and start Building!