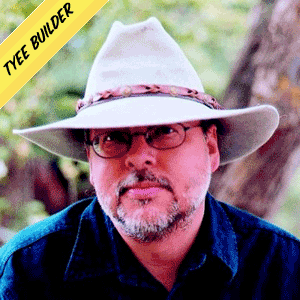 As described by The Tyee's editor, Andrew Nikiforuk "is Canada's leading muckraker about Canada's most controversial muck: the tar sands of Alberta." It seems that what we love most about Andrew -- his ability to delve deep into issues that matter to Canadians -- is the same thing he loves about The Tyee:
"The media, like the globe's industrial complex, needs a totally different and restorative kind of energy. I support The Tyee because it's not afraid to fish for the truth in muddy waters and to challenge the politics of economic bottom trawlers and other Ponzi schemes," he says.
If you agree with Andrew and want to join him in supporting The Tyee, then click on the big yellow button below. By becoming a Tyee Builder, you can help make sure that The Tyee is able to keep up with mainstream media outlets and continue reporting on the issues that matter to you.

About this Tyee Builder: Andrew has been writing about the oil and gas industry for two decades. His books and articles have won multiple awards, including the Governor General's Literary Award, the Rachel Carson Environmental Book Award, the City of Calgary W.O. Mitchell Book Prize, and several National Magazine Awards. In 2010, Andrew became The Tyee's first writer in residence, and has since written dozens of stories for us.
You can find out more about Andrew and his work on his website.
About the Tyee Builder Program: Want to give independent Canadian journalism a boost? You've come to the right place. The Tyee is trying to become fully sustainable. In order to do so, we've launched the Tyee Builders program to allow readers who love The Tyee's work to help fund more of it. Every penny you support us with will go directly to pay Tyee writers and editors. And besides the warm, fuzzy feelings you'll get knowing you're helping dial up the volume on an independent voice in Canadian media, we've come up with a few other ways to thank you. Click on "Hammertime" above to learn more and start Building!