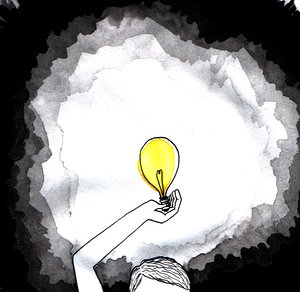 [Editor's note: This is the seventh of The Tyee's Inspiring Ideas for 2013 series, running weekdays through Jan. 1 and collected here.]
Generally speaking, it's not really in a journalist's nature to be positive about the way the "conversation" is "going these days." But this year I'm going to go out on a limb, and say with a rare note of optimism that when it comes to cities, and the future of urban development, the conversation is actually really moving in the right direction.
Well, almost.
In most major cities in the western world, we've now entered an era where the pursuit of vibrancy, resilience, sustainability, walkability, bikeability, and about every other "ility" you can think of is coming to be the expected norm on the urban political agenda. It is no small feat that, in the course of just a few decades, we've shifted from a time where political will lay in the hands of power brokers greedily dicing cities apart with elevated freeways, to one where mayors are all but expected to ride their bicycles, not their BMWs, to work -- where "livability" is turning into a genuine political urban currency.
The magnitude of this should not be underestimated. Consider some of the things that have happened just in the past few years: nine blocks of Broadway in New York City -- America's Main Street -- freed of traffic for pedestrians to frolic; or a £10 charge to drive a car into central London. Livability is so high on the world's agenda at the moment that even the UN signed its first ever resolution on public spaces in 2011, setting "place-making" in the core of their agenda.
Suddenly bike lanes spark some of the most heated debates in city halls, city-owned buildings should have green rooftops, and mayors give a damn about whether or not their citizens can find lunch on the street, buy a beer past midnight, or plant their own kale. The Grammy award for Album of the Year in 2011 went to an album ragging on the suburbs, for Pete's sake. If that's not a sign of change in popular conversation, I don't know what is. And it's great.
In many ways Vancouver has lead the charge in this movement for years. The fingers of eco-dense Vancouverism are now reaching everywhere from Austin to Abu Dhabi as cities desperately climb atop Vancouver's shoulders to graze the upper echelons of the ever-cited livability indexes, on which Vancouver perennially sits so high. Where the city has lagged behind in spunk, I genuinely believe that it is trying to catch up, albeit in its own Vancouver way. And while some of us may roll our eyes at the Greenest City agenda, there is no doubt that it stands as a symbol that the city is more than just with the times -- it is helping wind the clock.
Redefine livability
But despite this miraculous transformation in conversation, there is one element that consistently seems to be left out of the picture: that a livable city means nothing if no one can afford to live there. For all the talk of resilience and vibrancy, and environmental goals, we forget that the success of the plans we draft for those goals hinge on a diverse and content population.
I recently realized to my horror that the majority of so-called "livability indexes" like those of Mercers or EIU don't include affordability in their list of criteria, which goes a long way in explaining how Vancouver has managed to continuously crown such lists. This is a big deal for more than one reason. Affordability is an equity issue, of course. But there is an even less philosophical, and more pragmatic aspect to it, especially in North America. That is, the reason we are putting so much effort into our cities today is not just because good, livable cities are fun -- though they are. It is because they are necessary to attract the critical density needed to achieve our environmental and social goals.
They will not only help us transition to a less car-oriented, lower carbon lifestyle, but they also to enable the type of environment that fuels creative and innovative thinking and business. But let's face it -- those people will only stay so long if they are forced to live like paupers. Eventually they'll grow up, they'll want to live like adults, and if they can't afford to do so, they'll go elsewhere. Not to mention that a city cannot thrive on the creative class alone, and truly diverse, resilient economies need to be able to accommodate a bit of everyone. A "livable" city that is unaffordable, in essence, defies the very purpose of encouraging livability in the first place.
There is no simple answer to the question of affordability in cities where both residential and commercial prices are tied to a market-driven system. You don't need to be an economics professor to understand how a more "liveable" city quickly becomes an elitist one. (In fact, livability-oriented changes like densification plans, etc., are often sold to citizens on the premise that they will result in increased land values.) But if we indeed believe, as so many posit today, that cities hold the key to our social, environmental, and economic future, perhaps our resolution for 2013 should be to redefine the "livable city" to one we can all afford to be a part of. Maybe one day it will be as normal as a mayor who tucks his left pant leg into his sock for his commute home.
---
Dear readers, you may notice that comments are not enabled for this story. In what has become a Tyee tradition, we're closing the commenting system for the holidays. Thanks for all the insightful and informative comments in 2012. We look forward with happy anticipation to more of the same in 2013.