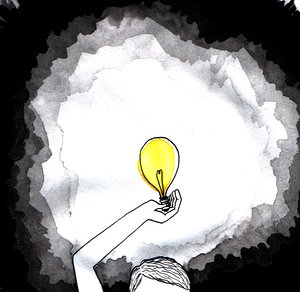 [Editor's note: The Tyee's tradition of heralding the new year by noting 10 developments to keep a hopeful eye on continues, starting today, with Inspired Ideas for 2013. Running weekdays through Jan. 1 and collected here. ]
Today's North American universities are grand economic experiments, exporting their rising operational costs to the increasingly high personal debt loads of graduates. This formula could work -- as long as wages can repay the loans, justifying the cost of the degree. But since 2008 in particular, the rising cost of education no longer justifies the low wages and long-term unemployment graduates find after they finish school.
However, new opportunities exist for higher education to radically change, and if institutions of higher learning adapt they have the potential to build the foundations of a new economy. But as Biology 101 teaches, only the strong -- and innovative -- survive.
How bad is higher ed today? Well, some say the U.S. is nearing the end of a "higher education bubble." American student debt grew past $1 trillion in 2012, even as other forms of debt contracted since the 2008 financial crisis. Tuition at public four-year universities has increased 72 per cent since 2000, while average earnings for full-time employees aged 25-34 with a bachelor's degree fell 14.7 per cent over the same decade.
Earnings are falling along with opportunities for meaningful employment: 70 per cent of U.S. jobs created after 2008 haven't required a university degree. With a limited potential for jobs, an increasing number of indebted students are forced to delay loan payments.
In Canada, as many as 40 per cent of students graduate without loan debt, but the employment and earning statistics are far more grim. Just under 25 per cent of Canadian university grads worked in jobs that underutilized their skills in 2005, one of the worst rates in the OECD. While U.S. rates of underemployment have roughly doubled from 2005 to 2012, we can assume that Canadian underemployment has likely increased over the same time frame.
Canadian students are facing the psychological weight of a future with limited access to meaningful work, as detailed by a recent Maclean's piece. But this crisis is about more than wages; an outdated model of higher education is exacerbating this trend.
Universities currently educate students for a world that looks like the past, rather than tackle the sustainability challenges of the future. Educational programs train students with the assumption of traditional employment opportunities in the industrial and information economy. An outdated model of higher education is equipping students with tools for a toolbox that doesn't exist. Thriving in a time of economic stagnation will require a different set of skills. If universities continue on this track, unemployment and underemployment among university graduates will grow, threatening to destroy confidence in the value of a degree.
Adapting the university model to current economic realities isn't about preparing students to bounce around in contract jobs with no stability or benefits before moving to Fort McMurray. A relevant university will teach the skills, vision and cultural foundations for creating an economy beyond the confines of jobs that vanished along with rapid GDP expansion. A trend of growing irrelevancy in higher education will risk sudden drops in enrolment while destroying the financial sustainability of institutions.
Governments are more than willing to cut education with the rationale of balancing budgets. After years of austerity, higher education in the United Kingdom is already faced with the consequences of this dynamic. Enrolment in U.K. universities suddenly fell 8.7 per cent this year as the massive tuition hikes of 2011 caused many youth to seek other options.
Future models of higher education will need to reduce costs, increase access and undergo a fundamental re-think of basic assumptions to achieve sustainability. One model for the future of the university could involve a hybrid of online and physical courses.
The future is MOOC
To teach the world computer science, Sebastian Thrun quit Stanford to launch Udacity in 2012. Thrun now enrols hundreds of thousands of students across the planet and funds the company primarily by retaining part of the first year salary from job placements with companies that use the skills of his graduates. Udacity is just one of a growing number of massive online open course (MOOC) providers.
"Every college provides access to a huge collection of potential readings, and to a tiny collection of potential lectures. We ask students to read the best works we can find, whoever produced them and where, but we only ask them to listen to the best lecture a local employee can produce that morning. Sometimes you're at a place where the best lecture your professor can give is the best in the world. But mostly not. And the only thing that kept this system from seeming strange was that we've never had a good way of publishing lectures," writes NYU professor Clay Shirky in a recent blog post.
MOOCs can't replace the deeply important social learning environment of the university, but could lead to new teaching styles in traditional degree programs. Academic departments are in the first stages of allowing transfer credit for MOOCs in their programs, reducing the cost burden of the university system.
Pakistan's Allam Iqbal Open University enrols over one million students using this model, stretching its limited financial resources to a knowledge hungry population. Brick and mortar universities could begin supplementing course content with MOOC lectures and other sources of educational media. A growing number of courses let students watch digital media lectures outside of the classroom, and use class time for engaged discussions and problem solving. A hybrid model has the potential to combine the process of social learning with high quality online course resources.
In the future, tenure may be redesigned to consider international online course enrolment rather than relying on publications and journal impact factor. Faculty office hours could be opened to the entire world through Skype. The concept of degrees may be replaced by something like the Mozilla Open Badges project, which awards recognition based on demonstrated abilities. While digitally distributed education is growing quickly with MIT's Open CourseWare, the Kahn Academy, TEDed and Coursera, physical and local skills will be important for the future of universities.
Bet on the farm
Agriculture will be a major aspect of the future as global food output will need to increase between 70 per cent and 100 per cent over 40 years to feed a projected nine billion people. Many youth in the stagnating economies of Europe are leaving cities and seeking careers in agriculture, abandoning traditional unemployment models all together. In North America, more people in their mid-20s are following their European cohorts to the farm. The number of U.S. small farms increased four per cent in 2007 after years of shrinking. Currently, the Faculty of Land and Food Systems at UBC only enrols three per cent of UBC's undergraduate population.
Many institutions are finding innovative ways to expand their agricultural options. St. Lawrence University recently hired a homesteader-in-residence who overseas preservation and planting in community learning environments, taking students through the entire food cycle throughout the year. Interest in agricultural degrees has spiked across the U.S. as farm land values tripled through the last decade and an older farming demographic retires. Will a similar trend start playing out in Canada?
With high levels of youth unemployment, debt saturation and decreasing traditional career opportunities, universities will need to reorganize around principles of agriculture and online resources that decrease costs, or face increasing anger from future students and graduates. While Stanford and MIT are becoming the MOOC sources for technology and computer science, could UBC become the global MOOC resource for sustainability learning?
If our model of higher education fails to adapt to the current economic landscape, the 2012 student riots in Montreal may look miniscule compared to the wrath of future disgruntled youth with loads of college debt and a post-doc as a barista.