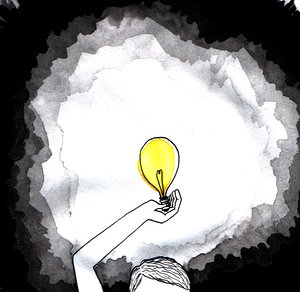 [Editor's note: This is the second of The Tyee's Inspiring Ideas for 2013 series, running weekdays through Jan. 1 and collected here.]
Faced with a protein-folding conundrum that had foiled the bio-chemistry community for a decade, scientist Adrien Treuille turned it into an Internet video game that could be played on a mobile phone. Tens of thousands of Foldit players not only solved the puzzle in three weeks, but contributed new insights towards the design of antiretroviral drugs, according to Forbes.
Treuille had unlocked the power of "gamification," by applying game design to motivate people to solve complex problems. The idea of gamification has been around for decades, but has become a buzzword recently. What is new is how seriously it is being taken.
Game designer Jane McGonigal, in a recent Ted Talk, explains how game mechanics can be leveraged to tackle the problems of poverty, hunger, climate change, global conflict and more. At several points, she waits for audience laughter to die down before asserting, "I'm being serious."
She notes the amount of time that people spend playing online games, about three billion hours each week; her goal is to raise this seven-fold. Her reason for wanting to tap into gaming as a solution is compelling.
"When we play a game, we tackle tough challenges with more creativity, more determination, and more optimism, and we are more likely to reach out to others for help," she explains.
It sounds like the ultimate assembly line: Millions working on discrete tasks -- just for fun.
What's the reward?
McGonigal showcases big ideas but offers few concrete examples, so I asked Vancouver game designer Shaun Hayes-Holgate to help me understand the scope of gamification. He expressed interest, but also caution.
"You need someone who can explain this incredibly complex problem to a game designer. That designer needs to simplify it to reduce it to game play," says Hayes-Holgate.
"When someone comes to me with a game idea," he says, "I have to judge exactly what they want. I have to listen to every nuance; I have to watch their face and hands, and hang on every word. Then I have to distill that idea down to its essence... there is a lot of value in the person who can get that big issue down that little intake pipe."
Hayes-Holgate explains that if we're going to solve the world's problems through games, there can't be any compromise on the engagement factor. "With a good game, time goes by so fast. It is like you are in a time warp. You are really going to have to hit that mark if you want to win the players' time."
Hayes-Holgate suggests I watch a video of Gabe Zichermann, founder of gamification.co, who knows how to hit that mark with a laser.
"Games," Zichermann says to an audience at a Google Tech Talk, "are designed explicitly to maximize reward."
The reward is a package of attention, power and status. He explains that point systems are really important, but that they are only effective to the degree that the players can "signal" how many points they have. People will give a good game everything they have to broadcast their skill by getting onto the leaderboard.
Pre-testing reality
Zichermann's site leads me to a story about tackling poverty in India with the mobile app mPowering. India is a good setting for this example of gamification, as even in poor areas many people have cell phones that they need to make a living. Rates are low and cell towers ubiquitous, according to the site.
For the mPowering project, 56 families were given smartphones preloaded with a set of apps. Children earn points for attending school and mothers for attending healthcare clinics to practice better nutrition and hygiene, the site explains.
The points can then be redeemed for food, clothing and medicine. Data is monitored in real-time, allowing charities to respond to feedback as to how the villagers are responding to the gamified environment and to the technology. Thus far, they've seen an increase in school attendance and clinic visits and a decrease in disease.
This ability to "collect tons of data" also came up in my conversation with Hayes-Holgate. He explains how a "program can keep track of everyone's trails. You can see the hot spots and see what places people like." Games are unique, he says, in allowing people to "pretest reality within a virtual world" where there are no failures, just chances to try again.
The creators of Future Delta, a gamified education initiative that aims to educate Lower Mainland residents about the consequences of climate change, must have had this strength in mind. To create this video game, UBC professor Stephen Sheppard worked with digital media expert Aleksandra Kulic.
In the game, the player is the mayor of Delta in 2030; the world's oceans are rising and the mayor is tasked with managing the virtual city's carbon footprint. "Climate change is a big thing to wrap your mind around and this really brings it home," Sheppard explains in this Vancouver Sun article.
Sheppard is excited about piloting the game, which combines features of Sim City and Second Life, as it allows scientists to communicate findings to an audience who are normally hard to reach. In prototype stage right now, Sheppard's team has been testing Future Delta with high school students, gamers, and Delta city staff. They will use the data that they collect from this pilot study to improve the game for release to classrooms in about two years.
Game on
Well designed games can be used to identify our most pressing situations, to educate the masses about them, to engage people in important issues that are not yet alarming them, to find solutions to the problems, and to communicate the findings. And, there's another reward: the process of playing the game itself.
As an educator, my mind shoots straight to an issue I face daily -- getting the most at-risk students to persevere through high school despite their complicated lives. They need constant, immediate, positive feedback to feel successful at school. A gamified environment just might draw them in while our current system appears designed to create an experience of failure even when the most vulnerable students give it their best.
I think of the transportation troubles that many of us face as soon as we leave the city. Getting people around the suburban, exurban and rural areas of this province seems to have confounded the SUV-driving executives in charge of the problem. What might happen if we turn it over to a million or two gamers, thousands of whom might actually use transit?
As for global conflict, what if we bypassed the politicians and let civilians work out their troubles in a virtual world? Millions of Palestinians and Israelis just might arrive at creative solutions that would never occur to their elected officials.
Suddenly, video games no longer seem like child's play. The future looks fun. Seriously.