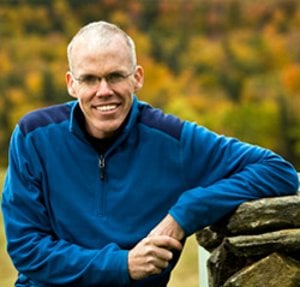 Bill McKibben has once again created a major moment in North America's climate change narrative.
Global Warming's Terrifying New Math, his recent Rolling Stone essay, has gone absolutely viral, with close to 11,000 tweets and more than 94,000 Facebook "likes."
"It is getting monster social media numbers of the kind usually reserved for pieces on HuffPost about Kim Kardashian in a bikini," quipped respected climate blogger Joe Romm. 
"Masterpiece" is how one Huffington Post contributor described the essay. "Pseudoscience," sneered a pro-industry group, the Center for Industrial Progress, after offering McKibben $10,000 to appear in a public debate.
The essay is in essence a battle-cry, a polemic against the fossil fuel industry -- or "Public Enemy Number One," as McKibben writes, "to the survival of our planetary civilization."
These types of phrasings are where McKibben's writing derives much of its emotional power. It's not the first time he's so successfully channeled latent public outrage.
McKibben used it to great effect last August to organize a series of high-profile anti-oil sands protests outside the Presidential White House (arguably a factor in President Barack Obama's decision to delay TransCanada's Keystone XL pipeline).
Whether you agree with McKibben that our planet's coal, oil and gas companies constitute a "rogue industry, reckless like no other force on Earth," is beside the point.
The social media numbers speak for themselves: McKibben's portrayal of "Public Enemy Number One" has resonated with tens, if not hundreds of thousands of people.
What I offer below is not meant to prove McKibben's arguments right or wrong (for a more detailed critique of his essay, click here).
Think of my three "qualifiers" as a kind of annotation, based on several years' experience reporting on Canada's oil sands industry, in many ways the most potent symbol of our so-called "Public Enemy Number One."
My rationale is as follows: If we (in a societal sense) are to do battle, negotiate or join forces with our planet's fossil fuel companies in the fight against global warming, we must actively try to understand the industry, to empathize with it, and in a way that doesn't naively overlook its massive climate impacts. So to begin:
1) Contrary to popular belief, many oil sands companies (and most major Canadian corporations, for that matter) publicly support a national price on carbon.
McKibben argues in his essay that carbon pricing is an uphill battle, because fossil fuel companies will always "fight to keep (their) special pollution break alive." That is, their ability to emit greenhouse gases free of charge.  
Indeed, Canada's Conservative federal government is loath to the idea of pricing emissions. It even declared last spring that a national carbon tax would "kill and hurt Canadian families."
This, after it dismantled a multi-stakeholder think tank, which had repeatedly urged Prime Minister Stephen Harper to implement just such a policy.
Prevailing public opinion on the left, meanwhile, and McKibben is no exception here, is that carbon pricing is something that must be imposed on fossil fuel producers.
The policy, as articulated by such figures as Canada's federal Opposition Leader Thomas Mulcair, is framed as almost a form of punishment, whereby industrial polluters must pay for their greenhouse gas emissions.
My reporting earlier this summer in The Tyee and the Toronto Star revealed a surprising counter-narrative: Not only did several leading oil sands firms tell me directly a national price on carbon would be the most effective way to shrink Canada's climate footprint, but many believe it would actually improve the economics of Alberta's bitumen industry.
"We want certainty as business people because we're making big investments, and our shareholders would like certainly as well," Suncor's VP of sustainable development, Gordon Lambert, told me at the time. 
And the best way to achieve it? "Ideally," Lambert said, "the model would be a national carbon tax."
In fact, the Canadian Council of Chief Executives, an industry group representing more than 150 of Canada's largest corporations, argued last year that to promote energy conservation, "Governments must resist the temptation to shield Canadians from higher energy prices." 
2) The fossil fuel industry is not a monolithic entity that shares the same views on every issue.
Let's be clear here: any producer of fossil fuels is concerned above all else with growth and profits. These companies would not otherwise exist.
But the way in which individual firms choose to satisfy their shareholders can vary substantially. To give one example: McKibben in his essay describes ExxonMobil CEO Rex Tillerson as one of the most "reckless (men) on the planet."
Why? Because Tillerson told a New York audience this summer that fears about global warming are overblown.
"We'll adapt," Tillerson said. "It's an engineering problem and there will be an engineering solution." This, after his company allegedly provided $8.9 million in funding between 2005 and 2008 to think tanks and other groups publicly skeptical that humans are causing global warming.
Another oil company singled out by McKibben is Koch Industries, which during that same time period allegedly spent $24.9 million to further the climate skepticism cause.
Yet the same year a Greenpeace report appeared documenting Koch Industries' funding contributions, in 2010, then-CEO of Suncor Rick George gave a high-profile interview in Canada describing his support for a national, economy-wide carbon tax.
Make no mistake: whether ExxonMobil, Koch Industries or Suncor produces and refines crude oil, the damage to our planet's climate is the same. But where two companies actively sought to confuse the public and stall action on global warming, another attempted to play a much more constructive role.
Similar fissures were on display last month, when conservative commentators howled online about a private meeting hosted by the libertarian-leaning American Enterprise Institute.
The meeting's purpose: to discuss with such "progressive" groups as the Union of Concerned Scientists how to enact a national U.S. carbon tax.
3) There are real structural limits to the ability of oil companies to go "green".
Here's a revealing trend that gets very little media coverage: The "supermajors" we tend to think of as dominating the global oil industry -- ExxonMobil, BP, Royal Dutch Shell, Total, ConocoPhillips and Chevron -- are playing a defensive game.
That is, over the past four decades they've lost an astounding amount of control to national governments and state-owned fossil fuel firms. So much, in fact, that these six "supermajors" enjoy unrestricted access to only about seven per cent of global oil reserves.  
Which is an existential problem, given that a key measure used by analysts and investors to assess an oil company's performance is something called the Reserve Replacement Ratio. To maintain the confidence of investors, oil companies need to at the very least replace all the oil they produced in a year with new reserves.
This is a major factor driving the rapid expansion of Alberta's oil sands, suggested a 2011 report from Oil Change International, and one which quite clearly discourages "green" innovation.
"So if the CEO of a major oil company suddenly decided to invest heavily in wind and next generation biofuels," that group's founder and director, Steve Kretzmann, told me when I visited his Washington, DC, office, "what would happen is they would pull money out of exploration, which would tank their stock price. The board would call a meeting, and they would be fired for neglecting their fiduciary duty."
But that's not to say that fossil fuel companies can't make a positive contribution to the burgeoning renewables industry -- they can and do.
While environmental critics across the continent do battle with pipeline proposals from Enbridge and TransCanada, both companies have together over the past year quietly invested nearly $1.7 billion in renewable energy projects.
Here you can quite plainly see the two narratives that define our global warming challenge: one of conflict, and another of transition. And it's this tension that leads McKibben to describe human civilization's position in 2012 as "almost-but-not-quite-finally hopeless." Let's hope he's right.