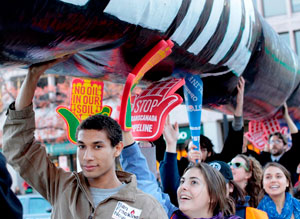 The Barack Obama administration has delayed a decision on TransCanada's contentious Keystone XL pipeline by up to 18 months, a move that could potentially kill the project, but won't necessarily slow down Alberta oil sands production.
That's a huge turning point in a story The Tyee began reporting before any other major Canadian media.
The State Department initiative would ostensibly allow the U.S. government to evaluate alternate routes for a pipeline stretching from northern Alberta to the Texas Gulf Coast.
But it effectively relieves Obama from making what has become an increasingly difficult decision on the project before the 2012 election.
A 10,000 person anti-Keystone XL protest in Washington, D.C. last weekend gave glimpses of the environmental backlash he could expect should he approve the pipeline. But turning down a project that's perceived as job-creating in a struggling economy would have provided easy fodder for Republican opponents.
Environmental activists were ecstatic about Thursday's news.
"By rejecting TransCanada's plan and exploring a reroute, the Obama administration has essentially hit the reset button on the Keystone XL environmental review process," Friends of the Earth president Erich Pica said in a statement. "This is a major accomplishment for the climate movement and the people in the pipeline's path, demonstrating the tremendous power of hopeful, committed and ambitious grassroots activism."
The question now is what the delay means for TransCanada, Alberta's oil sands and Canada's energy superpower ambitions.
Reported from front lines
When The Tyee first began reporting on Keystone XL in the summer of 2010, no other Canadian media yet grasped what a major story it would become.
But as the months progressed, it became clear that America's environmental movement was bracing itself for a long and bitter fight.
The Tyee reported from the front lines of the struggle in Washington, D.C. last spring, explaining how activists managed to delay the project for months, helping add $1 billion in costs to TransCanada's budget.
Further Tyee reporting from the U.S. capitol revealed how Canadian officials, including Alberta's Gary Mar and Canada's U.S. ambassador Gary Doer, were "aggressively" pitching the project to Congress.
One staffer compared them to car salesmen, and told The Tyee Canada's hard sell "was the most direct encounter I've had with a lobbyist representing a foreign nation."
Then, in September, The Tyee again travelled to the front lines to report on trans-border indigenous opposition to Keystone XL, this time from a tribal casino in South Dakota.
Could delays kill Keystone?
What the pipeline delay now means for TransCanada is not entirely clear, but CEO Russell Girling recently told investors that continued administration foot-dragging could put Keystone XL in peril.
"If the administration delays the project long enough where it becomes a low probability it will ever get through the process in time to meet [the shippers'] needs, they're not going to support us anymore," Girling said.
And recent reports suggest that TransCanada could lose $1 million each day the project continues to stay in limbo.
"We've got to pay for continued warehousing of the pipe product and materials, for manpower -- we're paying for materials that we're not using," company spokesperson Terry Cunha told the Calgary Sun. "It could have significant impact."
Even if Keystone XL were shelved, however, it wouldn't necessarily slow down production in Alberta's oil sands.
"If it does not happen, I think you will see industry in Canada, which as you know is very resilient and very innovative, move very quickly to find other outlets to get our heavy oil production and our synthetic oil production likely off the West Coast and into Asian markets," Canadian Natural Resources Ltd. president Steve Laut told the Calgary Herald last week.
That's a sentiment echoed by Prime Minister Stephen Harper, whose spokesperson Sara McIntyre reportedly said: "Canada will be looking for a buyer," should Keystone XL ultimately not be built. "We're a resource-based, energy-based country and we'll be looking at all opportunities."
The Enbridge connection
The Obama administration's decision will almost certainly put pressure on Enbridge's proposal to construct its Northern Gateway pipeline from Alberta's oil sands to B.C.'s coastal Kitimat.
Yet Environmental Defence, a national green group based in Toronto, argues that Prime Minister Harper should be taking cues from his American colleague.
"We hope that the Canadian government will listen to the concerns of its citizens affected by Enbridge's proposed Northern Gateway tar sands pipeline in the same way that President Obama has listened to the concerns of Nebraskans," the group's executive director Dr. Rick Smith said in statement.