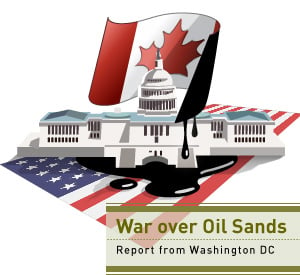 Let's picture an oil company CEO sound asleep, Steve Kretzmann tells me. All of a sudden he or she bolts awake with a terrible realization.
The environmentalists aren't just a bunch of long-haired crazies, the CEO now realizes. Climate change is killing the planet. He or she storms into the oil company's board room that morning, demanding a radical shift in corporate policy.
No more money for oil exploration, the CEO orders, and billions to be redirected for renewables. Soon, the company's stock price plummets and the CEO is fired. Remaining board members try hard to forget the whole embarrassing episode.
So the question is, says Kretzmann, founder and director of Oil Change International, how do we get the wealthiest companies on the planet to do what we all want them to do: figure out a way to fight climate change?
I'm sitting with him in a small, undecorated office only blocks from the U.S. Capitol building in Washington, D.C., and just down the road from an Exxon Mobil gas station.
Kretzmann has spent more than two decades campaigning on human rights issues related to the global energy industry. He once served as environmental advisor to Ken Saro-Wiwa and worked with the Ogoni people of Nigeria during their stand-off with Royal Dutch Shell.
His group, Oil Change International, is very much opposed to increasing America's reliance on Alberta's oil sands.
But Kretzmann is also having conversations with major investment houses in New York and London, he says, trying to figure out ways of changing the financial incentives around oil production, so the massive resources tied up in fossil fuels can be redirected to low-carbon alternatives.
The problem, he tells me, is that "all the inertia right now" is heading in the opposite direction.
As this series explained in the previous 14 installments, Canadian and Alberta government officials have allied themselves with some of the world's biggest oil and gas players.
Their goal is to defeat any U.S. climate change laws hindering development of the oil sands, currently Canada's fastest growing source of greenhouse gas emissions.
By my own estimate Canadian taxpayers shelled out $4 million last year to fund the campaign (see sidebar for how I get there).
Here's what Kretzmann had to say about reversing that momentum...
On founding Oil Change International:
"I founded Oil Change after working in and around the oil industry as it relates to environmental and human rights issues for about 20 years. I worked in Nigeria, Kazakhstan, Ecuador and a variety of front-line countries. I slowly came to the conclusion that we were engaged in a process of sticking our fingers in a dyke and we needed to actually think about what the systemic issues were that were driving these problems. Oil Change tries to look at what are the key barriers to a transition to clean energy."
On the not-so-obvious incentives built into the oil and gas industry that inhibit action on global warming:
"There are financial incentives that encourage the industry to go into places like tar sands, deepwater and high arctic. One of those is the reserve replacement ratio [which The Tyee covered in great detail last January].
"We have ongoing dialogues with big investment houses in London and New York and elsewhere, trying to talk to them and then to other financial players about how do we actually set up incentives around the industry in a way that encourages them to do the thing we all want them to do: tackle global warming.
"Part of this approach stems for me from a conversation I had with a guy in BP a decade ago. This was when BP was trying to do the whole beyond petroleum legitimately, putting more money into renewables than any other big oil company. I asked him, 'What kind of market reward do you see for that?' And the answer was: 'Nothing, like nothing at all.'
"And so if the CEO of a major oil company suddenly decided to invest heavily in wind and next generation biofuels, what would happen is they would pull money out of exploration, which would tank their stock price. The board would call a meeting, and they would be fired for neglecting their fiduciary duty.
"It's part of [Oil Change's] role to identify the structural things that are keeping things moving in this crazy way and try to rearrange them."
On whom exactly Kretzmann is meeting with:
"Those are private conversations now under Chatham House rules, so I can't talk exactly about who it is. But they are major investors representing hundreds of millions of dollars and they're financial analysts from major firms who are experts in the oil industry and elsewhere.
"Their worlds are about maximizing shareholder value and investments and other things that make perfect sense for the professions in which they are in. We're trying to help them see a lot of perspective on this. They're helping us understand what the very real practical difficulties are. We haven't solved these problems yet but the good news is we're making progress."
On the fundamental strength -- and problem -- of the global oil industry:
"The oil industry makes a tremendous amount of money. It's one of the most fantastic wealth-generating machines ever designed by the human mind, you know, and on one level that's great. Oil has brought a lot of amazing things over the last century. I love my computer monitor and I'm booking a flight right now to go halfway across the world.
"So you can't just demonize the oil industry without appreciating the fact that the way many of us want to live owes a lot to it. That said, you have to ask questions like, 'Can we all continue to afford to live this lifestyle? Are there substitutes? How can we make these transitions?'"
On the tricky nature of rewarding oil companies for investments in renewable energy:
"We're trying to find how you can reward investors or companies in a way other than finding more oil. You could you reward them for delivering more energy, making firms more like utilities. But then the issue is whether that's as reliable an indicator of profit over the next two quarters as is finding more oil. And no, it's not. Is it as reliable an indicator of profit over the next five or 10 years? Maybe. It becomes a question of can we adjust our expectations for how quickly this return can happen and is that enough."
On whether oil company CEOs believe in climate change:
"I know for sure there are people in the oil industry who are very concerned about climate change and I know for sure it's difficult within that frame to do that."
On whether we need to scrap the global oil industry entirely and create something new:
"There's a tremendous amount of capital locked up in the oil industry globally. I don't even know what it would mean to 'scrap' the industry. You can't evaporate that capital. Ultimately we need to find a use for that capital that is more socially and environmentally acceptable than what is happening now."
"I think we're seeking to transform the industry, but I think it's likely that by the time we're done with the transformation, it will be so different than what is now that it will look almost like an elimination.
"This can happen. It's hard, but people and societies have gone through big transitions before. Granted, this is a very big one were talking about and probably unprecedented in terms of scale. But you've got to believe it can be done, because I don't think there's really an option."
On how rapid development of the Alberta oil sands and other high-carbon fuel sources is leading us in the wrong direction:
"That's where all the inertia is right now. That's where everything is headed except for a few us on the road in front of these bulldozers going, 'No, wait, don't!'
"There are just not that many places left where you can get the amount of hydrocarbons you're going to need to power global society over the next century so.
"The reality is unless we start making extremely serious inroads on a transition within the next decade we're going to have such a serious problem with climate change that it will be a whole different world we're talking about -- and a very unpleasant one."