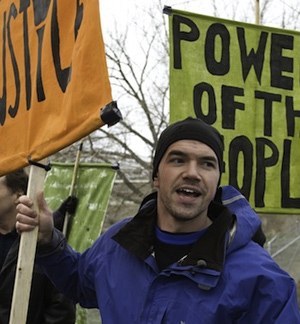 When climate change activist Tim DeChristopher received a two-year jail term in July, his supporters declared him an American hero.
They compared him to John Lewis, the civil rights movement leader. They compared him as well to Rosa Parks, called the "mother of the freedom movement" for defying in 1955 the whites-only seating rules on an Alabama bus, an act that helped spark massive social change in the United States by bringing the moral bankruptcy of segregation to the attention of whites beyond the South.
Outside the Salt Lake City courtroom where DeChristopher's sentence was handed down, aging folk superstar Peter Yarrow -- of Peter, Paul and Mary fame -- strummed protest anthems on his acoustic guitar (he'd done the same in 1963 at Martin Luther King Jr.'s "I Have a Dream" speech).
DeChristopher was going to jail because he'd monkey-wrenched an oil and gas lease auction in Utah two and a half years earlier, successfully bidding for 22,000 acres of land with money he didn't have.
"Think about the Underground Railroad that helped escaped slaves to freedom, or about the courageous actions of people like Rosa Parks," Yarrow wrote in a Los Angeles Times op-ed that day. "Tim's act of civil disobedience grew out of a long American tradition of conscience."
Which all begged an obvious question: Could you really compare one generation's struggle against rising global temperatures to another's fight for racial equality?
The answer might be found in a mass two-week act of civil disobedience against the Alberta oil sands, starting in Washington, D.C., this Saturday.  
Saving climate a tough sell
Environmental leaders often wonder how to rally the public to fight global warming, when the call to arms can be so cerebral.
"It's not like local pollution where you can see it in the sky and you're coughing and your asthma's acting up so you know the coal plant 20 miles away is polluting the air," Jeff Goodell, a Rolling Stone contributing editor who's written several books about the climate crisis, told The Tyee.
"There hasn't been that sense of immediate risk, immediate danger, that inspires people to take action."
Some observers think that may be changing. They point to 2010 as the hottest year in recorded history -- or the eight extreme weather events already in the U.S. this year, blamed for more than $1 billion in damages.
Still, global warming barely blipped on the political radar during Canada's recent federal election. And a Gallup poll released last March suggested only 51 per cent of Americans think the climate is worth worrying about.
"In many ways climate change is the equivalent of an asteroid hitting the planet, but in super slow motion, and yet people are just going about their business ignoring it," Matt Price, campaigns director for Toronto-based Environmental Defense, told The Tyee.
Except, that is, for some notable exceptions.
A new generation's hero?
On Dec. 19, 2008, the U.S. government began auctioning off oil and gas drilling rights to thousands of acres of federal land, some of it fragile wilderness.
Tim DeChristopher, then an economics student at the University of Utah, protested alongside other activists outside the Bureau of Land Management building in Salt Lake City.
On a whim he broke from the group and strode inside, planning to make some kind of speech, but was quickly mistaken for an industry representative.
Holding an auction paddle marked "Bidder 70," he won bids for nearly $2 million worth of land parcels before a federal official stopped him.
Though the Barack Obama administration later annulled the auction, declaring many of the land sales illegitimate, DeChristopher was charged with two felonies last March.
The activist has since listed Bob Moses, the civil rights intellectual, as inspiration. He's addressed thousands of people at a Washington, D.C. climate change rally. And he's urged activists, citing the '60s-era Freedom Riders, who risked beatings and death in their fight against segregation, to get bolder and more defiant of authorities. (Read an interview describing it all here).
"I want you to join me in standing up for the right and responsibility of citizens to challenge their government," DeChristopher told a Salt Lake City courtroom in July, the day he received his two year prison sentence and a US$10,000 fine.
So is DeChristopher the Rosa Parks, or even the Martin Luther King Jr., of a new generation?
"On one level it's overblown," Goodell said, "and Tim could be a sign of how badly the climate activism movement is searching for symbolic figures who put themselves on the line. Yet the lesson here may be that dramatic action really does inspire people."
'I'll be arrested the first day'
Starting this weekend, organizers of a protest against Alberta's oil sands in Washington, D.C. are promising some dramatic action of their own.
Each day for two weeks, hundreds of people "will sit down in a place we're not supposed to sit down in front of the White House," Bill McKibben, founder of 350.org, an international climate campaign, and lead organizer of the protest, told The Tyee.
"If all goes according to plan, I'll be arrested the first day."
The end-goal of this mass act of civil disobedience, hyped as "the largest" in American climate movement history, is to kibosh TransCanada Corp.'s proposed Keystone XL pipeline.
For organizers, this proposal is about much more than a US$7 billion steel artery pumping crude from Alberta's oil sands to Texas Gulf Coast refineries -- it's a referendum on the fate of the climate.
They liken Keystone XL to "a 1,500-mile fuse to the biggest carbon bomb on the continent, a way to make it easier and faster to trigger the final overheating of our planet."
The "carbon bomb" they're referring to is the Alberta oil sands, which Environment Canada predicts will release enough emissions over the next decade to undo all the climate gains made by phasing coal out of Canada's electrical supply.
Yet University of Alberta business professor Andrew Leach has called the dire predictions of McKibben and others "an extreme overestimate based on flawed assumptions and irrelevant to the approval of the Keystone XL pipeline."
'Those guys were way braver'
With a decision on the pipeline coming by year's end from the U.S. State Department, activists this weekend hope to pressure the Obama administration to deliver on years of clean energy promises.
More than 1,500 people have signed up to be arrested so far, McKibben says, including Hollywood actors Danny Glover and Mark Ruffalo. (And Radiohead's Thom Yorke recently penned a supportive blog entry.)
Key to the activist strategy is that protesters come dressed in business attire, "demonstrating that in this case we are the conservatives, and that our foes -- who would change the composition of the atmosphere, are dangerous radicals," organizers write.
That last bit is drawing comparisons to the 1960s Freedom Riders, who made a point of dressing like respectable citizens, and thereby underscored the brutality of the white mobs that set their buses aflame.
"Those guys were way braver than we are," McKibben said, waving off any parallels. "My anticipation is that no one will be shooting at us."
Bullets or not, one academic sees a strong civil rights legacy in this weekend's protest.
An emerging movement
City University of New York English professor and eco-criticism" scholar Ashley Dawson published a paper on the future of climate change activism last year.
Within the movement, he argued, two wildly different worldviews are clashing.
The first believes that the struggle against global warming can be fought via regulation or reform within the existing political and economic system.
This strategy may have seen its apogee, Dawson says, in the unprecedented push, and drastic failure, of America's biggest green groups to get cap and trade legislation adopted by the U.S. Congress.
Not many enviros would argue with that analysis.
"We kind of lost the big enchilada," Friends of the Earth U.S. head Erich Pica told Earth Island Journal last winter. "In looking at it, we have to ask some of the serious questions."
Dawson sees salvation in a second worldview, one belonging to an emerging social movement known as "climate justice," with clear links to the civil rights struggles of the 1960s.
"Climate justice is an attempt to think and engage in a different kind of politics around environmental issues," Dawson told The Tyee.
Proponents draw inspiration from Robert Bullard, a pioneering scholar and activist who revealed throughout the 1980s that garbage dumps, incinerators and other polluting infrastructure were often concentrated in black neighbourhoods, especially in the American south.
His concept of "environmental racism" helped forge a new grassroots movement, welding a civil rights legacy to a growing green consciousness.
Bullard's intellectual heirs now talk about disasters such as Hurricane Katrina, where New Orleans's black population was hit hardest, as a confluence of poverty, climate change and racism.
They also have an increasingly global outlook.
At the World Conference on Climate Change in Cochabamba, Bolivia, last year, Dawson joined tens of thousands of activists, scholars and government officials, calling for an overhaul of the free market ideologies which have made global warming possible.
His next big trip: the Keystone XL protests in Washington, D.C.
"I think [lead organizer] McKibben is very aware that you need to build these kinds of broad civil rights-influenced social movements to fight climate change," Dawson says. "Moving forward, that model will be really essential."