If the Site C dam is ever completed, it will be the most expensive public project in British Columbia history. BC Hydro, the public utility that is building the dam, has estimated that almost $9 billion will have been spent by the time it's completed in 2024.
BC Hydro says it has already spent or committed over $4 billion in contracts to private companies and partnerships.
BC Hydro's customers will pick up the costs over 70 years from the dam's completion date — longer if it goes over budget.
So, who's getting these billions? So far, there has been no comprehensive, publicly available BC Hydro list of who has won contracts and how much money they are being paid.
That's why we've compiled a list of Site C vendors — providing mainly services or construction — and taken a close look at a large sample of the companies thus far.
With 51 companies, subsidiaries, partnerships and individuals, it is an incomplete list, gleaned from government and BC Hydro press releases and multiple FOI searches, including this one filed by journalist Jonny Wakefield last year.
We've dug deeper and learned that political donations and paid lobbyists are an accepted practice of doing business for many of the companies winning contracts. Understanding more about what is going on behind the scenes, even where no laws are being broken, is important if the public is to be protected from paying any more than needed.
It's our money, after all.
How many contractors donated to the BC Liberals?
Searching Elections BC records, we found that 20 of 51 corporate entities — including company subsidiaries and parent companies of contractors — on our list made contributions to the BC Liberal Party between 2005 and 2017. Their contributions range from $1,050 from Tracker Contracting to $529,291.47 from Telus.
Just four of the 20 — all larger companies — donated to the NDP. Of total Telus donations, just over $25,000 was given to the NDP. Ernst & Young and KPMG followed the same pattern, donating primarily to the BC Liberals, with smaller sums going to the opposition. We found just one donation to the Green Party — $500 given by the Doig River First Nation, which owns Doig River Timber Ltd.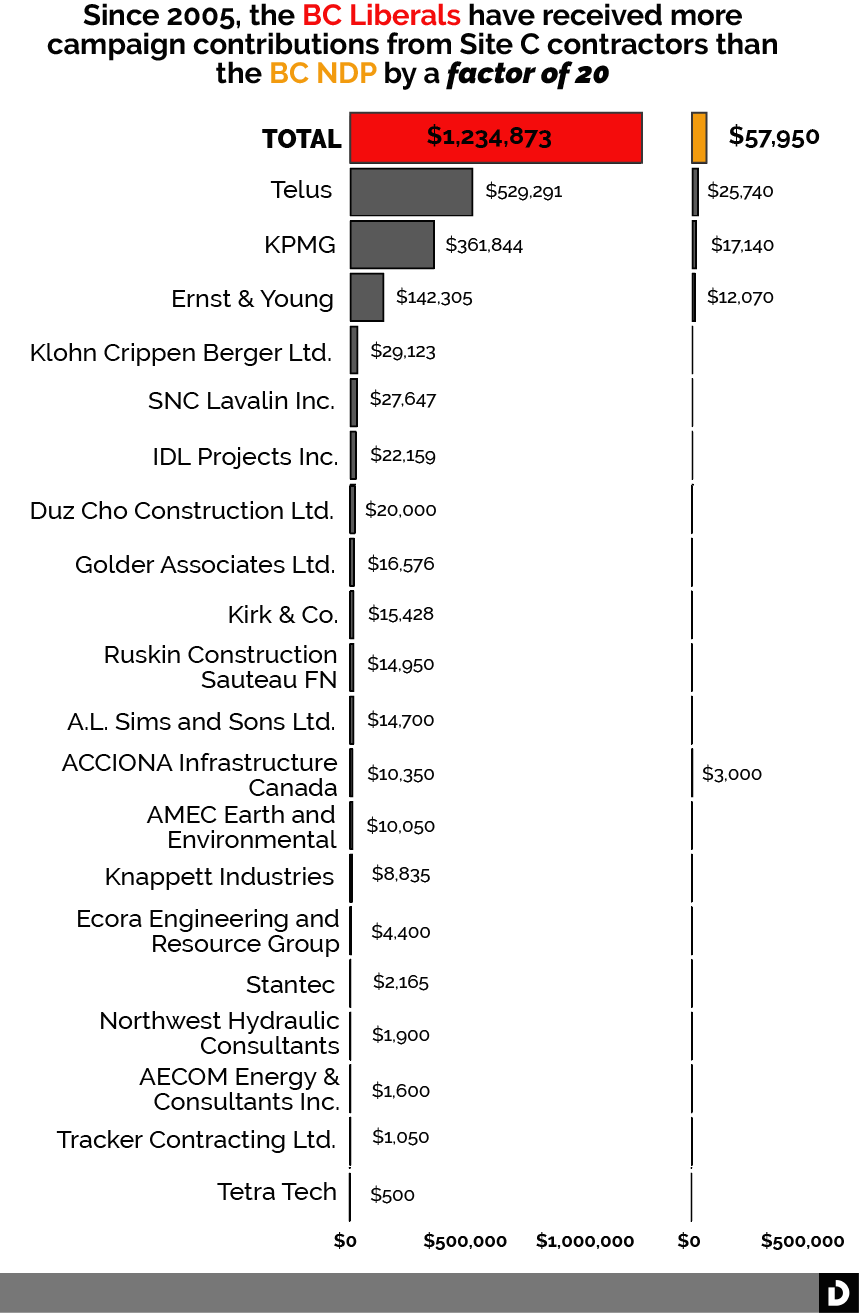 These donations are possible because B.C.'s Election Act does not limit political donations. This runs counter to most of North America — in the U.S., it has long been illegal for companies or individuals with federal contracts (or who are negotiating them), to make donations to federal parties or candidates.
At the national and provincial level across much of Canada, companies doing government business cannot make political donations because union and corporate donations are banned.
What about donations from company executives?
Party donations do not stop at the company level. A total of 11 executives from six different companies appeared to make personal donations to the BC Liberal Party between 2005 and the present.
Foremost amongst these was Vancouver's Kirk & Company, BC Hydro's lead Site C communications agency beginning in 2007, and according to its website, continuing to present. The company, which designed and executed the Site C consultation strategy, has donated $15,428 to the BC Liberals between 2006 and 2016.
But, in addition, three of the top executives gave a total of $10,608 under their own names. This doesn't include donations to the BC Liberals by Kirk & Co. senior associate Mike McDonald. According to the company website, McDonald led Clark's winning leadership campaign team in 2011, guided her transition team and then served as chief of staff to the premier. In 2013, he led the premier's successful 2013 election campaign, and according to the Vancouver Sun, is part of the campaign team this time around too. Through his company, Rosedeer Strategies Inc., McDonald donated just under $5,000 to the BC Liberals between 2015 and 2016.
How are these contracts being awarded?
Two kinds of contracts were prevalent in our review of the 51 companies and contractors — open bids, where companies must compete with other parties in an open process, and contracts awarded directly by BC Hydro without an open competition.
In theory, open bidding ensures that some combination of the lowest bid and most qualified companies get the work.
However, an open bid process is not a guarantee that the lowest bid will necessarily win the contract. The main civil works project to build the earth fill dam and more — the biggest single publicly announced contract we found, valued at $1.75 billion — is a case in point. The contract was won by a joint partnership made up of Spain's ACCIONA, South Korea's Samsung C&T and Alberta's Petrowest Corp. To date, BC Hydro has not disclosed what the lowest bid was, despite an FOI request filed in November 2015 by Business in Vancouver.
And about half the contracts were directly awarded to BC Hydro's chosen provider without an open, competitive process. According to the procurement rules of the 2013 New West Partnership Trade Agreement (NWPTA), Crown corporations awarding service and construction contracts over $100,000 must go to open, "non-discriminatory" bids. But we found that despite the $100,000 threshold for triggering open bids, there are many loopholes. As our list of contracts proves, in many cases the $100,000 transparency threshold can be waived.
What are the rules for giving out contracts to First Nations-involved joint ventures?
More than half of all direct award contracts — 14 — on our list have an aboriginal partnership or joint venture component. By November 2016, BC Hydro estimated that about 200 Indigenous workers were employed by the project and that the Crown corporation had committed "more than $100 million in Site C procurement opportunities to Aboriginal companies, in addition to the procurement opportunities offered by our contractors, who also directly engage Aboriginal companies."
It is unclear whether there is a connection between the waning opposition to Site C by numerous First Nations governments in the Peace Region and a flurry of employment and procurement opportunities from the project. At least five First Nations (three Treaty 8 signatories among them) are represented on our list, including the Saulteau, Doig River, Halfway River, and the McLeod Lake Indian Band. Then there are multiple Impact Benefit Agreements that have been signed with local First Nations — the terms of which are secret. In the press release announcing the recent Impact Benefit Agreement between BC Hydro and the Doig River First Nation (a Treaty 8 First Nation), for example, the agreement includes "cash payments, procurement opportunities, [and] the selection and transfer of provincial Crown lands."
There appears to be a long list of exceptions that allow the waiving of thresholds requiring open bids, including sole source contracts (where there was only one applying party), a need for critical expertise, unforeseeable urgency and affirmative action programs for disadvantaged groups.
What are the rules for former provincial politicians turned Site C lobbyists?
At least six companies on the list have engaged in lobbying the B.C. provincial government. Two former cabinet ministers and one former senior public servant worked as lobbyists for companies that have received Site C contracts, including former energy, mines and petroleum resources minister Blair Lekstrom and lands and agriculture minister Pat Bell.
Records from the BC Registrar of Lobbyists show that Lekstrom, former Peace River South MLA, was engaged to lobby for BC Hydro work on behalf of Duz Cho Construction Ltd., a company owned by the McLeod Lake Indian band. The company has received a contract. (In 2016 Lekstrom was fined by the Office of the Registrar of Lobbyists for B.C. for failing to register as a lobbyist.)
B.C. cabinet ministers are free to begin lobbying on behalf of clients as soon as they leave office though the Members' Conflict of Interest Act says cabinet can't "award or approve a contract with, or grant a benefit to, a person on whose behalf a former member of the Executive Council or former parliamentary secretary" has lobbied within two years of leaving government."
This is far out of step with the Federal Lobbying Act, which prohibits former Members of Parliament, Senators and the senior ranks of the civil service from lobbying any federal government agencies for five years post-employment.
A spokesperson for B.C.'s Office of the Conflict of Interest Commissioner said the office does not actively enforce the two-year rule.
"We don't monitor or keep track of members after they've left, so our system is complaints-driven. So, if someone thought a minister had gone back and was lobbying incorrectly, it would have to be brought to our office to enforce."