SMITHERS -- While some Indigenous leaders have launched an "Anyone But Clark" campaign, Wanda Good said that as a Gitxsan candidate for the BC Liberals she is proud of her party's values.
"The BC Liberals are very principled," Good said in an interview in her campaign office last week. "They've got the family in mind."
Good is running in Stikine, a large, sparsely populated constituency that stretches across northwestern British Columbia from Smithers to the Yukon border. Held by the NDP's Doug Donaldson for the past eight years, the constituency is about 35 per cent Indigenous.
It is one of a half dozen constituencies where Indigenous candidates are running and where observers are watching to see what difference that participation may make. People in the constituency are also, not surprisingly, divided on whether a candidate's background matters more than their party affiliation.
For Dinimget, a Gitxsan hereditary chief also known as Art Matthews, it makes sense to vote for Indigenous candidates regardless of the party they represent. "Forget about what party they're in," he said. "As long as we get one of our own in, it will be great for us."
At the same time, leaders of two of the 50 Gitxsan houses, the Gwininitxw and Luutkudziiwus, are planning a press conference for May 3 to encourage British Columbians to vote for Anyone But Clark. They are opposed to the Pacific Northwest LNG project proposed for Lelu Island at the mouth of the Skeena River, which they say will infringe on their Aboriginal fishing rights.
And Na'Moks, a hereditary chief of the Wet'suwet'en, said that party politics will override any elected MLA's convictions. "They have a party line they'll follow, so it doesn't matter what nationality they are or what colour their skin is, they're going to follow the party line," he said. "The fact is, if you put a brown face in there and expect to get votes, you better look at what your policies are."
Na'Moks said the BC Liberal government's policies have been "abysmal" and that they have put money and finances above everything else. "Right now it's not the people steering the government. Right now it's industry."
The BC Liberals have the balance wrong, he said. "I know we need progress, I know we need jobs, but at what cost? If it's going to cost the rights, title and freedoms, if it's going to cost you your rivers, your salmon, your food sustenance, your place of home, the cost is too high."
Na'Moks, also known as John Ridsdale, said Clark offended the Wet'suwet'en chiefs a few years ago when she refused to meet with them during a visit to their territory. "And then she goes around wearing these smocks with First Nations designs on it. That's an insult."
A few days after The Tyee spoke with Na'Moks in his office in Smithers, he was with Grand Chief Stewart Phillip, the president of the Union of B.C. Indian Chiefs, at a press conference in Vancouver encouraging people to vote against the BC Liberals because of the government's record of putting industrial resource development ahead of the interests of regular people.
Donaldson, running for the NDP in Stikine against Good, said that the north is suffering and that BC Liberal policies have failed to benefit people. "What I've heard, and what I've found, is people are going to make their minds up on substance," he said. "I think their [BC Liberal] approach has been to the detriment of people who live in Stikine."
As premier Clark showed disrespect when she called people opposed to LNG development on Lelu Island "ragtags," Donaldson said. Clark was disrespectful, as well, when the government implied support for Wet'suwet'en children depended on the acceptance of LNG pipeline plans and when she scheduled a yoga event for National Aboriginal Day, Donaldson said.
"It really makes it much more difficult to move forward together when you've got a government and a premier acting like that," he said. "Those examples I gave make it difficult to understand why a First Nations person would actually run for the BC Liberals."
After 16 years of BC Liberal government, there's a high poverty rate for First Nations people and some 60 per cent of the children in government care are Indigenous, even though they only make up five percent of the population, he said.
"It makes it hard to understand why anyone after looking at the Liberal record, and who cares about justice and First Nations issues, would actually choose to run for Christy Clark," he said. "It's pretty straight forward."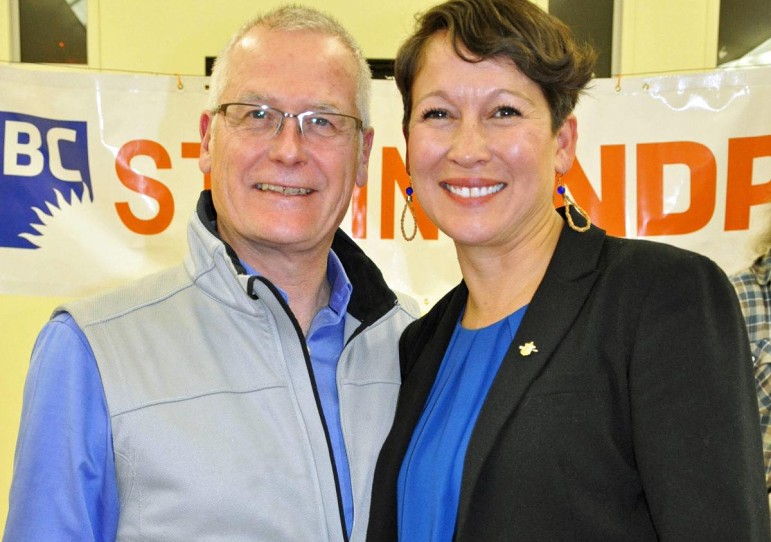 Good said First Nations people and northerners in general would benefit from a change in party representation in the Stikine. "I feel we've been under represented in Victoria," she said. "With the BC Liberals we can begin to move forward and become engaged in the leading economy of Canada, which is British Columbia."
She said her candidacy is about more than her Gitxsan background. "I intend to bring the northern voice and I intend to fight for the working family within the Stikine riding," Good said. "In light of Tsilhqot'in case we do recognize indigenous issues are on the table and are important, but I definitely bring the northern voice, and how do you balance all of that as a government, as an MLA, as a community member."
A third candidate, Rod Taylor, is running in Stikine for the Christian Heritage Party.
All three main parties have Indigenous candidates running in this year's provincial election. For the BC Liberals, that includes former Haisla First Nation chief councillor Ellis Ross is running in Skeena (see sidebar) and president of the Nanwakolas Council Dallas Smith is running in North Island.
Anne Marie Sam, a councillor for the Nak'azdli Whut'en is running for the NDP in Nechako Lakes and NDP MLA Melanie Mark, whose ancestry includes Nisga'a, Gitxsan, Cree and Ojibway, is seeking re-election in Vancouver-Mount Pleasant.
The Greens have Tsartlip First Nation member Adam Olsen representing them in Saanich North and the Islands.