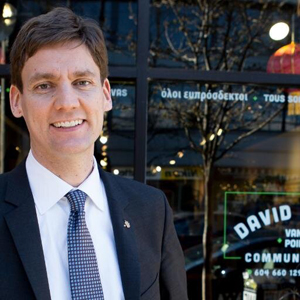 When the British Columbia NDP hosted a youth meeting on housing on the weekend, they had an unexpected guest recording the proceedings — a BC Liberal caucus researcher.
"An employee of this government secretly videotaped 10 young people, many of them minors, at a young New Democrat meeting in Richmond," NDP housing critic David Eby said in the legislature.
"These young people had organized a discussion about politics for youth in a multipurpose room at their local community centre, yet a government employee showed up posing as a young New Democrat," he said. "She then secretly recorded these youths, using a cell phone she tried to hide on her lap."
When it came time for a group photo, Eby said, the government employee "pretended to take a phone call and left the room to avoid being photographed. How ironic."
Eby said he believes that for a government official to record the meeting without the participants' knowledge was a violation of the Freedom of Information and Protection of Privacy Act. "It violated the privacy rights of these youth."
He asked if the government would destroy the recording and notify the people who attended the meeting that their privacy had been breached.
Andrew Wilkinson, the minister of technology, innovation and citizens' services, began by noting that the province is getting close to the May 9 election day. "We can expect that these kinds of events may occur, where individuals perhaps do things that are debatable," he said.
"But under the circumstances, these are wild allegations with no names, locations or specifics," Wilkinson said. "I would invite the member, if he has a serious complaint, to file that complaint."
Wilkinson was unavailable after Question Period.
Eby said the NDP has confirmed the woman is a research officer in government caucus research in the legislature.
A call to Primrose Carson, the caucus executive director, was not returned by publication time.
The caucus did, however, release an emailed statement from Carson. "The meeting referenced by Mr. Eby was a public event promoted on Facebook as open to the public," it said. "It is entirely appropriate for caucus research staff of all parties to keep track of positions being advocated by members of other caucuses. This is a case of Caucus research staff doing Caucus research work."
Speaking with reporters in the legislature hall, Eby said the researcher's behaviour was appalling. "She at no point asked permission to videotape and at no point identified herself as government staff, in fact actively avoided accountability for that."
Eby said that as a politician he accepts that his speeches will be monitored by his opponents, but that it was "reprehensible" to record young people gathering to discuss politics. There were nine youth at the meeting and they may not have wanted the fact they attended the meeting or what they said recorded, he said.
"I know it's an election, but [this is] just over the top," said Eby. "I think this government should be accountable for sending her there to record these youth and to pose as a young person interested in politics when in fact she was trying to dig up dirt for the election."
Eby said he was considering making a formal complaint to the Office of the Information and Privacy Commissioner, but wanted to hear the government's response first.