One out of every five children in British Columbia lives in poverty, according to an annual report card that First Call: BC Child and Youth Advocacy Coalition released Tuesday.
Using the most recent available figures from Statistics Canada, the coalition found the 19.8 per cent child poverty rate in B.C. in 2014 was only slightly lower than the 20.4 per cent rate a year earlier, and remains higher than the Canadian average of 18.5 per cent.
"A lot of people are just holding on," said Adrienne Montani, the provincial coordinator for First Call.
The largest number of children living in poverty are in the Lower Mainland, but the rate is highest on the Central Coast, where one out of every two kids is poor, Montani said.
Many of them are in families where parents are working, but not earning enough to escape poverty, she said.
The numbers are also reflected in high levels of household debt, food bank use, food insecurity, struggles to afford appropriate housing and family stress, Montani said.
"We like to think of ourselves as a caring, civilized society, but in fact we have been tolerating and sustaining shameful levels of child and family poverty for decades," the report said.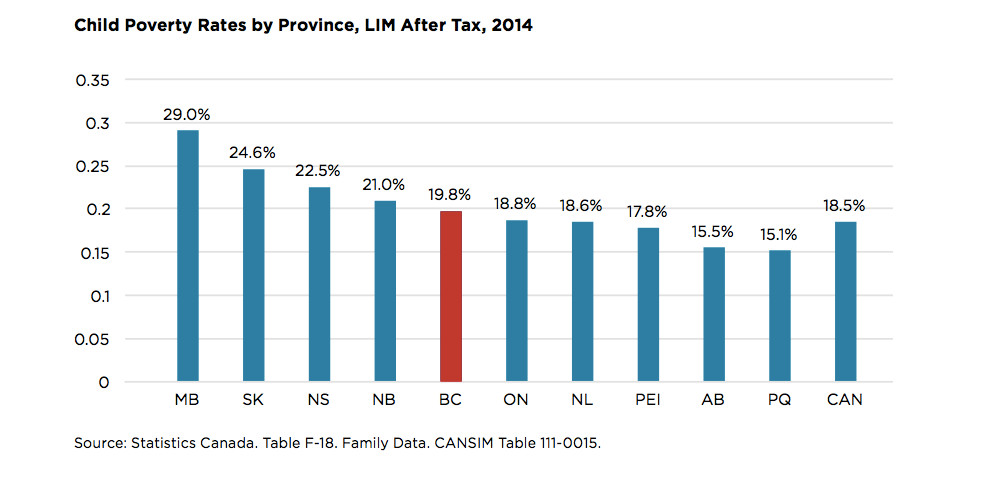 "By allowing our society's wealth to be concentrated in the hands of fewer and fewer wealthy individuals, we have allowed thousands of children to grow up in poverty that we know hurts their health and ignores their human rights."
Stagnating wages, precarious work, gaping holes in the social safety net, and soaring costs for housing, food and other essentials challenge families, it said.
"Parents raising their children in poverty are frantically trying to keep their heads above water by working more hours or multiple jobs (if they can), going to the food bank, scrimping on their own nutrition and juggling which bills they can afford to pay each month and still cover their rent. We have ignored the injustice of the continued over-representation of particular populations of children in these dire circumstances."
Half of the children being raised by single parents are poor, it said.
"Youth are aging out of foster care into deep poverty and disconnection, and a disproportionate number of them are Indigenous," it said. "Growing income inequality and systemic discrimination based on gender, cultural identity, disability, age and other social status markers frame this picture."
While the provincial government has made some welcome changes in recent years that help poor families, they aren't enough, the report said. "The severity and longevity of the crisis of child poverty in this wealthy province calls for a much bolder and more comprehensive public policy response."
Or as Montani put it, "To move the dial on child poverty, it's going to have to be other kinds of income supports."
Since the year 2000, the number of poor children in B.C. has declined from 221,220 by more than a quarter to 163,200, the report said.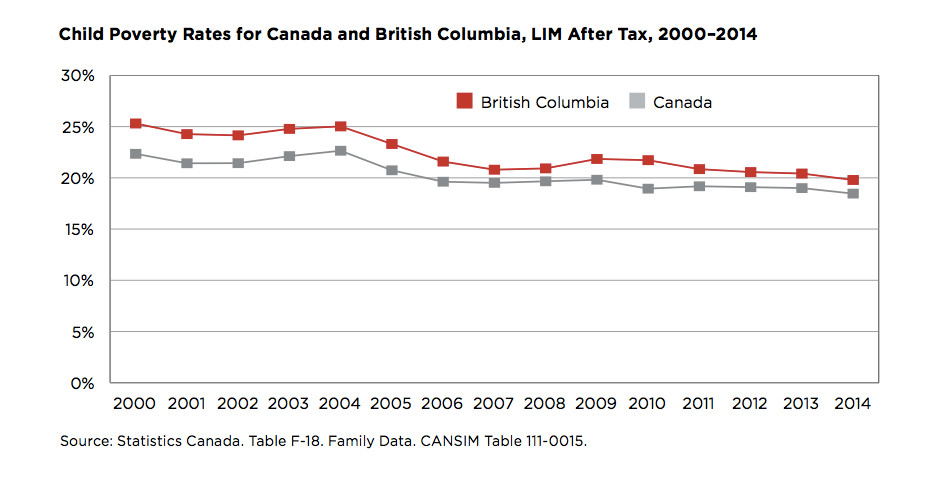 "While it's heartening to see the poverty rate declining, the decline is pitifully slow and 163,260 poor children is unacceptably high," the report said. The child poverty rate in B.C. is the fifth highest out of the 10 Canadian provinces and is above the national average.
At this rate, it would take until 2053 to eliminate child poverty in the province, it said. "We can't afford to wait for government to act on known solutions while generations of children experience the harmful impacts of growing up in poverty."
The organization's 20 recommendations included creating a provincial poverty reduction plan, adopting a $10 a day childcare plan, paying living wages, making post-secondary education more affordable, and increasing supports for youth aging out of foster care.
Welfare, the minimum wage and provincial child tax benefits should all be raised, then indexed to keep up with inflation, it said.