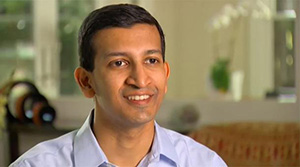 Raj Chetty knows how to solve economic inequality for kids. But the solutions may be hard to swallow for fiscal conservatives. Or teachers.
One of two lead investigators for Harvard University's Equality of Opportunity Project, which dedicates research to improving economic equality in the U.S., Chetty, a Stanford University economics professor, uses tax data to track the upward mobility of low-income U.S. kids through to adulthood. Some excel despite their backgrounds. Others don't, and Chetty believes it's based on where kids live, go to school, and who they know.
Chetty was in Vancouver on Sept. 12 to deliver a lecture on his findings at Simon Fraser University, and The Tyee caught up with him beforehand to talk about what Canada can learn from the U.S.'s efforts to age low-income kids out of poverty.
The Tyee: Why is it easier to move from low-income to higher incomes in some neighbourhoods than others?
Raj Chetty: There are a variety of factors. The first is segregation: cities that are more segregated by income or by race, those types of cities tend to have much lower rates of upward mobility. Perhaps because the poor have less contact with the rich and have worse networks, fewer role models, fewer pathways to success.
Second, we find strong links with measures of social capital and family structure. So places that have a stronger church presence: Salt Lake City with the Mormon Church is a good example. The kinds of places where someone else is likely to help you out if you aren't doing well, those types of places tend to have more upward mobility.
And then third, places with higher-quality public schools tend to have higher levels of upward mobility as well.
How much is race a factor?
Race is a big factor in the following way: places that have larger African-American populations have lower rates of upward mobility. But they have lower rates of upward mobility for both blacks and whites. Perhaps because they tend to have worse public schools, they tend to be more segregated — on all of the dimensions they look worse in terms of factors that produce mobility. So race matters, but it matters at an area level, not just an individual level.
How would you measure the quality of schools and teachers?
The measures we're using are things like expenditures per student, class size, average test scores, controlling for other factors. These are not ideal measures of school quality, but they give you a rough sense.
British Columbia teachers bristle at being evaluated based on test scores, saying it doesn't measure the impacts of poverty or stress on students' test performance. How do you address these criticisms?
The idea is not to measure teachers' performance based on the level of their students' test scores. It's based on the change in their students' test scores.
If I'm a fourth grade teacher, we wouldn't rate me as a good teacher if I just had students who were performing well on their tests at the end of the year. We would look at the change in my students' test scores from the end of third grade to the end of fourth grade. When you look at those gains, you largely isolate the effect of the teacher as opposed to other factors that might affect student performance.
Why are the future incomes of children a public policy concern?
I think many people are interested in improving the life outcomes of kids from low-income families. Earnings are a natural thing to focus on to start, because while money is not everything it's certainly, especially at the bottom of the income distribution, a key predictor of happiness, of health, of reduced rates of crime, of many other indicators of success that people care about.
Long-term investment is not as quick as the political cycle and people don't seem to have the patience to wait for it to work. Do you feel like people are listening to you?
You're right that the political cycle makes it difficult to implement these long-term solutions, but that's where I think having shorter-term metrics of performance, like test scores... even though they might be imperfect, gives you a way to demonstrate that you're having some impact that's going to have a payoff sometime down the road.
In some cases, in the United States, poor test scores have led to neighbourhood schools shutting down, which can also have a negative impact on kids.
If there are some schools that are failing and need to be shut down, I suppose that could happen from time to time. One would want to do that in a thoughtful way. I don't think we should be using instruments like test score evaluation in a very blunt way. We should use that data wisely.
All of your research is on the United States. How is it relevant to Canada?
At the moment [Canada] has higher rates of social mobility than the U.S., even though the U.S. is thought of as the land of opportunity. Going forward, as Canada itself faces increasing segregation, rising house costs, increasing inequality, there are a bunch of concerns to be worried about. A lot of the policy questions are very similar, and my guess is a lot of the lessons will translate to Canada. So I'm hoping people here can learn from these studies, as well.
How has your research thus far affected public policy?
In the context of education, there are more school districts now focused on performance evaluation of teachers, using test score evaluations and other methods, as well.
More broadly I think there's been a large public discourse in the U.S. both on the local and national level on how we can improve the quality of neighbourhoods and improve opportunity in places like Atlanta, Indianapolis or Detroit, which currently have very low levels of opportunity. It's refocused the discussion about the American Dream to the local level, which I think has been productive because mayors now feel like they can do something.
What would you like to see your research do?
[More] policy making on the basis of what the data show, as opposed to political judgment. And ultimately a set of policies that tackle some of the factors we've been talking about, like trying to make real progress on the issue of segregation across neighbourhoods, and trying to expand opportunities in areas of concentrated poverty.