"It was almost unbelievable," said Stephen Korkoya, who with his family last month moved into a new three-bedroom townhouse in Calgary's West Springs neighbourhood.
Korkoya, a line cook at Red Lobster, and his wife Marie Razafiarisoa, a nurse, became first-time homeowners recently after six years of renting. Their down payment on a townhouse in booming Cowtown? All of $2,000.
It happened thanks to a little bit of municipal socialism in this Canadian capital of free-market thinking: a city-owned organization that's also helped at least 499 other families into their own homes.
"When I first started thinking about buying a home, the downpayment was so high," Korkoya, a Liberian refugee who came to Canada with his family six years ago, said in a phone interview. "It's not that I couldn't afford it, but coming up with it all at same time was something that wasn't easy."
Every time he tried to save money towards the goal of owning a home to call his own, a more pressing cost would arise such as repairing his car. So he'd dig into his down payment savings.
Then a friend told him about Attainable Homes.
"When we heard about this opportunity, at first I couldn't believe it," he said.
The deal sounded too good to be true: Korkoya and Razafiarisoa could, if they qualified for a mortgage and met other conditions, buy a home from the organization for only $2,000 down. That's less than one per cent of the $240,000 price of an average Calgary condo or townhouse unit.
But the deal was real. There is a catch: buyers who take advantage of the offer must give back some of whatever profit they make when they eventually sell their unit -- a variety of 'paying it forward' that Attainable Homes will use to fund future first-time buyers.
Nonetheless, with the organization's units ranging from roughly $170,000 up to $310,000, the forgivable loan is a hand up that could be worth nearly $14,000 per taker once they've paid their share. That it came out of Alberta, perhaps Canada's most pro-free market province, might surprise some. But not Attainable Homes Calgary's CEO and President (and former City of Calgary top planner) David Watson; he thinks the famous 'left coast' might take some pointers.
"I'm pretty pumped about what we've been doing here," Watson said by phone from Calgary. Much as in Vancouver, salaries have been outpaced by an "aggressive" spike in housing prices in recent years he explained. A growing number of middle-class Calgarians work in the city but can only afford to live in outlying municipalities.
"It's a perfect storm. A whole bunch of people in the middle are losing out." Why not bring them within city limits, slash their daily commute, and see them accessing services (and paying taxes) closer to where they work?
Kickstarter Calgary
Except that Calgary hatched an idea, one that would be both simple and require as little government support as possible. "We like to keep it as simple as possible for both the people buying and my shareholders," Watson said.
Those 'shareholders' are in fact the citizens of Calgary via their city government. It was former mayor David Bronconnier who first championed its unique tack on affordable housing: bulk-buy units from real estate developers at a discount. For the developer, the lure was a guaranteed sale of a certain number of units, for example those remaining unsold after their marketing campaign runs out.
One way to look at it, Watson explains, is to think of "that discount [as] the down payment which we pass on to the buyer." More formally, Attainable Homes advances buyers a forgivable loan to cover all but $2,000 of the down payment on one of its homes. That's offset later, when the organization captures a cut of the increase in property value on the unit's sale down the road (see sidebar).
Meanwhile, people who are used to paying monthly rent start to earn equity in their home when that money is shifted to paying down their mortgage.
"The government has a role," Watson said. "I'm not going to diminish that fact. If the government hadn't kick-started the program, we wouldn't be here."
The initial investment was modest: roughly $2 million, shared between the city and the provincial government "to start this thing up and get it moving." Since then, it's become self-sustaining. In 2013, in fact, it generated an unexpectedly big $5.2-million surplus (up from a disappointing $1.4 million in 2012).
To meet its mid-case target of an annual $3.5-million surplus, the program needs to see 200 homeowners re-sell their units every year, Watson estimated. "We haven't got to that point yet," he admitted. "Next year we think we'll see that."
A major goal for Attainable Homes was to relieve Calgary's waiting lists of tenants for rental housing who find it increasingly hard to find affordable suites.
"This is to help people get onto the property ladder," Watson said. "It's not, frankly, to get people a house they can stay in forever -- though we don't have any restrictions or say they have to be out in five years.
"Anybody I can take out of rental frees up a rental property somewhere... So anybody we can move out to make way for people who really need it is a positive."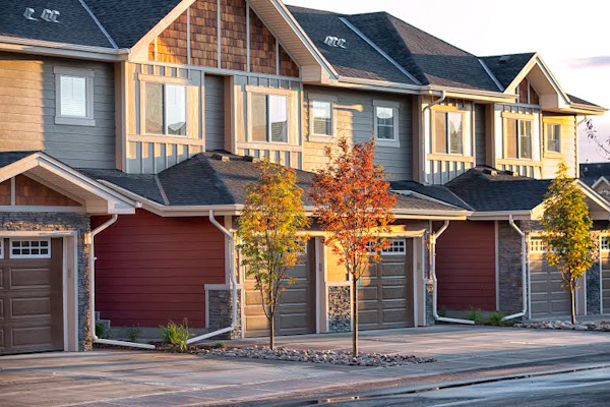 Like Korkoya, Watson said, many of his program's buyers "never thought they ever could" own their own homes. Yet once the down payment load was removed, some find that the monthly costs of carrying a mortgage and condominium fees are the same or even lower than their former rent.
"We were paying $1,400 to rent our two-bedroom house," Korkoya said. "Now we're paying $1,418... I have to show my mortgage papers to most of my friends before they can believe it when they see the house and how much I pay!
"It was unbelievable that with a single paycheque they'll give you a home of your own... but you get to be your own landlord."
One challenge, of course, is securing that mortgage in the first place, but Korkoya said he had no trouble with that. Although there is no minimum salary to qualify, Watson acknowledges that lower-income earners are unlikely to be pre-approved by a financial institution -- one of the Attainable Homes requirements -- even by one of the organization's formal partner banks.
"Clearly some people aren't going to be able to afford a mortgage," he said. "In Calgary, the minimum [income required for a mortgage] is around $45,000. But if somebody could convince a bank they could carry a mortgage, whatever that is, we see if we can fit them in."
Back to Lotusland
So, could this work in the country's most expensive city? Watson admits that hemmed-in Vancouver's higher land costs mean "it would be quite challenging to do it in the same way."
Certainly Vancouver's 73 per cent higher average unit selling price Calgary this year, according to newly released Re/Max figures, suggests that offering a similar deal to cover the same number of buyers in this city would require a correspondingly bigger budgeting: by this logic, a city kickstart of $3.5 million (instead of Calgary's $2 million), and buyers putting down $3,500 up front (instead of Attainable Homes' $2,000).
While $3.5 million might seem like a big ask, consider that it's less than a quarter of the $16.6 million, or nearly six per cent of its capital expenditures, that Vancouver budgeted this year to "facilitate the construction of affordable housing."
Another issue might be the availability of 'bulk-buy' units from developers. "If we were to move it to Vancouver, are there builders out there interested in doing it?" Watson wonders. "You need a number of them, not just one. They need to be prepared to give back and invest expecting less margins to make things work."
Meanwhile, assuming that its first-time homebuyers start moving up and out at the rate Attainable Homes projects, Calgary's experiment continues to make headway transforming former renters into new owners.
Now moved into his new townhouse, Korkoya proudly posted photographs on his Facebook page from the day he received the keys and a toolbox from Calgary's current mayor, Neheed Nenshi, an Attainable Homes booster and board member.
"He came over to my place and did a tour of our home," Korkoya recalled. "It was a great experience for our family. He gave us the keys; we were so excited."
Korkoya also sent them to his relatives in Liberia, who "just couldn't believe" he now own a home.
"This is our first home," he boasted. "We are proud of it; we feel we have achieved something.
"I would like it if many people out there would get to know about Attainable Homes so they could benefit from it too."