Generation Rent: Two Cities, Two Directions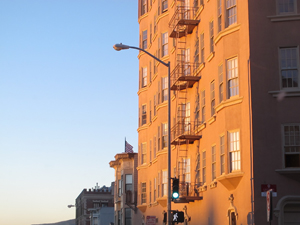 Beautiful, eclectic, iconic, Pacific harbour towns: the words describe both Vancouver and San Francisco. Yet the two cities have taken different directions in the treatment of renters.
Earlier in 2013, Tyee Solutions Society reporter Jackie Wong visited San Francisco to see what that older but similar city could teach us.
This series was produced by Tyee Solutions Society in collaboration with Tides Canada Initiatives Society. It was made possible through the support of the Real Estate Foundation, Vancity, and BC Non-Profit Housing Association.
Support for this project does not necessarily imply Vancity's endorsement of the findings or contents of this report. TSS funders and Tides Canada Initiatives neither influence nor endorse the particular content of TSS' reporting.
Other publications wishing to publish this story or other Tyee Solutions Society-produced articles, please see this website for contacts and information.