Vancouver architect Heather Tremain saw the exodus going on among her friends. Then to stop it, she decided she needed to join them.
"I know a lot of great people who've made amazing contributions to this city, many of whom have left because they couldn't find what they needed here," Tremain laments. She lists off friends in social finance, community foundations and the arts "who moved elsewhere because it was more affordable, because they didn't have to work so hard to pay their mortgage or they felt like they were missing time with their children because of that."
That, she says, is a "huge loss of social capital" and creative talent for the city.
This month Tremain joined the exodus herself, albeit for somewhat different reasons. She's taken a top job at a Toronto nonprofit that's building affordable homes by the thousands. Her hope is to bring its workable solution, or something like it, back to B.C. to help solve Vancouver's homeownership crisis.
Tremain is going to work as planning and development director of "Options for Homes," a pioneering non-profit housing corporation that's built up a nearly $200-million capital fund and financed more than 6,500 homes in Toronto, southern Ontario and Montreal. Next year, she'll take the organization's helm when its founder and president Michel Labbé moves into a new role there.*
Options for Homes uses an updated idea from the 1960s to both lower the cost of condominium home buying, and build up an independent capital fund for more construction on the same model.
Spurred by the federal government's decision in 1992 to withdraw from financing social housing, Labbé recalled how groups of people in the 1960s bought land as a co-operative, subdivided it, helped build each others' homes -- then when all was done dissolved the co-op so everyone lived on freehold land.
By replicating a modified version of that idea in multi-unit buildings (see sidebar), Labbé's non-profit now finds it can build and sell apartment units in the Golden Horseshoe and Montreal for as much as $40,000 below market value, while growing rather than draining its building fund.
'They've bootstrapped this'
Tremain hadn't yet heard about the Toronto organization when she created Verdant Housing, a somewhat similar scheme in Burnaby, eight years ago. In that collaboration between Urban Fabric Group, Tremain's firm, and Simon Fraser University, land for building was permanently protected by a covenant in order to lower costs in perpetuity.
It was when she started thinking about scaling up that experiment that she discovered Options for Homes. "To me, it is the most successful model in the country," she says.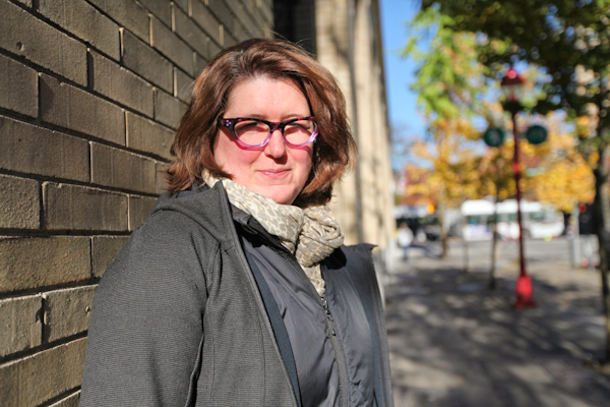 Not only has no other non-profit approached Options' accomplishment of building thousands of homes and its own construction fund. "It's doing it without government funding," Tremain points out. "They bootstrapped this, in essence, with some really creative work. Then that started to produce revenue. You're not having to go out for every project and raise equity for it. To me that's the brilliance of it. Now, it's a significant fund that helps to seed new housing."
Best of all, she says, the model has built up substantial "community-based wealth," that is self-sustaining.
While Tremain will be focused on eastern Canada for the foreseeable future, Options for Homes has begun expanding its reach into other provinces. Is there any reason it couldn't find a franchise out west?
Tremain is cautious. The Toronto model might be hard to get off the ground in light of Vancouver's skyrocketing land prices.
Instead, she's spent nearly two years courting Vancouver foundations, social entrepreneurs and non-profits that already own land to kick-start some kind of development deal inspired by the Options model. "Finding other partners who owned land was the better option for us -- co-development," she says of the approach she chose, though the deals have not yet borne fruit. "That seemed to be possibly a less risky approach and create more benefits in a lot of ways."
'Not just a drop in the bucket'
For its part, the Real Estate Foundation of B.C., which funds affordable housing and land use experiments, praised Tremain's original Verdant project -- up to a point.
Those "university projects are great," grants manager Leanne Sexsmith said. "But it's a very controlled environment, so the transferability and scalability is always something you want to think about." The need is to address the systemic problem of out-of-reach homeownership, she added, and "not just be a drop in the bucket."
At 6,500 addresses and counting, Options for Homes is a bit more than a drop. And Sexsmith said the foundation is intrigued by the idea. But the model can seem a little bit complicated at first. "That can always be tricky in getting buy-in."
Another concern is ensuring that once a project is built under the Ontario model, the units remain affordable in the long-term, not just for the first-time buyer. "I wouldn't critique that approach either," Sexsmith said. "But one of the reasons the Foundation is interested in these other models is their longer-term sustainability and their longer-term impact in addressing the issue over time."
Tremain agrees that the model would need to be tweaked in our astronomically priced real estate market. "We're starting at a fairly unaffordable place," she explains. "Even if you could get decent discounting [in unit costs], it's still pretty unaffordable. So trying to protect that over the longer term is going to be critical."
The fellow who founded Options says that protection is somewhat built into its model, by the second mortgage that puts more money back into the organization when each unit is resold the first time. "The windfall doesn't belong to the person who owns the home," Labbé explains. "They didn't create it -- it was created by the program. It belongs to the next person who needs housing."
The tough part will be building the first Options-style temporary co-op in Vancouver, he says. But "once you get your first project off the ground, it produces cash flow. Very quickly it can become sustainable."
And yes, he thinks the idea could flourish in the rainforest too. "Vancouver needs housing as much as Toronto does. This can help solve the affordable housing problem if we can get people who care out of the mindset that it has to be rental."
So while Tremain settles into her new role at Canada's biggest independent non-profit homebuilder, she's not forgetting her home.
"I'm from here," she said. "A big part of my heart will remain in Vancouver. And I'm going there hoping I can bring something back, or connect something, to complete those deals and do some affordable homeownership out here."
* Story corrected Dec. 9 at 1:13 p.m. due to an editing error.