Build smaller. Build smarter. "Bend your mind."
That zen-like advice comes from a Montreal-based architect who's been dubbed one of the 10 top people worldwide "who will most influence the way we live in the next quarter century" by Wallpaper magazine.
Renowned McGill University professor Avi Friedman sat down with Tyee Solutions Society during last week's BC Non-Profit Housing Association conference to argue that working and middle class Vancouverites needn't give up on owning their own home.
Drawing heavily on ideas picked up during a recent worldwide design tour, the 62-year-old United Nations World Habitat Award-winner spelled out his vision for affordable homes -- from dropping modular micro-suites on top of existing low-rises, to car-free communities where every possible surface is a vegetable garden, to Singapore's decades-old public-land, private-developer model that successfully houses four-in-five residents, rich and poor alike.
"If someone is able to afford their rent," Friedman came away concluding, "I believe that in many places in British Columbia, they could become homeowners."
That's because most tenants' rent costs are not all that far below owners' mortgage payments, he argued. The trick, he said, is finding creative ways to reduce the cost of land for would-be homeowners, finding per-unit construction savings, and injecting amenities aimed at daily savings once people have moved in.
"The desire to have an address of your own is something so prominent," he muses. "You want a secure place to raise your kids; you want a place to get old in." But we are still stuck in ways of thinking about housing that are more than a half-century old.
"If you were to look at the way we construct and design communities, they cannot be affordable to begin with if everyone wants to have a two- or three-car garage, huge roads and low density," he told his conference audience. "That can never be affordable."
We need to "bend our minds" the architectural guru advised, and do things differently.
The stakes are high -- not only for our ability to house everyone in the income spectrum, but for society as a whole. "We are creating a two-tier nation: those who have and those who will never have."
"You have people, like my students who graduate from university, who study and work hard and yet they don't have a place to live," he shared later in our interview. "Statistics show that people who don't have anchors in a community are not able to contribute as much as they could."
And in spite of homeownership being increasingly dismissed as an unrealistic goal in Canada's major cities, Friedman believes it can be done even in the most severely unaffordable places such as Vancouver.
"So how to get them through the door?" he asked.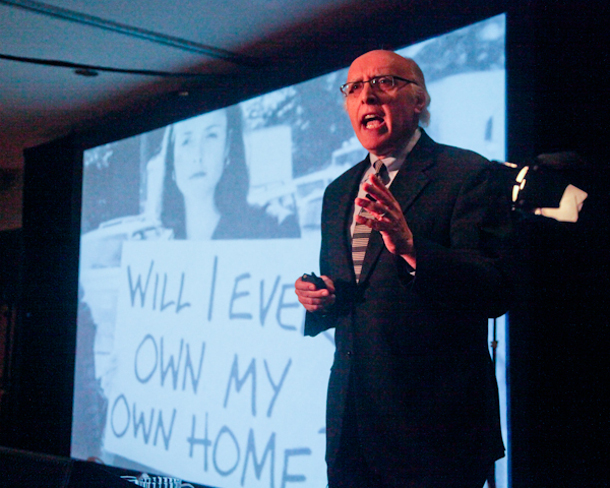 The best place to start, he said, is to take the skyrocketing price of land out of the equation.
He points to Singapore, where 54 years ago the government launched a Housing and Development Board to address an urgent affordable housing crisis at the time. Like Vancouver, the island city-state is hemmed in by water, land prices were skyrocketing, and residents were increasingly segregated into racialized ghettoes.
The board would become Singapore's only public housing planner, taking land costs out of the equation for the majority of the population. But when Singaporeans say "public housing" they are not talking about warehousing the poor in blocky grey estates.
Today, slightly more than 80 per cent of Singapore's 5.5 million residents live on land owned by the government and leased out on 99-year terms; an estimated 90 per cent of that group are, in fact, homeowners under those leases. Middle and working class families are offered discounted mortgages to ensure that most of the population has access to their own home, regardless of income.
In recent decades, Singapore has also encouraged a greater role for private sector developers to bid on designing and building new forms on government land, on condition that the discounted mortgages apply, as well as rules restricting flipping, speculation, profiteering and foreign investment.
"The government of Singapore realizes that if they allow the private sector use the land in that community and place to just build fancy homes, you may have many wealthy people," Friedman explained -- but regular people will simply be priced out. "Imagine you could take land purchased by the government and then lease it like a loan?"
Think such state-led planning is impossible here? In Vancouver, thousands of leasehold condominium owners live on city-owned property in False Creek South, an experimental downtown community profiled by The Tyee last winter.
Unsurprisingly, not everyone's a fan of Friedman's proposal to experiment with government-owned leaseholds in Vancouver -- expanding state intervention in the real estate market.
"I'm sure not a big fan of saying housing should be owned by the state or society," said Vancouver developer and communications specialist Bob Ransford in a phone interview. "Ninety-eight per cent of our housing has been built by the private sector."
Instead, he favours innovation in the private and non-government nonprofit sector, through expanding the types of housing tenure offered to homeowners -- for instance fostering co-ownership, being allowed to sell secondary suites and laneway houses, and streamlining applications for the latter.
"Those types of innovative ways should be enabled, not hindered," Ransford suggested.
But Ransford agrees with another of Friedman's affordability solutions: abandon the single-family dwelling as a template, and instead focus on apartments.
The vast majority of urban Canadians buying a first home are already moving into such suites, Friedman observes, but even that housing type isn't restricted to glass towers, alienating shoeboxes, or anonymous hallways.
Around the world, he met architects who are inventing new building forms that in addition to being affordable, encourage other social goods like harvesting vegetables, bicycling and taking public transit, interacting with your neighbours, dramatically reducing energy use, or designs that put children's play time at the heart of a community, for example.
Friedman's tour offered a glimpse of dozens of possible templates that have been built and tested in the real world. The city of Groningen, Netherlands, has installed wooden modular suites on top of existing low-rise buildings. Clocking in at a minuscule 183 square feet per unit, the Prefab Lighthouses by DAAD Architecten can be stacked up to three high to triple that space on structures that can handle their 17-tonne unit weight. addition
So far, four "Lighthouses" have been installed above a bakery near Groningen's Central Station. With a supportive local government, more are on their way.
Elsewhere in the Netherlands, IJBurg, saw an entire community built from scratch on interlocked floating homes on the shores of IJ lake, east of Amsterdam -- another way of taking land prices out of the housing cost equation, Friedman said, that also encourages recreational and communal activities.
In Guandong, China, traditional circular structures have been modernized on a mass scale, providing nearly 150,000 square feet of affordable housing for workers close to their workplaces. The aim is to build community and connection between residents, while staying true to Chinese cultural roots.
All of those aspects not only make apartment-owning more palatable and desirable, but also achieve cost savings for families moving in -- especially since owning a home bears added ongoing maintenance costs not borne by renters
"When you move in," Friedman said, "now you have extra costs that you did not have before." But more can be done to slash those costs too. "If you can grow your food, reduce your energy costs, eliminate the car -- all these elements will make your life and house much more affordable."
Friedman cites an example in his current hometown, Montreal. La Maison Productive House was designed to turn almost every available space, including rooftop plots, over to growing residents' food. There's also a year-round greenhouse, and a mix of geothermal and solar energy supplies up to 80 per cent of the complex's energy needs.
But housing is not simply about dollars and cents. Beyond ensuring all Canadians can afford a stable and appropriate home, Friedman believes today's housing challenge is about building a fair and positive society.
"If you wake up one morning and know, 'I have no chance here -- no matter how hard I work, and have five jobs, I still will not be able to have a place to live, or will have to rent and move,' how can you plan?" Friedman asked. "How can you have a family and raise kids? This is a fundamental building block of a nation."