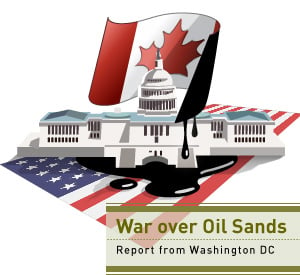 Gary Mar loves to cook. It's his way of relaxing after a hard day's work -- lobbying against U.S. clean energy laws, say, or making "aggressive" oil sands pitches to hostile members of Congress.
He can actually picture himself as a furniture builder too. But now that Mar's quit his diplomatic posting in Washington to run for Alberta premier, he just doesn't have the time.
So it'll have to be cooking and political campaigning for now. And if he does become premier, which at this point is a real possibility, Mar will have even less time to make tables and chairs.
That he would be considered a frontrunner for the Progressive Conservative leadership -- and de facto premier, given the party's 40-year rule over Alberta -- isn't too surprising for some observers.
His past three years in Washington, D.C. have largely inoculated him from the party tensions plaguing outgoing Premier Ed Stelmach.
And in Mar's often successful quest to defeat any U.S. clean energy law targeting Alberta's oil sands, he's developed a powerful roster of allies, particularly among major oil companies and Republican legislators.
Those are important contacts to have these days if you hope to lead Alberta. After all, the province's oil sands -- and its dreams of energy superstardom -- could be smacked hard by many U.S. climate change proposals.
'Man Who Would Be King'
Mar doesn't see those kinds of debates as really being about global warming anyways. They're about fairness, he argues -- not letting American legislators discriminate against Alberta's most important industry.
Mar knows how ugly discrimination can be. His Chinese uncles experienced it as small business owners in 1950s and '60s Edmonton, according to his campaign website. Yet they pulled through. And Mar intends for Alberta to do the same, not only for the good of the province, but the entire planet.   
"I think it's tremendous the kinds of resources we have in Alberta," he boasts in a campaign video, largely a reference to the oil sands. "These are the kinds of resources that the world is going to need in the future."
When he arrived in Washington, D.C. three years ago, Mar had long shown the kind of ambition needed to lead Canada's most oil-rich and carbon-intensive province.
In 2002 he'd agreed to be interviewed for an Edmonton Journal story titled "The Man Who Would Be King?" Mar, the descendent of Chinese immigrant grandparents, posed for a picture in front of large portraits of Winston Churchill and John F. Kennedy, despite worries it might make him look "egotistical."
By the next year he'd earned a reputation for grand gestures. As minister of health and wellness, Mar would occasionally break into song at cabinet meetings, belting out old Elvis tunes or country and western favourites. ("Country and far-eastern" for him, he joked.)
He could be serious too, especially when talking about the things he didn't much like, such as the Kyoto Accord.
"Our view is that Kyoto will likely do little to actually reduce overall global greenhouse gas emissions," Mar said in a spring 2003 interview. "In addition, depending on how it is implemented, the Kyoto Accord has the potential to cause significant harm to the economy."
Mar's next cabinet posting, after health, was as minister of international and intergovernmental affairs.
Under his guidance, Alberta set up its own advocacy office inside Canada's stately embassy on Washington's Pennsylvania Avenue, the only province to ever do so.
Attacking clean energy laws across US
Mar went even further in 2006 by arranging to have a gigantic oil sands truck displayed in the National Mall, his way of putting an exclamation mark on an unprecedented display about Alberta at the Smithsonian.
As minister, Mar met with such high-level American officials as then-vice president Dick Cheney, whom he described as "much warmer" in person than media portrayals would suggest.
Yet the ambitious Albertan's oil sands advocacy didn't really begin in earnest until he was hand-picked by then-premier Ed Stelmach to actually lead the Washington station.
Arriving to an undecorated office in early 2008, Mar's posting immediately began crafting lobbying campaigns targeting Section 526, a clean fuel provision adopted by Congress the year before.
Previous reporting in this series explained how his office worked in conjunction with the Canadian embassy and the American Petroleum Institute to fight the provision.
That was only the beginning. Over the next three years, anytime American legislators proposed a clean energy law targeting Alberta's oil sands, Mar was there, armed and ready.
Premier Ed Stelmach credited him with getting an anti-oil sands law in Maryland removed from the books. And Mar's advocacy in Wisconsin -- along with the Koch Brothers' own efforts -- encouraged policymakers to drop their proposed low carbon fuel standard.
His work took him all over the United States, where he met with dozens of governors and legislators, playing up the economic benefits of rapid oil sands development while minimizing environmental concerns.
By Mar's own account, he was quite effective.
"I found myself spending a great deal of time trying to influence state governments," he notes on his leadership campaign website. "I have had influence in stopping legislation that would have been unfairly harmful to Alberta's interests in Minnesota, Michigan, and Maryland, so we have had some real successes."
'A force of nature'
In Washington, Mar was considered almost superhuman for his seeming ability to be all places at once.
"It's amazing he's not cloned somehow," the American Petroleum Institute's Cindy Schild told me. "He's everywhere. He knows everybody."
"He's been very effective," remarked Tom Corcoran, head of the Center for North American Energy Security, a powerful oil industry lobby group which has had numerous clean energy laws blocked, deleted or delayed over the years. (Read a Tyee report about the center here.)
"Gary has done a very good job of educating people in the United States," Corcoran added, "and working with groups like ours to broaden that effort."
The Consumer Energy Alliance's Michael Whatley, a key lobbyist in the oil industry's fight against low carbon fuel standards, once called Mar "a force of nature."
Even detractors admitted that with his extremely smooth talking style and easy-going demeanor, Mar was virtually unrivalled as the oil sands industry's top salesman in D.C.
That made him a particularly dangerous force in the opinion of environmental advocates worried about America's growing dependence on high-carbon Alberta fuel.
Whether Mar was meeting "aggressively" with politicians opposed to oil sands pipelines, or testifying before Congress, he invariably downplayed the industry's ecological impacts, they said.
The backside of one of Mar's own business cards read: "Did you know Alberta... oil sands produce only one tenth of one per cent of the world's greenhouse gases."
For environmentalists, those kinds of statistics were disingenuous. The industry is still Canada's fastest growing source of emissions, they noted, and an oil source that should not be exploited when the world desperately needs to reduce its carbon output.
Not willing to talk to The Tyee
"I hear Mar is very good lobbyist," said Alex Moore, dirty fuels campaigner for Friends of the Earth US. "He's able to give you a bunch of choice pieces of information or half-truths to make you think the Alberta government has the strongest environmental regulations on the books."
Whether that's true, Mar decided not to defend himself. When I visited Washington, D.C. in late February, his office declined multiple requests for an interview, as did the Canadian embassy.
Three weeks later he'd quit his posting and begun his bid for Alberta premier. The official campaign launch was an extravagant affair, reported the Edmonton Journal, complete with "portable stage, Plexiglas podium, custom-made 'garymar.com' backdrop, and enough TV lights and cables to broadcast a shuttle launch."
Maybe one day, when all this is over, Mar will have time to build some furniture.