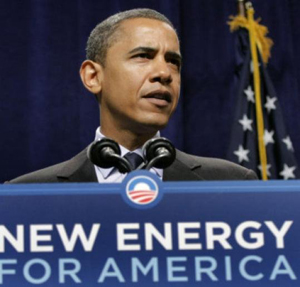 This summer, a series of slick radio and TV ads aired across the Midwestern U.S., warning regular Americans that their elected Washington officials, in the name of climate change, were set to screw them out of job and paycheque. "Congress is at it again," a booming voice intoned over images of fists raised before Capitol Hill. "Their latest bright idea: low carbon fuel standards."
Not only would such policies "kill millions of American jobs" and "raise gas prices up to 170 percent," the ads warned, but they'd "actually restrict the use of U.S. and Canadian energy supplies, making us more dependent on unfriendly sources of foreign energy."
Consumers were urged to raise these concerns with their state senators, whose contact information was provided. This campaign, and one the summer before, was paid for by the Consumer Energy Alliance. The self-described non-partisan organization is funded by some of the continent's largest oil companies, many with direct financial ties to Alberta's oil sands.
"We believe that if we can generate enough public awareness and a public debate on the issue, that the public will let the policymakers know that [low carbon fuel standards] are a very bad idea," Consumer Energy Alliance executive director Michael Whatley told the Tyee. The group's fossil fuel membership has already taken the lead, helping scuttle every low carbon fuel standard proposal introduced in Congress since Barack Obama became president.
Alberta's oil sands poised to escalate
Many Americans are unaware that Canada is the top foreign supplier of crude oil to the United States. Much of those fossil fuel imports come from northern Alberta, home to the second largest known oil reserves on the planet. With American energy demand growing steadily, the province's oil sands industry is poised to nearly triple production by 2025, according to industry estimates.
But as the Tyee reported in part one of this series, low carbon fuel standard legislation being debated across the U.S. threatens to stymie those prospects. Such policies, by discouraging the use of fuels with high carbon footprints, are potential kryptonite for Alberta oil sands producers.
Each barrel clawed or steamed from the northern muskeg generates 82 per cent more production emissions than conventional operations, according to U.S. Environmental Protection Agency estimates.
The Consumer Energy Alliance, whose website has a section labelled "Oil Sands 101", sees pending low carbon fuel standard laws as a direct attack on Canadian crude. "LCFS bans secure, affordable North American energy from entering U.S. markets," reads a colourful interactive map, where black pipelines from Northern Alberta cause padlocks to pop up when they hit the American border.
"Obviously, we're concerned about it," Oil Sands Developers Group president Don Thompson told the Globe and Mail this summer, in reference to U.S. low carbon fuel standards.
Yet it's not just the producers who are worried. The American refining industry has gone on an oil sands spending spree in recent years, staking literally billions of dollars on high-carbon fossil fuels.
Pipelines to potentially immense profits
Earlier this year, and with scant media attention, two sparkling new pipelines -- TransCanada's Keystone and Enbridge's Alberta Clipper -- began pumping their first shipments of Albertan crude into the U.S. Midwest. That region is already the destination point for almost all oil sands exports. The recently completed pipelines could someday deliver a further 1.34 million barrels each day.
Anticipating that bonanza, refinery owners from Michigan to Illinois are spending huge to retrofit and upgrade their facilities. Leading the investment frenzy are Marathon Oil, BP and ConocoPhillips, each a major Midwest refiner with large stakes in Fort McMurray-area oil sands operations.
"These three companies and their joint venture partners plan to invest about [US] $13 billion by 2015," a Wood Mackenzie report this summer noted.
A similar spending spree is occurring among Texas refiners, many of which stand to gain big from TransCanada's hotly debated Keystone XL, a proposed oil sands pipeline from northern Alberta to the Gulf Coast.
All these investments are based on the expectation that American consumers will continue to devour high-carbon Canadian crude for decades to come. Such a trend could help "double or triple refinery emissions," according to one recent scientific study.
It's also made large swathes of the U.S. refining industry extremely vulnerable to low carbon fuel standard laws. Charles Drevna, president of the National Petrochemical and Refiners Association (NPRA), referred to such policies as "even worse" than the cap-and-trade laws recently abandoned by the American Senate. His industry lobby group and big Midwest refiners Marathon, BP and ConocoPhillips are all due-paying members of the Consumer Energy Alliance. They also spend millions to make their concerns heard in Washington.
Millions spent to shoot down lower carbon standards
In 2009, three attempts to adopt a national low carbon fuel standard in Congress ultimately failed. One of the loudest industry opponents was Koch Industries, owner of Flint Hills Resources, a major Midwestern refiner of oil sands crude. Koch Industries spent more than US $12 million in 2009 lobbying against all three fuel standards, among other policies.
Two of those standards were stand alone bills in the House and Senate.
Koch directly targeted one or the other at least 19 times, records show. "[Low carbon fuel standards] would cripple refiners that rely on heavy crude feedstocks," reads the company's website. "It would be particularly devastating for refiners that use heavy Canadian crude oil."
Oil sands producer and fellow Midwest refiner Exxon Mobil -- a Consumer Energy Alliance member that burned through more than US $27 million of lobbying cash in 2009 -- targeted the same standalone House proposal Koch did.
Neither that House bill nor its Senate cousin budged past the committee stage.
Yet fossil fuel advocates achieved their biggest victory with the high-profile Markey-Waxman climate change package approved by the House last year. The Tyee reported this summer how the Centre for North American Energy Security -- a well-connected lobby group which also belongs to the Consumer Energy Alliance -- helped get fuel standard provisions "deleted" from the bill.
Recent midterm elections have dashed any chance of Congress passing federal climate change action in the near future. The Consumer Energy Alliance, with the active support of Canadian officials, is now targeting state and regional fuel standards across the U.S.
"We want to educate policymakers and stakeholders and the public at large so that these decisions are not being reached in a vacuum," the CEA's Whatley told the Tyee.