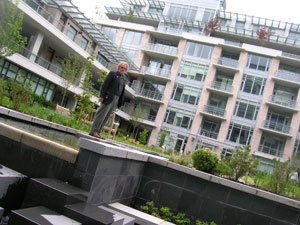 Vancouver's Olympic Village draws together more green building innovations than perhaps any other residential development -- which is why real estate mogul Bob Rennie is marketing it as the "greenest neighbourhood on the planet."
On a Saturday in May, about 15,000 Vancouverites lined up to tour what is now called "Millennium Water," the former home for 3,000 Olympic athletes since morphed into a model green residential community. Years in the planning by the City of Vancouver, the developer and a small army of consultant engineers and architects, every building on this former brownfield has earned the Canadian Green Home Building Council's LEED Gold rating, with two buildings earning LEED Platinum.
Yet none of the innovations that the public saw that day -- including solar-powered garbage cans and a neighbourhood energy utility that recovers heat from sewer lines -- exist there because homebuyers demanded it or mainstream developers dreamed big. The City of Vancouver mandated the extraordinary sustainability features from above, at a cost ultimately guaranteed by the public.
A billion dollars later, most Vancouverites are still light years away from living in "green homes" like those at South East False Creek (SEFC). So what is the value of this ultra-green community that most of us cannot own?
Are there affordable green building features here that mainstream consumers will value enough to pay for, and that developers and architects might create sooner rather than later?
Passive design with sun, wind and water
From the outset, SEFC design manager Roger Bayley was adamant that the development would be more than a posh green playground for the affluent.
"One of my aspirations is to significantly influence the development industry in Vancouver relative to the acceptance of sustainable design and green-building techniques," he said back in 2007, just as the project was breaking ground.
Flash forward to June 2010: Bayley has agreed to take The Tyee on a private tour. He pulls up to the Vancouver Salt Company heritage building in a forest-green Jaguar, appearing equal parts boomer hipster and wacky professor: curly Einstein hair and greying goatee, Versace shirt and ripped blazer. Last-minute tradesmen race about the site just ahead of real estate agents giving private showings of homes ranging in cost from $600,000 to $4.7 million.
The first stop is a Platinum LEED building that will soon be home to 60 senior citizens, a building with triple-glazed windows, ultra energy efficient walls/roofing, and LED lighting. A stairwell leads to a verdant courtyard bisected by a long water feature -- an aesthetically pleasing design element that is much more practical than it appears.
Most of the homes at SEFC have been clustered around open courtyards like this, with water at the centre; the units that surround the babbling "creek" have been designed to maximize cross ventilation which is then cooled as it sweeps off the surface of the water.
Such "passive design" elements were among the first considerations when the community was designed, under the guidance of mechanical engineer Vladimir Mikler, who looked for ways to improve "thermal comfort" and minimize building energy consumption.
"If we can make really smart decisions on the building architecture, it doesn't really have to cost more, and it saves the demand on the energy of the building in the first place," says Mikler, a principle at Vancouver's Cobalt Engineering. "It's typical for the industry to just dive in straight away for appealing and high-tech solutions without really addressing the fundamentals."
The fundamentals in this case are designing a building envelope to high energy efficiency standards, something that Mikler says is not the norm in North America. Insulation is key, as is the need to resist the mainstream penchant for designing high-rise glass towers with floor-to-ceiling windows.
"Buildings with a high per centage of glazing [windows] behave like large greenhouses, so every time it's sunny, the sun's solar radiation penetrates through these exposed facades, triggering significant cooling requirements, which consume energy," he says.
Towers have been designed with less window surface, and where windows do exist, they can be opened. South and west facing balconies, which catch afternoon sun during the hottest times of the day, extend outward to shade the building from the sun. Many windows are fitted with exterior shades -- a simple solution to solar gain that is not usually applied because it affects the aesthetic look of the building.
Even at SEFC, says Mikler, there was concern about the exterior aesthetics of such blinds, but the passive design element won out because the City of Vancouver had mandated uncommonly high energy efficiencies in its official development plan. In most developments, the marketing imperative of appearance over function would win out hands down.
Water, water everywhere
A walk along a cobbled concrete street -- designed to drain storm water into an artificial wetland on the site periphery -- leads to a building allotted for "social housing," a component of the development reduced from one-third to 20 per cent by the NPA-led city council in 2006.
Bayley points to the roofs that have been designed to capture and divert rainwater into large underground cisterns, providing "recycled" water for use in irrigation and toilet flushing.
Considering that Vancouver receives an average of about 1,100 millimetres (about 44 inches) of annual rainfall, it seems like common sense to flush our toilets and water our plants with it. However, most British Columbians will continue to use potable water to do just that, which constitutes more than 50 per cent of total water household use (flushing toilets alone accounts for more than a third of total household water use).
At SEFC, rainwater capture was originally intended only for irrigation, but given the vast quantities of water harvestable between October and June, it was decided to extend water recycling to toilets too. (SEFC toilets can still access potable city water, for use during the drier months.)
"Doing this was not a big deal," says Peter Kreuk, president of landscape architecture firm Durante Kreuk, which oversaw many of the exterior design elements. He says water run-off on all high-rise roofs is piped to a single location before exiting a building, so in this case, the water was channelled into a cistern located in the underground parking.
Capturing and banking rainwater made even more sense on a brownfield site like SEFC because they already had to "over-excavate" to remove bad soil; instead of filling those areas with structural soil as per usual, they left a void which was later used to store water.
The system necessitated the running of a parallel plumbing system to feed both the toilets and irrigation system, which needed its own pumps -- unlike the water delivered from the city, the banked rainwater is not pressurized.
Perhaps the biggest challenge here -- and anywhere else wanting to harvest rainwater -- is that it is currently illegal to use rainwater to flush toilets in the City of Vancouver. The design team had to earn "equivalencies" from the city by demonstrating that the system would be safe. The plan was eventually approved, but the developer was forced to post a sign in every bathroom warning residents that it is not safe to drink the toilet water.
The harvest and banking of rainwater at SEFC cuts household water use by about 40 per cent, adding an additional $400 to the cost of each unit. "Which isn't that big," says Kreuk, "but in developer-speak, that's still $400."
The Green Revolution is coming... somewhere else first
The tour is drawing to a close, as Bayley must get home to pack his bags -- he is flying to Shanghai to talk about Millennium Water at a "sustainable design" conference. It is in Asia, he says, where the Olympic Village innovations will have the biggest impact on how people live.
"The experience gathered here in Vancouver can influence the situation in the world very broadly," says Bayley. "What we've done here [in terms of green building] is a drop in the bucket compared to Asia, where they recreate our population every 20 years."
China will adopt "green building" sooner than Canada because it has no choice: the need to conserve energy, cut pollution and protect fresh water is dire. He adds that an authoritarian government can also move much quicker with green building changes once it decides to act.
As for Vancouver, there are promising signs of change on the horizon: the city has adopted guidelines for passive design in the form of toolkits, authored by none other than Vladimir Mikler. Even though these guidelines are voluntary "best practices," Bayley says this is the SEFC green innovation that society will see soonest.
"Younger architects will look for more passive design features, where architecture will reduce energy demands," he says. "It's the first thing that will happen."
In step with SEFC's focus on energy efficient buildings, Vancouver also recently required new homes to undergo an EnerGuide audit, a process that generates a number similar to what you see on an EnergyStar appliance, providing a snapshot of home energy performance relative to other houses. Tools like this are the necessary first step towards educating regular consumers about the value of green building features: the better EnerGuide rating, the better the monthly savings and resale value.
In the longer term, Vancouver has announced its intent for all new construction in the city to be "carbon neutral" by 2020, and to improve the efficiency of existing buildings by 20 per cent in that same futuristic timeframe.
But in the shorter term, as our energy and water continue to be relatively cheap and undervalued, most of us will be forced to watch what nature writer David Oates calls the "new green urbanism" unfold as bystanders -- "a gleaming playground for the rich, yet (in theory) also an answer to the calls for environmental justice and social equity."
Such is not the case in Australia, already the driest inhabited continent on earth, where catastrophic droughts have pushed the harvesting and banking of rainwater into the mainstream. Or in Germany, where high energy costs have made it common today to find buildings with an annual "energy use intensity" of less than 60 kilowatt hours/square metre; the typical North American building consumes anywhere between 300 to 400 kWh by that same measure.
"Everybody is trying to increase the capacity of the building industry here," says Bayley, who dismisses critics who say it's too expensive to build green buildings like at SEFC. "Is there a sense of urgency in the marketplace? Not yet."