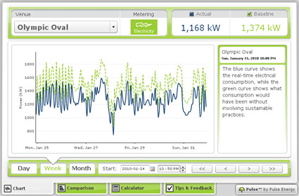 The Olympics were a key moment for David Helliwell and his start-up company, Pulse Energy. Eight venues, outfitted with Pulse energy monitoring technology, allowed visitors to view online how much energy was being used at those sites at any given time. It marked the first time that any Olympic site collected and reported energy consumption data, and it attracted a considerable amount of media attention as part of Vancouver's 'Greenest Games' billing.
The high-profile project led to more lucrative deals for Pulse -- Helliwell says the London 2012 Olympic organizing committee is now interested in tracking energy use at its venues -- and also pushed smart meters into the public sphere.
The potential for business development around smart meter deployment is huge, says Helliwell and other industry experts. But as utilities roll out these programs around the world, they are being met with public opposition and concerns about privacy, reliability, and cost.
Smart meters are coming to B.C. – but are we ready for them? And what can we learn from those jurisdictions that are ahead of the curve?
'We need to change our behaviour': Campbell
Smart meters are where consumers plug into the smart grid of the future. Smart meters relay real-time energy use data to utilities and customers, and can also communicate with home appliances, opening up opportunities for tighter demand-side management and increased conservation, especially during times of peak demand, when electricity is most expensive.
In 2007, Premier Gordon Campbell told delegates at the annual convention of the Union of B.C. Municipalities that within five years, 1.7 million homes and businesses in B.C. would have a smart meter.
"We need to change our behaviour and when we do, we will all save money," Campbell said.
But the implementation never happened, and smart meters fell off the public radar -- until the Olympics, and, not long after that, the GLOBE conference on business and the environment. There BC Hydro's Bev Van Ruyven (now its executive vice president) reiterated the province's commitment to smart grid technology and announced that Hydro would be "substantially complete" its smart metering program by 2012.
Clean Energy Act 'changed the whole picture'
And not long after that, the provincial government released the Clean Energy Act, in which smart meters and smart grid infrastructure were a cornerstone. Not only that, but, under the act, these and other "marquee" energy projects do not have to obtain approval from the BC Utilities Commission.
This "changed the whole picture" for the industry, says Ludo Bertsch, president of Horizon Technologies. Bertsch has spent the last two decades designing smart grid hardware and software, and now mostly does consulting work.
"The B.C. Clean Energy Act was very important in that it laid out the foundation to say we are not going to pull it, we are going to move ahead with smart meters.
"Before, we were getting the message out there that this [smart metering] is important," Bertsch says. "But leading up, we were concerned that government was going to pull it. It's a lot of money."
BC Hydro has budgeted $660 million for the entire program. That includes the smart meters, telecommunications system, data management system, in home feedback tools and conservation rates.
Smart meter carrots and sticks
If a smart meter is the carrot to encourage customers to conserve energy and shift time of use, rate structuring is the stick. BC Hydro's conservation rate, also known as a tiered or graduated rate, came into effect April 1, 2010. Under this rate, residential customers get, over a two-month billing period, 1,350 kilowatt hours (kWh) of electricity at 6.27 cents per kWh. Every additional kWh after that costs 8.78 cents.
Some utilities have also introduced peak pricing; during times of high demand, the cost per kilowatt hour is higher to encourage people to switch activities to off-peak times.
In 2006, BC Hydro launched an experiment in peak pricing with its two-year Advanced Metering Initiative. Roughly 2,000 households in the Lower Mainland, Fort St. John and Campbell River were set up with smart meters and monitoring software.
The goal, according to one BC Hydro report, was to "determine whether customers respond to pricing signals and information on energy use and to determine the magnitude of the responses."
In one test group, participants were charged 23.5 cents more per kWh for electricity used during peak hours (8 to 11 a.m. and 4 to 9 p.m.).
According to an executive summary of the first year of the project, residents in test groups used on average 11.5 per cent less electricity during evening peak periods, compared to the control groups that had no difference in rates.
'1.7 million customers leads to a lot of business'
Part of Bertsch's work has been to help manufacturers respond to demand-side management by making appliances smart grid compatible. Whirlpool recently announced it will release one million 'Smart Dryers' by next year, which will have the capacity to automatically shut off or go into no-heat mode during peak hours.
"This is huge," says Bertsch. "The industry in B.C. is starting to come to terms with the opportunities to come. There's going to be a huge industry installing [smart meters], implementing them, you'll have home automation, you'll have smart phones. . . 1.7 million customers leads to a lot of business."
Burnaby-based Clevest Solutions Inc. is supporting the deployment of more than 8 million smart meters in the US, China, Europe and Philippines.
Bill Lee, Clevest's marketing manager, says errors can happen when smart meters aren't deployed properly. When an old meter is swapped out for a new one, the existing billing information must be recorded correctly, and the new meter must be correctly identified with the appropriate residence.
"Clevest enables field technicians to collect data and verify the installation before they leave the site," Lee wrote in an email to The Tyee. "With a single mobile handheld device powered by Clevest, a technician can perform a smart meter installation with a barcode scanning of meters, photo capture of old meters to verify last meter readings, and collect GPS coordinates of the installed meters."
When utilities are swapping literally hundreds of meters a day -- as may be the case if BC Hydro is to achieve its smart metering goals -- there is a lot of potential for error.
Just last week, California's PG&E issued an apology to customers for poor customer service related to the installation of its smart meters. According to a report in the San Jose Business Journal, PG&E said it "would also begin posting weekly information on the number of smart meters having problems and will increase the number of "side-by-side meter tests" to 300, comparing data from old meters to new smart meters."
This was only after a group of citizens in Bakersfield, California, launched a petition against and later sued the investor-owned utility, alleging they were overcharged.
Privacy, security concerns at forefront
Security is also a major concern with smart meters.
According to one security analyst report, smart meter networks are open to hacking, which leaves the grid vulnerable to attack and customers vulnerable to privacy breaches.
This is where federal government regulators must come in to develop smart grid standards, says Bertsch.
Bertsch sits on a newly-formed task force, part of the Standards Council of Canada, that is looking at how to address privacy, security and other issues, and is also involved with a smart grid task force in U.S. National Institute for Standards and Technology.
"Privacy is a big one," he says. "In the states they are very concerned with privacy. It is a top issue that is being dealt with."
Although Canada has been "a little bit slow to the mark," its making progress as more smart grid technologies are deployed. As he sees it, where the U.S. goes, so goes Canada.
"Eventually, it's going to happen here," Bertsch says. "We have common links between our electrical systems, and you can't have that kind of action going on in the states, with that kind of money, and not follow it in Canada."