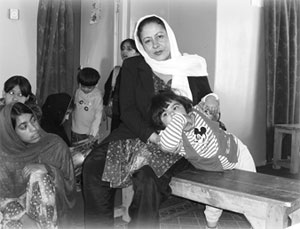 [Editor's note: This is fourth in a series, running Thursdays and Fridays, by Terry Glavin profiling Afghanistan's 'unsung heroes,' a project supported by the Canada-Afghanistan Solidarity Committee and the Funders Network for Afghan Women.]
The Omid-e-mirmun orphanage is hidden away behind high walls and a sturdy metal gate down a dusty backstreet in the Koshalkhan district of Kabul. When you arrive for a visit, you are ushered into a courtyard and up the stairs. A flock of girls will hurry to greet you at the door.
The girls are bold, and each of them offers a broad smile and a firm and hearty handshake. Good morning. How do you do? Salaam.
Afza Hosa, the 45-year-old housemother, is quick behind them, and she shoos the older ones away to make tea and to clear a place among their toys and their books in the living room.
"Around Eid, it is really hard," Hosa tells me as about a dozen of the girls clamour around the room to find a place to curl up and visit. "They want shoes and underwear and bangles and socks. 'I need the kind of scarf that I saw at school! I want this! I want that!'" Hosa laughs at herself, and the girls laugh along. "They drive me crazy." The girls of Omid-e-mirmun defy all the odds that are spelled out so bleakly in all the relevant statistics assiduously accumulated by the United Nations and its various departments and agencies since the Taliban were driven from power in 2001.
The UN Children's Fund (UNICEF) reports that even by 2008, one out of every four babies born in Afghanistan wasn't expected to live to the age of five. Half of Afghanistan's 28 million people are under 18. Close to half the country's children are still not in school.
A city of orphans
Child labour is ubiquitous. More than a million Afghan children are their families' main breadwinners. Even schoolchildren are not safe from harm: between May 2007 and February 2008, the Taliban attacked and burned 98 schools, killing 147 teachers and schoolchildren.
More than two million Afghans are orphaned children -- enough to populate a huge city, all on their own.
There are 29 orphans here at Omid-e-mirmun, all girls, all in school, all healthy. The youngest is Zarina. She's about 18 months old. Zarina was a newborn abandoned at Kandahar Hospital, and Hosa heard about her and arranged to take her in.
Strictly speaking, Zarina is not a resident here. She lives with Hosa, who wants to adopt Zarina -- but Islamic law prohibits adoption. Afghan law allows only a form of guardianship that isn't recognized by many countries.
Five million Afghans are returned refugees -- more than twice the number of the country's orphaned children. Many returned Afghans, like Hosa, have dual citizenship. Like Hosa, many would be happy to adopt an orphan, but mere guardianship is insufficient to qualify as adoption in most countries.
This puts Hosa and Zarina in a predicament.
Hosa is an Afghan-American, but she can't return to the United States with Zarina. At least not yet. There's hope: a new adoption law is slowly making its way through the Afghan legislative process.
Mother of 29
That's the thing about those statistics. For all the ghastly conditions that still haunt Afghanistan all these years after the Taliban's fall, at least now there's hope. For the 29 girls of Omid-e-mirmun, at least there's Afza Hosa. In the Dari language, "omid" means hope.
Hosa's own story is extraordinary, but as Afghan stories go, it's quite ordinary. She met her husband at Kabul University, and after the mujahedeen wars caused them to flee to India, they ended up in the United States. They lived for 11 years in Fort Worth, Texas. Hosa and her brother ran a convenience store and a gas station. Later, in Arlington, Virginia, Hosa worked at the Nordstrom's department store.
All those years, Hosa and her husband were possessed of the same homesickness you'll often hear Afghan émigrés talk about. So, in 2004, Hosa's husband got a job as an interpreter in Kabul, and Hosa took on the job of house mother at Omid-e-mirmun. For now, she is the mother of 29 children.
"I don't have children of my own," Hosa said. "God never gave them to me, so I am happy to adopt these children for my own."